The Chronicle's 2018–2019 Year in Review
May 24, 2019
From around the campus to across the city, Columbia's 2018-2019 school year marked many highs and lows for college students and Chicagoans alike. From the acrimonious contract talks between the college and CFAC, the union representing part-time professors, to the hiring of Provost Marcella David and, most recently, the election of Lori Lightfoot as the city's first black, female, LGBTQ mayor, The Chronicle is counting down its landmark coverage from this academic year.
Program Changes
The Fall 2018 semester began with outrage from the Faculty Senate due to four missing programs on the college's website and the Common Application, preventing high school students from applying to these programs. The faculty was not aware of the changes, as reported Aug. 29 by The Chronicle.
Although the missing programs were reinstated on the website, it was later announced in February that the Early Childhood Education and Dance Movement Therapy programs were being discontinued. Faculty Senate President Sean Andrews said faculty were not given justification for the closures in terms of how they might affect enrollment and that the action created a "demoralizing" environment.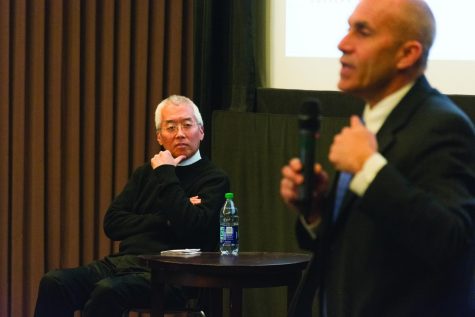 Enrollment and Expenses
Amid continuing enrollment declines, tuition for the 2019–2020 academic year was raised for the 10th consecutive year by 2%—from $26,090 to $26,610. On-campus housing costs also increased by 3.5%, as announced in a Nov. 27 email from President and CEO Kwang-Wu Kim. Vice President of Student Affairs Sharon Wilson-Taylor announced April 8 that the student activity fee would increase, per semester, by $30 for full-time students and $15 for part-time students.
Despite a continuing enrollment decline, the college found a little better footing from Spring 2018 to Spring 2019, only suffering a 5.3% decline in comparison to the previous year's 8.9% decline.
Employment
Former Vice President of Strategic Marketing and Communications Mark Rosati, who was tasked with improving the college's marketing strategy to bring in more students, left the college April 9. Chief of Staff Laurent Pernot has taken over his responsibilities.
Marcella David was named Columbia's new senior vice president and provost effective June 3. David was most recently the Betty T. Ferguson visiting professor of law at Florida State University and was the provost and vice president for academic affairs at Florida Agricultural and Mechanical University.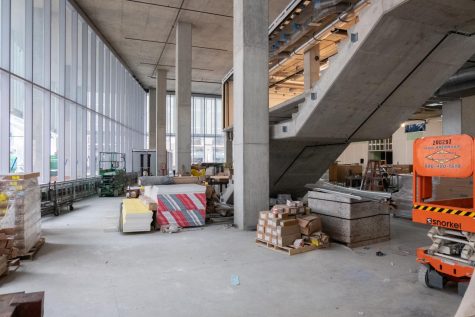 On-campus buildings
The final Columbia-owned housing building, Plymouth Court, 731 S. Plymouth Court, was sold in September 2018 to 3L Real Estate to be converted into residential apartments.
However, Residence Life announced 12 floors have been leased for students at 30 East, 30 E. Balbo Drive, in a 10-year contract.
The college will also be adding a new building to its map—the Student Center, 754 S. Wabash Ave., set to open its doors by the Fall 2019 semester. The Student Center cost was reported at $50 million and is being paid for by private donors and building sales. The Center will also employ 25–30 students and include fitness, interfaith and student organization spaces.
Safety and Security
The annual Security and Fire Safety Report for 2017, released Oct. 1, 2017, showed an overall decrease in the number of reported incidents on Columbia's campus involving burglary, domestic violence, dating violence and rape.
On March 7, a college-wide Crime Advisory was sent out regarding a female student who was allegedly stabbed in Grant Park. Hours later, police announced the woman had actually filed a false report. Many students were outraged by the incident, specifically because she detailed her alleged attacker as a black man. The Chronicle was also able to speak with the 7-Eleven employee who called the police to help the student the night of the incident but later told The Chronicle the student appeared to be faking the incident.
CFAC negotiations with the college
The Columbia part-time faculty union and the OurColumbia coalition held a press conference Oct. 17 calling for Kim's resignation for allegedly allowing a culture of sexism and racism to exist at the college.
A week later, the college announced Kim's contract had been extended through the 2023–2024 academic year.
Finally, after around two years without a contract, CFAC and the administration came to a tentative agreement April 17—after months of tensenegotiations and threats of a strike. Union members ratified the contract May 15 with 95% of members in favor, according to CFAC.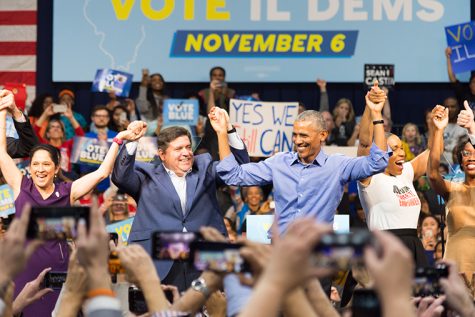 Politics
Democrat J.B. Pritzker defeated incumbent Republican Gov. Bruce Rauner in November 2018 to become the new governor of Illinois. Since then, Pritzker has worked to fulfill his campaign promise of, among many things, legalizing recreational marijuana
After months of campaigning among 13 other candidates and a runoff election against Cook County Board President Toni Preckwinkle, Lori Lightfoot became the first black, openly gay and female mayor of Chicago. Her inauguration took place Monday, May 20 alongside the induction of the new City Council, which included Columbia's former Career and Internship Advisor Rossana Rodríguez Sánchez.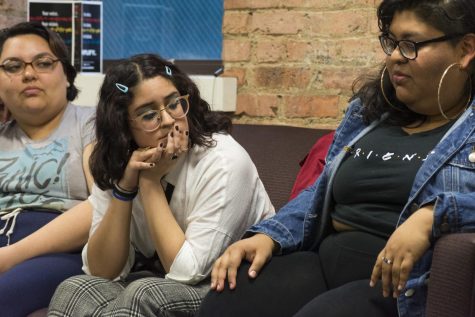 Diversity, Equity and Inclusion
Despite the college's steadfast focus on diversity and inclusion initiatives, as reported March 22 by The Chronicle, there are still areas across campus where students feel there is work yet to be done. 
Some student cast members felt mistreated by their director during the campus production "HOME/LAND" in April. Racially insensitive comments from the director and the casting of white actors in Latinx and Palestinian immigrant roles were among their chief complaints.
Transgender students also alleged mistreatment and a lack of support on campus due to constant misgendering—when someone misidentifies another person by using the wrong pronouns, such as using he/him pronouns when they/them are preferred—as well as issues surrounding housing and bathroom access. The college's Student Diversity and Inclusion Office outlined its initiatives to address gender diversity, and the college responded that it is in the midst of a five-year plan to address gender inclusivity. 
The Columbia Chronicle
The Chronicle was named Best in State for general excellence among all non-daily newspapers for the fourth consecutive year by the Illinois College Press Association. This was one of 17 awards The Chronicle staff received.