Program closures stir emotions among faculty and students
By Kaci Watt, Staff Reporter
February 15, 2019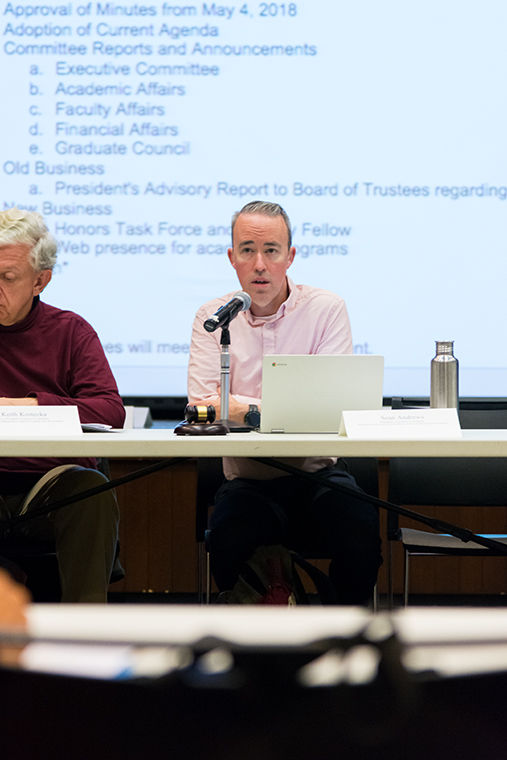 Students and faculty reacted with sadness and a deepening mistrust for the administration as the news sunk in that two programs—Early Childhood Education and Dance Movement Therapy—will no longer be offered after the current cohorts complete their degrees.
Junior early childhood education major Elizabeth Piskorski said while she understands the decision to close the program due to its dwindling numbers, she did not like how it was handled.
"None of the teachers speak to each other or communicate very well," Piskorski said. "They've changed the requirements on [the program] almost yearly. They change our advisors quite frequently, so, our advisors never know what we're supposed to do."
Piskorski added that she wished there had been more communication between the education department and the rest of the college.
"The fact that we've been mistreated not only by our administration, but [also] by our other departments just shows the general attitude in America toward educators," she said.
The closure was confirmed Feb. 8 in an email sent to faculty from Interim Senior Vice President and Provost Suzanne Blum Malley, said Sean Andrews, Faculty Senate president and associate professor in the Humanities, History and Social Sciences Department. It was also discussed in Faculty Senate that same day.
According to Andrews, faculty was not given justification for the closure in terms of how it might affect enrollment.
 "It creates a real sense of anxiety and mistrust [for the faculty as a whole] because there is not any certainty about what will happen next," Andrews said. "That creates a very demoralizing … environment in which faculty don't feel like they're invested in the institution."
Andrews said not explaining the full reasoning behind the program termination devalues the faculty's agency.
"Faculty are the front lines. They're the ones engaging with the students," he said. "We need them to be enthusiastic and feel like they're committed, engaged and a valued part of the institution."
A draft report from President and CEO Kwang-Wu Kim and former Senior Vice President and Provost Stan Wearden, which recommended the closure of the programs, was sent to the Faculty Senate for feedback in March 2018. The initial report also recommended the termination of faculty in these programs, as reported April 2, 2018, by The Chronicle.
According to Andrews, the tenured faculty will remain at Columbia but will have to find new courses, new program homes, new departments and new majors in which to teach.
He added that current students in the programs will have a period of two to three years to complete their courses before they are phased out entirely.
Dean of the College of Education at Roosevelt University Tom Philion said he was sorry to hear of the closure but said it is a sign of the national trend of declining enrollment in education programs.
"Teaching has become less attractive to students," Philion said. "For a lot of students, moving from high school to college and then back to an elementary school … feels like you're going backward and that's a psychological hurdle for a lot of students to overcome."
Students in the Dance Movement Therapy Department were also stunned by the closings.
Graduate student and President of M.O.V.E.D, the Dance Movement Therapy graduate student advocacy group, Kellyn Jackson said the closure is emotional for her.
"The faculty who were really instrumental in the beginning of the program [aren't there anymore], so it's hard to not have them around," Jackson said. "We feel very isolated. It feels like we're stuck in a bubble without as much support as there was."
Jackson also expressed her concern for what this closure means for the Dance Movement Therapy community in Chicago.
"The amount of places that we're receiving dance movement therapy services for free is huge. Our faculty did the math and it was something like 40,000 individuals (who) were served by Dance Movement Therapy interns. This means that all these places—hospitals, schools, nonprofits and other community organizations—that were receiving dance therapy through interns, are no longer going to be receiving that."
Jackson added she fears many of the places where interns volunteered will not have the funding to hire professional dance and movement therapists.
"The dance movement therapy community in Chicago is veryvibrant and very strong," Jackson said. "It's really a huge loss for the community."