College finds footing in enrollment decline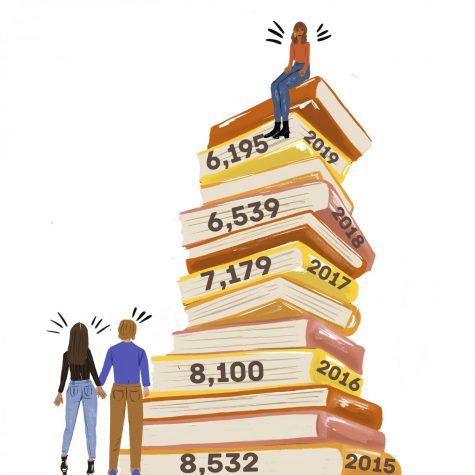 Enrollment at Columbia is continuing its years-long downward trend with the Spring 2019 semester, according to the college's Institutional Effectiveness website. But faculty and administrative leadership said that may change soon.
From Spring 2017 to Spring 2018, enrollment suffered an 8.9% decline. From Spring 2018 to this Spring 2019 semester, the decline was 5.3%—a slight improvement. 
While the college is not expecting significant enrollment increases in the fall, it hopes the more than 10-year trend of decline will level off. 
"We've had this consistent decline from fall to fall," said Vice President of Enrollment Management Michael Joseph. "Our goal … for this coming fall is that we stem the tide there and stop that train going in the wrong direction."
In 2008, 12,464 students were enrolled. Since then, enrollment has tumbled every year. Between 2013 and 2017, enrollment went down by 27.9%.
Sean Andrews, Faculty Senate president and associate professor in the Humanities, History and Social Sciences Department, said a slight decline in enrollment is usually expected between the fall and spring semesters; enrollment is projected to increase by about 200 students by fall. 
Joseph said there were around 700 freshman deposits at this time last year, and there are currently  900. He added  transfer deposits have increased as well, from around 250 last year to approximately 300. Not all students who put down a registration deposit will enroll at the school though, as many use it to secure their spot at multiple schools while they decide which to attend. While Columbia has been disproportionately affected by this in the past, Joseph said he hopes to cut that number in half and hold on to students who have put down deposits. 
This could be the first enrollment increase the college has seen in 11 years, Joseph said. He added that the college hopes to increase total enrollment to 8,000 students by 2025. 
"It could be a random coincidence or the start of a new trend," Andrews said. "It definitely is better than the alternative."
Andrews attributed the promising statistics partly to the new marketing initiatives targeting geographic areas to bring in more students, such as from the Chicagoland area, where enrollment has been down in previous years. The increased amount of financial aid and scholarships being offered by the college may also be helping enrollment, Andrews said.
While the issue of declining enrollment may not be as severe as in past semesters, the college will still have to reallocate its budget to make up for the loss of income from tuition and to support the amount of aid provided to students.
Andrews said this budget reallocation will look different across departments, but may include not hiring faculty replacements. 
Most departments collegewide saw a decrease in enrollment, some more drastically than others. The four departments with the highest enrollment decline are the Fashion Studies Department, with an 11.4% decline; the Communication Department, with a 10.6% decline; the Music Department, with a  9.2% decline; and the Business and Entrepreneurship Department, with an 8.1% decline.
However, the Interactive Arts and Media department saw an uptick in Spring 2019 enrollment, with a 62.7% increase—an addition of 198 students, according to the college's enrollment website.
Chair of the  Communication Department and Associate Professor  Suzanne McBride said new leadership, recruitment and marketing practices are cause for excitement. She also expects fall enrollment improvements. 
"In my 14 years here … I have never felt such energy," McBride said. "There's been a rethinking among faculty members … who [are now] playing a role in getting students here." 
With numerous initiatives in the works to increase diversity and inclusion at the college, enrollment among diverse ethnicities increased. The number of Asian students enrolled for Spring 2019 increased by 8.4%, and the number of Hispanic students increased by 4.8%.
President of the Asian Student Organization and senior acting major Tina-Kim Nguyen said she was pleasantly surprised by the increase in Asian students because of the stigma in the community about being in the arts.
Although she attributed the increase to Columbia's focus on diversity, she said there is not much diversity among individual departments. For example, there are only 14 Asian students in the Theatre Department.
The number of black students decreased by 4.2% and was the only demographic to have a significant decrease.
Isaiah Moore, a sophomore television and cultural studies double major and community chair to the Black Student Union, said the decline showed there is more to be done to make students feel represented.
"It's telling [of] how Columbia hasn't reached out to the demographic of black and African American students," Moore said. "They try to market it in the sense that they'll put pictures of people who look like me on the cover of certain things, but it doesn't really do much to diversify … or include them in the conversation. They try to make [diversity] a hallmark of what we do, but we don't see administrative leaders who look like us, for the most part."
Moore said it can be nerve wracking to come to Columbia because incoming students may not see the representation they are looking for during tours and orientation.
If enrollment continues to decline, more tuition hikes could be a possibility, Andrews said.
President and CEO Kwang-Wu Kim announced in a Nov. 27, 2018, email to students there would be an increase in tuition for the 2019–2020 academic year from $26,090 to $26,610.
Vice President of Marketing for BSU and junior cinema art and science major Dorian Mays said more tuition hikes may be necessary, but budget cuts can cripple the quality of students' education and access to resources.
"What's the point of me being at Columbia now if the budget is being cut so much?" Mays said. "Some the majors have no space to grow."