'Herstory' is made: Lori Lightfoot sworn in as mayor of Chicago
A new era in Chicago has begun with the swearing in of three women to the most powerful political positions in the city, with all eyes on Mayor Lori Lightfoot—the city's first black, female, LGBTQ mayor—as she vowed to crack down on political corruption in the City Council.
"In this moment I can't help but look at all of you and think about what lies ahead," Lightfoot said. "A city of safe streets and strong schools for every child, regardless of neighborhood or zip code … a city of sanctuary … a city of fairness and hope and prosperity for many, not just for the few."
During her inaugural address Monday at the Wintrust Arena, 200 E. Cermak Road, Lightfoot reiterated her campaign commitments: public safety, governmental transparency, building up neighborhood infrastructures, repairing mental health resources and improving city finances.
Lightfoot called for togetherness to tackle these issues.
"I promise you, the city will lead, and we've already begun this work," she said. "For years, they've said Chicago ain't ready for reform. Well, get ready because reform is here. I campaigned on change; you voted for change; I plan to deliver change to our government."
Also sworn into office were Treasurer Melissa Conyears-Ervin and City Clerk Anna Valencia. It is the first time all three citywide elected positions are held by women of color.
All 50 members of City Council—some new and some returning—were also sworn in, including former Columbia Internship and Career Advisor Rossana Rodríguez Sánchez.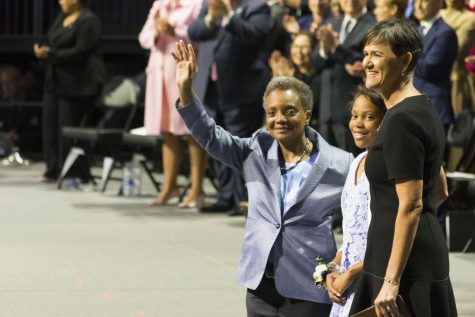 The new mayor will face challenges within her first moments in office. The Chicago Teachers Union has threatened to strike in the fall, a federal consent decree is facing the Chicago Police Department and a pension crisis looms as Lightfoot works to fulfill her campaign promise of citywide reform.
Lightfoot's address was compared to Mayor Harold Washington's call for no more "business as usual" in his 1983 inaugural address. Washington's call, in part, resulted in Council Wars, led in part by Ald. Ed Burke (14th Ward), who remains in office despite facing federal attempted extortion charges.
While she did not mention Burke by name, it was clear Lightfoot had the longtime alderman—who easily won reelection Feb. 26—in her sights.
"No official in the city of Chicago, elected or appointed, should ever profit from his office. Never, ever," Lightfoot said. "The requirement that people must give more to access basic city services must end, and it will, starting today."
She also laid down the law for aldermen onstage about what would be expected of them under a Lightfoot administration.
"When public officials cut shady backroom deals, they get rich and the rest of us get the bill. When some people get their property taxes cut in exchange for campaign cash, they get money and, sure enough, we get the bill," Lightfoot said. "These practices have gone on for far too long, and these practices breed corruption. Stopping it isn't just in the city's interest, it's in the City Council's interest."
Lightfoot then turned to face Burke, who sat behind her stoically onstage among his fellow aldermen.
The nomination of Ald. Scott Waguespack (32nd Ward) to chair the Finance Committee, a position once held by Burke, could be viewed as a declaration of political war to those used to the Chicago Way, due to Waguespack's open criticism of Chicago politics, which has earned him some enemies on the Council.
Lightfoot has already gone up against Burke and others, vowing throughout her campaign to abolish aldermanic prerogative, which gives aldermen the final say over projects in their wards.
"Alderman will have a voice but not a veto," Lightfoot said. "It's the time for a new era of trust between the people of Chicago and the government that serves them."
However, many aldermen, including Burke, have said they do not think aldermanic prerogative should be abolished. Lightfoot issued an executive order only hours after her inauguration to end the decades-old practice.
"Just like when I was a little girl, I'm working hard … to make sure families … don't have to struggle like [my family] did," Lightfoot said. "To the generations who came before us and to the generations yet to come, we will continue to build this great city to leave it better, stronger, fairer and more prosperous than when we found it.