Casting controversy sparks discourse on representation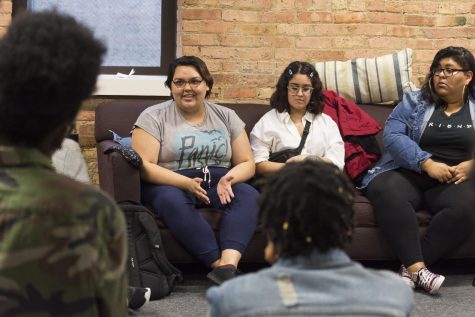 During the first table read for the Columbia production "HOME/LAND," cast members looked at each other and wondered, "What the hell is this?"
Cast members alleged Associate Professor in the Theatre Department and the play's director Catherine Slade ignored concerns about white actors being cast in roles written for Latinx and Palestinian characters, made racially insensitive comments on set and attempted to make changes in the script that some students felt fostered stereotypes about immigrants.  
The Chronicle contacted Slade on Saturday, April 20 and requested an interview, to which she initially agreed. On Monday, April 23, the News Office intervened and eventually denied interviews with Slade, Theater Department Interm Chair Peter Carpenter and Diversity, Equity and Inclusion Scholar-in-Residence for the Theater Department Khalid Long. After repeated requests for a statement, the News Office supplied one Friday, April 26, in the evening shortly before The Chronicle's deadline.
"The Theatre Department is committed to providing students with opportunities to perform in diverse theatre productions," the statement read. "The 'HOME/LAND' script called for Latinx, Palestinian and Caucasian characters. All students who auditioned were cast in the production. However, not all of the students who auditioned were of the same race and/or ethnicity as the characters identified in the script. Indeed, no Palestinian students auditioned for the play, and as such, non-Palestinian actors were assigned to those roles. Several Latinx students who initially auditioned for the production didn't pursue participation."
Three white actors were cast in Latinx roles, according to sophomore theatre directing major and Assistant Stage Manager Amy Gerwert-Valdez. Still, the Latinx students said the experience brought them closer together.
As its first event, the Mosaic Theatre Collective—in conjunction with the Asian Student Organization, the Black Student Union and the Muslim Student Association—hosted a sit-down with cast members April 18 at The Loft, 916 S. Wabash Ave., to discuss incidents that occurred on set.
The Mosaic Theatre Collective is a student-led organization that supports black performance artists at Columbia.
"There was no trying to collaborate with us; there was no trying to see if [she was] doing the right thing. It almost felt like we were just being used as pawns," said sophomore musical theatre major and cast member Sophia Alonzo. "It's hard because these are real stories to our families and our background that were [not treated as] valid."
Created with the Albany Park Theater Project and performed March 13–23, "HOME/LAND" tells the stories of Latinx and Palestinian immigration to America. The show was based on interviews with Chicago-based immigrants.
Gerwert-Valdez said she had a meeting with her stage manager and Slade due to concerns about white actors being cast for Palestinian roles, but said her concerns were dismissed. When concerns about the casting of white actors as Palestinian characters were voiced, Slade said Palestinian people "are just white people," according to Gerwert-Valdez.
Slade would act out toward the cast by being aggressive and speaking badly about them, Gerwert-Valdez said. 
"From the get-go, it felt disrespectful," Gerwert-Valdez said. "It got to a place where nobody felt safe; no one was comfortable with her."
Sophomore comedy writing and performance major Allison Cochrane, a white actor who played a white character in the show, said cast members were uncomfortable from the first read-through, but they all stuck together regardless.
Though she did not personally experience or see any discrimination from Slade, she heard comments made by Slade about the Latinx cast looking white anyway. Cochrane attributed the incidents to a lack of cultural understanding on Slade's part.
Sophomore acting major and cast member Gabriel Chinchilla said he noticed the insensitivity when he saw white actors reciting lines in Spanish and Slade altering the show material in "culturally ignorant" ways. 
In one scene, Alonzo said Slade tried to add a line to show a comparison between Latinx immigrants and cockroaches and imagery of chicken farms with mass chicken slaughter. But the lines and imagery were not added after student complaints, students said.
Despite her frustrations, Alonzo said she chose not to quit the show because she did not want to "let [Slade] win."
Slade allegedly called Daniela Monico, sophomore theatre technology major and the show's sound design and foley artist, Mexican even though Monico told her she was Colombian.
Monico said she had signed onto the show with excitement for telling a meaningful story with which she connected, but her hope began to diminish because of Slade's actions and indifference to student concerns.
"I wanted to do [the show] justice," Monico said. "I wish the director cared more."
Although the cast was upset with Slade, some said they were concerned about judging her too harshly.
"It's so easy to dehumanize people who do things like this to us, … [but] I have no idea what [she], as a theater artist, as a black woman, had to do in this industry, so I cannot disregard her," said Estefania Unzueta, a sophomore advertising and writing for performance double major.
From pre-show dance parties to connecting with other Latinx theatre students, working on "HOME/LAND" also had its "joyous moments of being seen," Unzueta said.
For sophomore acting major and cast member Kristina Hernandez, working on the production made her feel like she was home because she was able to meet other Latinx students at the college.
"Being in a production with people who share my culture … It was really great to have that experience," Hernandez said.
Monico saw her mother cry when she saw the show and knew her mother felt connected to the real stories of immigrants' lives showcased in the play.
"It was the first time I've been in a production where I see people whom I can relate to," Monico said. "There's really beautiful moments in it."
But students said there could have been more of those beautiful moments if there had been a more open dialogue during production between the director and cast members.