One door closes, another opens: Double Door will play its 'dirty rock' in a new location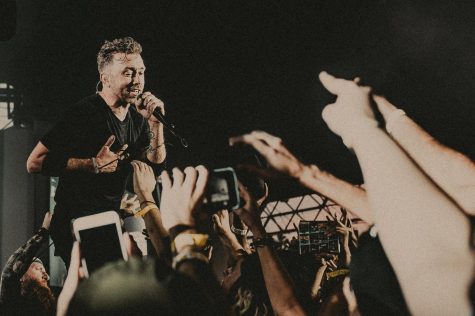 Editor's note: This article is one in a series of stories from the Communication Department's award-winning Echo magazine,  featured this summer on the Chronicle site.
_____________________________________
The air smelled of stale cigarettes and sweat emanating from huddled bodies, all pushing closer to a dimly-lit bar or the dance floor. For music fans with drinks in hand and shoes sticky from the booze-soaked floor, Chicago's Double Door venue was a walking hangover.
The venue hit all the right notes: It was spacious, yet intimate, with cozy corners, rickety bar stools and profound sound systems and lighting. Guests could take a gander at the Ham Band Wall, a door where bands who'd played the Double Door got the word HAM added to their name. For instance, Chicago punk rockers Rise Against became HAM AGAINST WAS HERE on the wall.
For Lorri Francis, this space was home. Francis joined the Double Door team as a manager shortly after its opening in 1994 at 1572 N. Milwaukee Ave. and was there every day until its eviction in 2017, after more than a year of litigation between the venue's co-owners, Sean Mulroney and Joe Shanahan, and the building's landlord.
Francis arrived at work as usual that day and was denied access by two sheriffs standing outside the club's doors. She was the first person to find out about the eviction and was never truly able to have a proper goodbye with the people she saw as a big family.
More than four years after its eviction, Double Door is slated to reopen and relocate to an historic theater in the Uptown neighborhood later this fall, Mulroney says. He viewed the space, which has been vacant for more than 15 years, right after Double Door's original location closed, but met a few speed bumps along the way, including the pandemic.
In March, Mulroney bought the building and began working with the local alderman and architects to update the space and permits. It's a labor of love, he says.
"One door closed, and I have been trying to find that open door for years, and the one I found is the perfect door," Mulroney says. "Double Door will be wearing a little bit of a fancier dress, but it is still going to be Double Door."
Although elated about the club's reopening in the Wilson Avenue Theater, Francis hopes the new venue has the same magic the Double Door did in Wicker Park, with its vintage look, the same Ham Band Wall and some original staff.
Mulroney says the tight-knit community within the Double Door walls was what helped make the venue "magical," and that every employee was a music lover first, always joining in to cheer on the performers.
Shanahan was with Double Door from day one, when Chicago music exploded in the early '90s. The venue hosted local bands like The Smashing Pumpkins, Wilco, Cheap Trick and Rise Against (names that are recognizable now, but weren't yet back then), when smaller record labels and agencies were on the come up, looking for new talent to represent.
"It was exciting to see something in the right place at the right time," Shanahan says. "People talk about the perfect storm, but it really was something special."
Shanahan adds that Double Door was more than just another music venue; rather, it was a launch pad for careers and opportunities in the music industry. Anyone could go to the venue on any given night and witness something different: poetry, a DJ set, hip-hop, metal, indie.
From pulling off a secret show with The Rolling Stones to partnering with the Chicago Roots Collective — a group of musicians working together to get their music heard — Double Door was a space for creativity, life and support. Donnie Biggins, owner of Golden Dagger and member of alt-country group The Shams Band, performed at the venue about 10 times and helped initiate the partnership with the Roots Collective.
As someone who spent many nights in the downstairs bar, Biggins says he is elated to see the venue survive in a new location and that there is a shared spirit among all Chicago venue owners right now: the hope for a return this year.
Double Door is reopening at a peculiar time — when nearly all Chicago spaces are closed and awaiting funding. With vaccinations and grant money available for people working at Chicago's independent venues, there is a glimmer of hope that others can open alongside the newly-envisioned Double Door. As co-owner of The Hideout Katie Tuten says, the Chicago music scene will be booming in the next few months.
"Chicago has a very vibrant live music community. We're very fortunate in that regard," Tuten says. "I wish [Double Door] luck. They had a very vital business before, and they'll probably be just as engaging."
In the late '90s, Chris Johnson, a DJ known as Duke Grip, began attending shows regularly at Double Door when it relaunched Liquid Soul, a jazz, hip-hop, funk, freestyle fusion ensemble that inspired the acid jazz movement. Johnson would often see flyers for funk and soul shows at other venues, but when he would attend them, he was not impressed. This led him to approach Double Door with a new night, similar to Liquid Soul, that would feature DJs spinning groovy soul records: Soul Summit.
Johnson says it was a match made in heaven. Soul Summit was a mass of bodies, vibing off each other's energy while dancing and listening to raw soul and funk music.
"I was really proud of that, especially proud of it at Double Door," Johnson says. "I don't think we'll ever get the same kind of arrangement and atmosphere that we were able to create in that space."
Mulroney says once the new space is up and running, people will be greeted by familiar faces and decor. Their hope is that when people walk into the venue for the first time, it'll feel like the original Double Door. It will be larger than the previous space — allowing 100 more guests — and will have two levels. Mulroney says the perks of opening a new venue right now is the ability to install up-to-par HVAC systems and other features needed for proper air flow and COVID-19 safety, which will make the venue "cutting edge."
So, how do I keep that dirty rock thing going on in a room that is substantially prettier than the one in Wicker Park?" Mulroney says. "It's going to be a blast."
A Double Door Love Story
In the '90s, Sean Mulroney and Andy Barrett were working together at Sweet Alice, a tavern in Ukrainian Village. At the time, Sweet Alice had a second storefront that was vacant and, naturally, Mulroney and Barrett wanted to morph it into a music room, but got pushback. Mulroney says he knew what made a good music venue, from his own experience playing live shows, so off the two went to find a different space for music in the neighborhood. Thus, Double Door was born in 1994.
In Wicker Park, they found a vacant space, with a small entrance tucked behind Double Door Liquors. The rest of the building was a country music bar called Main Street Tavern. There was talk of other possible names for the venue before they settled on Double Door, Shanahan says, but it was a nobrainer to keep it the same as the liquor store. Old signage outside — free promotion.
According to Francis, Double Door was one of the first businesses that made the Wicker Park neighborhood a hot attraction, initiating the opening of other bars and businesses around it. Mulroney says the neighborhood was "a little rough [at the time], but really exciting."
_____________________________________
The 2021 issue of Echo will be available this summer on newsstands across campus, and PDFs of all issues are available online.