Editor's Note: spread kindness, not the coronavirus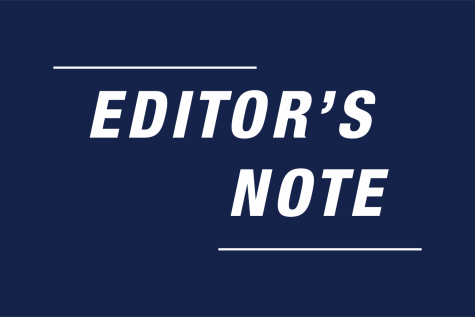 Over the last six months, I have witnessed countless discouraging events that leave me questioning my faith in humanity as both a journalist and a human being.
Since the coronavirus pandemic began, we as a nation have seen an influx of cruelty and hostility toward one another. In businesses, we see customers yelling at essential workers after being asked to wear masks, and in some communities landlords are threatening to evict tenants who cannot make rent due to a loss of work.
On the CTA or walking down the block, we avoid mask-less people or those who wear their face covering as a chin guard, and we notice those on our block throwing large parties that do not follow the Centers for Disease Control and Prevention guidelines, putting others' health and safety at risk.
At times, the bad news feels overwhelming and never-ending—from the economy free falling to large corporations receiving stimulus funding over small businesses, to rising death tolls and threatened livelihoods, to political divides, to continued social injustice and police brutality.
But in spite of the hardships people have faced at the hands of others, I have also seen a lot of good. Recently, the Chronicle has covered innovative leaders at Columbia pioneering clear face masks and students hosting virtual events to bring people together from afar.
During the summer various organizations across the city regularly delivered food to the elderly and worked with marginalized communities to address needs during the pandemic. Neighbors communicated with positive Post-it Note window messages and hung signs applauding medical workers.
Generous donors have stepped up, giving grants to those struggling to make a stable income, and activists have initiated direct action from leaders toward addressing systemic issues of racism, economic inequality and climate change.
While Columbia is not perfect and as a publication we continue to hold the school accountable, its coronavirus guidelines and safety protocols, as well as its anti-racist initiatives, are a promising start toward real change.
The college is faring better than others which have turned to entirely remote instruction and quarantined students due to large outbreaks, and schools like the University of Akron in Ohio, which has laid off a significant number of faculty and staff.
What I have learned from this is that there is a time for understanding and kindness. Especially because the coronavirus, or COVID-19, affects people differently on account of their health, race and socioeconomic status and we do not always know what is going on in their lives.
Although the pandemic may look different to everyone—some who have lost loved ones to the virus, others who must work from home with small kids attending school virtually and those who do not have the option of working from home if they want to keep their jobs—we all have to get through this together by having respect for others' emotions and health.
This means, yes, wearing a mask and looking out for one another by actively attempting to stop the spread of the coronavirus. It can also mean calling a family member or friend once in a while, volunteering, showing appreciation and compassion, performing random acts of kindness or just trying to peacefully coexist with co-workers, roommates and community members.
Why not go forward with purpose remembering the lessons we have learned about kindness and help our fellow neighbors during this time? Even if Zoom calls are wearing us down, the feeling of hopelessness is slowly creeping in and the fight against injustices feels like an uphill battle, we can at least come out of this closer to those around us—both virtually and physically—rather than more polarized.
We may not have control over how long the pandemic will last or what the next year will bring, but we can control how we treat those around us.
This is essential in improving our community at Columbia and the world at large. The fact that there are caring people out there, working to preserve humanity with patience and grace, gives me hope.