Chicago students stand in solidarity for police-free campuses
Students from eight Chicago universities and colleges, and others from schools outside the city, came together for a block party to demand police-free campuses and celebrate strength in numbers.
Hosted by Solidarity Street, a student-led community organization, students gathered at Millenium Park, 201 E. Randolph St., for the "Solidarity Street: Abolish CPD Block Party," before marching to East Jackson Boulevard and South State Street for a celebration with music, chalk drawings and speeches.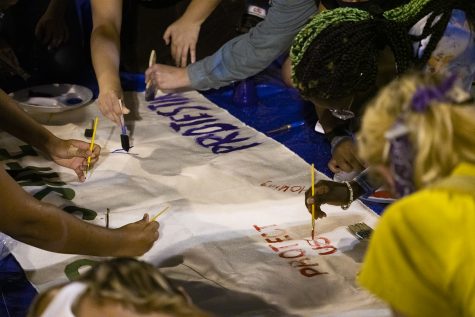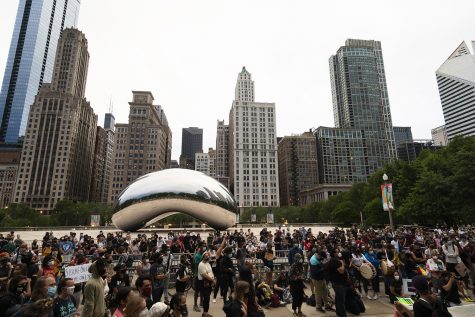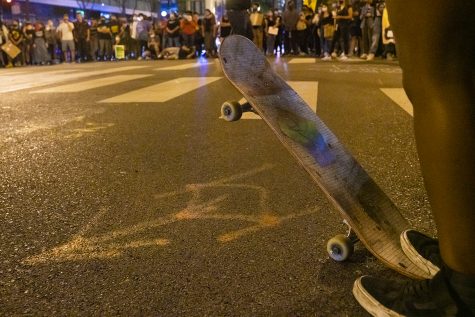 The students banded together to put pressure on institutions to end contracts with the Chicago Police Department, refuse to work with U.S. Immigration and Customs Enforcement, invest in health care resources for students and lower tuition and housing costs for online instruction.
Colleges and universities represented included Columbia College Chicago, the University of Chicago, DePaul University, The University of Illinois at Chicago, Northwestern University, Roosevelt University and Northeastern Illinois University.
Alicia Hurtado, a student at the University of Chicago and a member of CareNotCops, a student-led campaign that opposes a police presence on campus, said student's tuition money and "safety" are used against them to justify having a private police force. The group is affiliated with UChicago United, a multicultural student organization.
"This moment calls for the abolition of police, it calls for us to be bold and stating that we want the abolition of police," Hurtado said. "This moment calls for building a community of solidarity like we're doing tonight. And most importantly, this moment calls for action. "
CareNotCops was created in April 2018 after a University of Chicago police officer shot Charles Thomas, a student who was undergoing a mental health crisis.
Thomas has been released on bond after being charged with aggravated assault of a police officer and damage to property, according to a April 19 story in the Chicago Sun-Times. A lawsuit filed by Thomas against the University of Chicago, the University of Chicago Police and the officer involved in the shooting also alleges that "other individuals have suffered injuries at the hands of other officers" working for the University of Chicago or its police department, the Sun-Times reported on March 25.
At the protest, Hurtado asked student protesters to consider racial injustices in the police system and to feel "motivated" and "energized" in taking action and making change.
Destiny Harris, a West Side native and student at Howard University, a historically black institution in Washington D.C., said Chicago is over-policed and students are "slapped in the face" with police forces at their universities.
"Most of the major schools here are [predominantly white institutions]," Harris said. "They claim that they care about their Black and Brown students. They're happy as hell to slap y'all's faces on the back of a diversity pamphlet and be like, 'Our school is diverse' and yet they have these racist-ass cops on our campuses patrolling us."
Growing up, Harris said everywhere she turned, there was a cop in sight while she attended Whitney M. Young Magnet High School, which neighbors the Chicago Police Training Division, 1300 W. Jackson Boulevard.
"That ain't right," she said as the crowd chanted back.
The Campus Safety and Security page on Columbia's website states, "Our close relationship with the Chicago Police Department's 1st Police District is a critical component of the Columbia College Chicago protection plan. We also foster close relationships with other local public safety authorities including the City of Chicago Office of Emergency Management and Communications and the Illinois Department of Human Services."
As of publication on Aug. 2, the office of Campus Safety and Security had not contacted the college about the weekend protest.
The group of nearly 250 student protesters marched from Millenium Park to East Jackson Boulevard and South State Street, in front of DePaul University's DePaul Center—halting traffic on Michigan Avenue and chanting, "Back up, back up, we want freedom, freedom. All these racist ass cops we don't need 'em 'em," among other anti-police chants.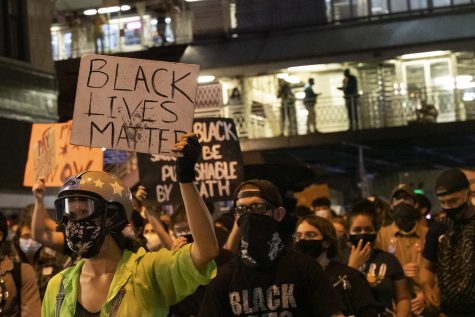 E-S0$a Osaghae, an Uptown resident and artist-in-residence at the School of the Art Institute of Chicago, played the original rap-jazz song "Let Us Breathe" at the protest to put a middle finger up to Mayor Lori Lightfoot and President Donald Trump, he said.
He wrote the song while he was in quarantine in response to #LetUsBreathe Collective's virtual exhibition and said it reflects a lot of the recent social unrest the country is experiencing.
Through the sounds of cheering, the University of Illinois at Chicago student and Black Youth Project 100 member, Tynetta Muhammad, implored the crowd to challenge their college and see if it is taking necessary action at this moment.
"We know the role of the police is to protect property, capitalism and most of all, white supremacy," Muhammad said. "Our college campuses exist as monuments to the stolen knowledge and denied education of Black, Brown and Indigenous people."
Like many others, Muhammad said she was forced into a box where every decision and part of representation in society was decided on by white supremacists.
Her work and that of other activists should start with making education accessible to all and empower it with "diversification," she said.
"We stand on solidarity street, the crossroad of justice in unity knowing that our unity is more powerful than any of the things formed by white supremacy," Muhammad said. "We will win."