Chicago Resiliency Fund to provide $1,000 to those who didn't receive a federal stimulus check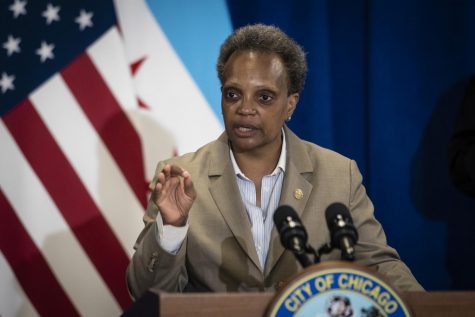 Like many college students, junior journalism major Kaya Lane did not receive federal coronavirus relief funding. Lane said she believed she was eligible for the $1,200 federal stimulus check but never received one.
Before the coronavirus pandemic, Lane worked at a dog daycare. She was one of the first to be let go in a round of layoffs and was out of work for almost four weeks, she said, which left her in a difficult position financially.
"I definitely could have used the [federal] money," Lane said. "Regardless of the fact that I no longer was working, my bills didn't stop."
More than 300,000 individuals in Chicago did not receive a federal check, according to Mayor Lori Lightfoot in a June 10 press conference. Many of those impacted are undocumented immigrants, from mixed-status families or dependent adults, Lightfoot said.
To provide relief for these groups, Lightfoot announced the Chicago Resiliency Fund, a cash assistance program with up to $5 million for those who did not receive the Economic Impact Payment through the federal Coronavirus Aid, Relief and Economic Security, or CARES Act. Households that meet eligibility requirements can apply for $1,000 checks until funding runs out.
Chicago residents with proof of residency who were not eligible for the federal stimulus check can apply for assistance through the Resiliency Fund. Additionally, applicants' 2018 or 2019 household income must be less than 300% of the poverty level as outlined on the Resurrection Project's website, and applicants must provide proof of income.
For a household of one, for example, 300% of the poverty level would be $38,280, according to the Resurrection Project's website. For a family of four it would be $78,600.
Applications will only be accepted by phone starting Monday, June 22. Funds will be distributed on a first-come, first-serve basis until funds are depleted. The fund is continuing to accept donations.
The Chicago Resiliency Fund is a partnership between the city and the Pilsen-based Resurrection Project. Open Society Foundations donated $1 million to the fund and $4 million was contributed by an anonymous private donor.
"Several weeks ago, we started conversations with the city," said Eréndira Rendón, the vice president of the Immigrant Advocacy and Defense Project at The Resurrection Project. "The mayor's office actually started conversations with the Open Society Foundations, so we were able to make sure that we could get that seed funding to start the project."
Rendón said college students in need of financial assistance are encouraged to apply for the Resiliency Fund, but some may not qualify. Students must be Chicago residents and the income of the entire household—not just the individual student—has to fall below 300% of the poverty level, she said.
Unfortunately, the fund will not help everyone.
Incoming freshman film and television major Isabella Garcia lives in Tampa, Florida, and is not eligible for the Resiliency Fund payment. She also did not receive federal coronavirus relief funding. Garcia said she did not have enough income to qualify for a tax return and was not eligible for the $1,200 federal stimulus check.
But she could have really used the money, she said. Her mother, who was visiting family in Venezuela when the pandemic hit, has been stuck there since March due to coronavirus related travel restrictions. Garcia, a recent high school graduate, said she has been on her own and has had a difficult time finding work to make ends meet.
"It was difficult not being able to qualify for something that was pretty much needed for me at this time," Garcia said. "It's been hard to get by, by myself."
Similar programs to the Resiliency Fund are popping up in other major cities and counties across the country, said Colleen Thouez, director of the Welcoming and Inclusive Cities Division of Open Society Foundations.
"[OSF] pledged to support other cities by seeding similar efforts and encouraging other philanthropy to come on board and help support the work," Thouez said. "After New York City, Chicago received the largest donation from OSF."
Thouez said her organization has begun work in 20 states, counties and cities, like Washington, D.C., Atlanta and Philadelphia
Some, however, are worried a one-time check will not provide enough aid to those in need.
Freshman photography major Terrain Walker said he received a federal stimulus check, but many of his friends did not. He said people have not been able to work due to the pandemic and artists have especially suffered financially. The $1,000 from CRF will be helpful to those who were not eligible for the federal stimulus check, he said, but it is still a limited amount.
"We don't really know how long all of this is going to be going on," Walker said. "If that's the only check they're handing out, it's not going to last everyone forever."
Garcia said monetary support needs to be widespread because most people have been impacted financially by the pandemic. She said additional federal stimulus funding is "almost necessary" to get the economy moving, but for everyday life, any amount helps.
"One thousand dollars may not seem like a lot of money for a one-time thing. But, at the end of the day, there are certain resources people are struggling to get nowadays," Garcia said. "It's something that seems small in retrospect, but it has a really, really big impact."
To apply for the Chicago Resilience Fund, call (312) 880-1145 starting June 22, 2020.