South Loop window art creates smiles that stick
Bored and stuck in his South Loop apartment, Chenyu Lin began creating designs with various colored sticky notes on his window in an attempt to communicate with his neighbors.
Lin's first design was three weeks ago of DJ Steve Aoki with the question, "How are you?"
One of his neighbors responded with "good" and a smiley face in sticky notes. Since then, Lin has created approximately 12 designs of people, food and cartoon characters such as Olaf and Bowser.
Lin, a second-year graduate student majoring in print media at the School of the Art Institute Chicago, said his designs are different than his neighbors' messages of "love" or "support" because his designs focus on something lighter, rather than focusing on the "sadness" of the pandemic.
"We need to stay at home, so let's talk [about] something easy like, 'Do you like cats or dogs?' 'What's your dinner for today?'" he said.
Because sticky notes are often in the shape of squares, Lin said it is easier to begin by mapping out the designs on his computer, using his experience in designing pixel art. Each design can take approximately two to four hours, he said.

Lin also has incorporated household items, such as Trader Joe's paper bags, into his work because he does not have access to resources from SAIC due to the coronavirus, or COVID-19, pandemic.
Laura Cremonesi, a pediatric occupational therapist and a resident of the South Loop, said she was inspired to create a life-sized Donkey Kong out of sticky notes because she continues to work with children during the coronavirus pandemic.
"I work with children, so the idea was to have them work on executive functioning and do some[thing] … at home as a relaxing family activity," Cremonesi said. "Then it grew into something much bigger."
Cremonesi is not the only one who was inspired by her occupation when designing window art.
Dr. Smita Kumar, a general dentist and South Loop resident, plastered a large tooth with a crown on top and a tooth fairy beside it on her window.
"There's been a big, huge gap in my life right now because I'm only working 15 hours a week as opposed to the 40 or 50 hours I used to before COVID," Kumar said. "And after doing a lot of dental webinars, a lot of reading and not being able to practice dentistry, I miss it immensely."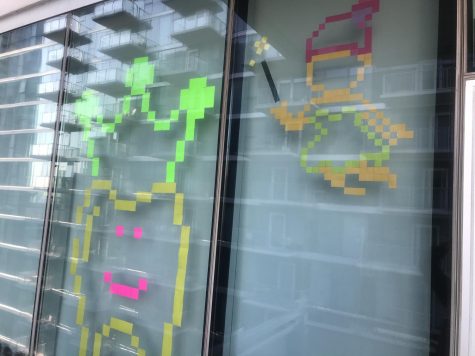 However, Kumar did not have sticky notes in her home, so she instead cut bright-colored pieces of construction paper. It took her nearly three hours to create the tooth and four hours to create the "complicated" tooth fairy, she said.
Despite being a little apprehensive about putting it up on the window, she said her husband encouraged her to do it because it was something the neighborhood would appreciate.

After receiving a positive response from neighbors, Kumar said she plans to create another design, which will be multiple "cavity bugs" with toothbrushes and floss to remind people to brush and floss their teeth.
"We're living in our own bubbles right now and people can feel isolated," Kumar said. "Something as simple as putting up, say, a heart or signs of hope and love … shows solidarity and makes you feel a little less lonely."