Baseball beer ban built to fail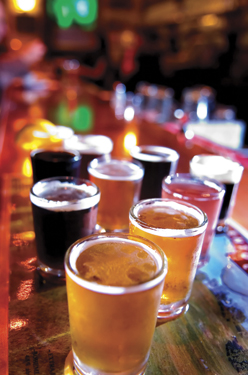 By Sara Harvey
September 29, 2008
The most wonderful time of the year is approaching, and I don't mean the holiday season. I mean October-postseason baseball, peanuts and beer.
The Chicago Cubs are now playoff-bound, and legions of fans have many more opportunities to get playoff drunk. But if a new ban on beer after the seventh inning is enacted, could it stifle the party?
The Chicago Sun-Times reported last week that the city's Office of Emergency Management and Communications proposed an alcohol sales ban in Wrigleyville, which would only go into effect during a clinch game after the seventh inning. Drinking would be allowed after the game finished. The bars in Wrigleyville that would be affected would be on Sheffield Avenue between Newport Avenue and Irving Park Road; on Clark Street from Irving Park Road to Newport Avenue; and on Addison Street from Wilton Avenue to Racine Avenue.
For the record, no vendors inside of Wrigley Field are permitted to sell alcohol after the seventh inning, with or without the ban. Bars, though, are supposed to stop serving if the ban goes into effect, even if it means they lose business. The city would lose business too-on taxes that would have been collected from all the booze sold. That doesn't sound like a winning idea.
On the other hand, it's admirable that the whole purpose of this ban is for safety reasons-not necessarily to prevent people from getting DUIs, but to curb the drunken fan mayhem in the streets around the Friendly Confines. But then, isn't that common for Wrigleyville, anyway?
It's an exciting time for the Cubs, who are trying to break their 100-year curse. It's also the first time in 100 years they've won the National League Central Championship two years in a row. And don't forget pitcher Carlos Zambrano's no-hitter on Sept. 14-it was the Cubs' first since 1972. There's a lot for fans to get excited about.
What's so ridiculous, though, is that the city assumes people are going to sober up or decide to go home during the time alcohol isn't for sale. Clearly, the city doesn't know Cubs fans (or determined drinkers or even people having a good time) as well as they think. The easy solution for this, if it's the sixth inning and booze time is running out, is to buy as many drinks as possible to hold out until the game is over, preferably in pitcher form.
I know I'm not the only one who knows about this solution. In fact, I'm sure plenty of other fans will try to do this and succeed, unless they're already on the verge of being kicked out on their surly, drunken butts.
So, the city is afraid of drunken baseball fans en masse. And bar owners are afraid of losing business. Well, I've got news for you: If people really want to drink, whether it's to get drunk or not, they're going to find a way to do it no matter what. This ban wouldn't really stop people from getting drunker.
To add insult to injury, a ban like this seems like we're showing the world that Chicago can't do crowd control. That's pretty stupid, considering we're a 2016 Olympics Candidate City. Chicago can do crowd control, judging by past events (i.e. White Sox fans after the 2005 World Series Championship game. Hello, anybody home?).
Maybe the discussion that will take place between the bar owners and the city will strike some sense into these people.
But when it comes to bans, there's not much Chicagoans can do, unless they're on City Council (and even then, it's questionable). So there's just one thing we need to do: brace ourselves, pre-bought beers in hand.