Suzanne Blum Malley departs college after 25 years, but feels Columbia is in 'excellent hands'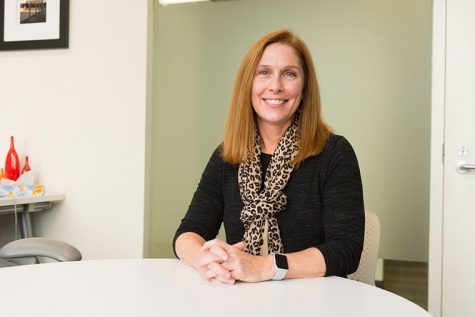 After nearly 25 years of working at Columbia, Senior Associate Provost Suzanne Blum Malley has acquired institutional knowledge of the college described by some as irreplaceable, but when the opportunity came to join the small group of female provosts in the nation, she could not pass it up.
"Having women move into the highest leadership positions in academia, or in any field, is really important," Blum Malley said. "It is still a significantly smaller group of women provosts across the nation … than is reflective of the percentage of women in our population, so it's exciting to be part of that group and continually pave the way for talented women and men behind us."
Blum Malley, who also serves as an associate professor in the English and Creative Writing Department, will be the provost at Methodist University in Fayetteville, North Carolina, beginning Jan. 15, as reported Nov. 3 by the Chronicle. She previously worked as interim provost at Columbia after the early departure of former Provost Stanley T. Wearden in January. Marcella David took on the role of senior vice president and provost in June.
A 2019 Times Higher Education World University Rankings report found that only 34 of the top 200 higher education institutions are led by women.
Blum Malley said she thought she would enjoy being interim provost when she took on the role. As she navigated her new job, she realized she liked the complexity and "energizing" ability to better the institution within the job while "keeping service to students at the center of decision-making." So, she began looking for openings.
She said Methodist University, where her former colleague Wearden now serves as president, provided an opportunity, and she "took a leap."
Associate Provost for Academic Personnel Pegeen Quinn said Blum Malley is more than ready for her new role at Methodist and that her connection with Wearden will make for a good team.
"She is just an amazingly strong leader; it almost seems like that's part of her DNA," said Quinn, who has been at Columbia for the past 15 years and has worked with Blum Malley for the last five.
Sean Johnson Andrews, Faculty Senate president and associate professor in the Humanities, History and Social Sciences Department, also pointed to Blum Malley's link to Wearden, whom "she has a good working relationship with already, so that should be a good asset" for Methodist.
Some in the Columbia community were surprised by the announcement, including Johnson Andrews.
"It's not unusual for leadership to shift this way when you have a new provost. Sometimes, the people who worked under the old provost [Wearden] find it better to go and work for the old provost," Johnson Andrews said. "I hadn't expected [Blum Malley] to leave just because she hadn't said anything about it. But obviously, with these kinds of things there's a lot of secrecy and confidentiality until everything is finally announced."
In her time as interim provost, Blum Malley presided over delicate matters such as the announcement of the closure of two academic programs, the reorganization of the Global Education Office, summertime staff layoffs, the questioned departure of Norman Alexandroff—whose family had a legacy at the college dating back to its inception—as well as other student and personnel matters. As she departs the college, this is the first semester since Fall 2008 for which Columbia's decade-long decline in enrollment has begun to reverse, as reported Sept. 27 by the Chronicle.
David announced Blum Malley's departure Nov. 4 and said she would be working to find someone to fulfill Blum Malley's duties as senior associate provost.
"In working closely with academic leadership, Suzanne has been instrumental in the implementation of the 2015-2020 Strategic Action Plan and in the transformation of the core curriculum," David said in the Nov. 4 announcement. "Her leadership and passion for promoting an environment of continuous improvement is reflected in all areas of academic affairs, from operations to program development and review to academic support services and has been unfailingly motivated by her love for Columbia and her commitment to its success. She will be missed."
Quinn is confident David will find someone to "step into the role" and "bring new experiences and new perspectives into the provost office."
In Methodist's announcement, Wearden also highlighted Blum Malley's efforts with the Strategic Action Plan at Columbia, as well as improving retention and graduation rates during her tenure at the college.
"I had the privilege of being Dr. Blum Malley's colleague at Columbia, where I was able to witness firsthand her excellent work building and maintaining collaborative rapport with the faculty," Wearden said in the Oct. 31 press release.
Despite the improvements she helped implement, Blum Malley recognizes there is still continuing work to be done at the college even after she leaves in January, especially in keeping programs up to constantly-changing industry standards.
She encouraged her colleagues to celebrate what is being done well and figure out how to fix what is not in order to accomplish the ultimate goal: "Make sure that our students who come here … leave with degrees."
"The work is never done; the people that I work closely with also appreciate that," Blum Malley said. "I am very confident that Columbia is in excellent hands."