USofCC escorted out of 600 Building after trying to meet with Kim
United Staff of Columbia College members organized in the reception area outside President and CEO Kwang-Wu Kim's office Wednesday in an attempt to meet and discuss staff layoffs, a day after union leaders alerted membership of possible job losses.
Within 10 minutes, Associate Vice President of Safety and Security Ron Sodini asked the union members from USofCC to move downstairs. The members were eventually escorted outside the 600 S. Michigan Ave. Building by Sodini and a security guard.
Sodini did not immediately comment on the decision to escort demonstrators outside.
"There's a process for [a meeting with Kim] to occur," Sodini told the USofCC members after fielding questions on their removal.
Kim said in an interview with The Chronicle the previous day the college was in the midst of assessing possible faculty and staff departures.
"We're constantly assessing," Kim said. "There have been hires this year; there have been some departures. So we're in the midst of that right now."
Jackie Guataquira, graphic designer in the Strategic Communication and External Relations Department, said staff is treated like they are disposable. She noted there have been layoffs in her department and SOCIALDEVIANT, an outside marketing company hired by the college, is doing some of the work her department has been responsible for in the past.
"Columbia staff needs to be treated better. This is ridiculous," she said. "[The layoffs] are taking an emotional toll on us."
In the email sent to USofCC members Tuesday, union grievance co-chairs Laurie Moses and Joan McGrath said they had been contacted by union members who were invited to meetings with administrators. The email said job eliminations are likely for some union and non-union staff.
The process for job elimination includes a written notification detailing the removal; 90 days notice for union members during which time the member is compensated and benefits continue; and two weeks of severance pay at the end of the 90-day period.
While Flor Carabez, Columbia Central counselor for Student Financial Services, said she appreciated the college's attempt to be transparent in the process, she said the cuts are "unethical." 
"We're expecting over 2,000 students in the fall, primarily from CPS. Who's going to help them?" Carabez said.
Carabez added students will lose access to resources because of the tightening of staff.
Matthew Rillie, coordinator of Student Support and Engagement in Student Diversity and Inclusion, said cuts always begin with the support staff.
"It makes me lose hope," Rillie said. "The campus says all the time that we believe in our students, we believe in our school, but I don't think they know what that means. They don't know how to support students."
Another demonstration is planned for noon on Wednesday.
Updated 5/22/2019 2:30 p.m.
Around 20 USofCC members protested outside of the 600 S. Michigan Ave. building, just after noon Wednesday, where campus security guards were posted outside of the entrances.
Protestors rallied outside the building chanted, "Hey Columbia what do you say, who are you laying off today?" as they encouraged passing cars to honk in support.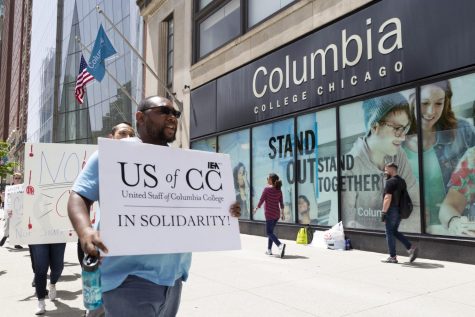 "The frustration is at such a high level," said Micheal Bright, administrative assistant in the Cinema and Television Arts Department. "The administration keeps telling us things, but they keep doing other things. We see these decisions being made, and we scratch our heads."
Bright said people will see there is "turmoil" at Columbia and that could negatively impact retention rates and recruitment.
Hours before the noon protest took place, the Global Education Office was reorganized under the Provost's Office and Enrollment Management jointly, as reported by The Chronicle. The elimination of the office led to some staff layoffs.
Updated 5/22/2019 4:25 p.m.
News Office Senior Director Lambrini Lukidis said in an email late Wednesday afternoon the layoffs will not affect daily operations or the quality of education. She added the savings from the layoffs will help the college manage "financial realities associated with declining revenue stemming from enrollment declines."
"Parting ways with colleagues and changing how we conduct parts of our business are serious decisions of deep importance for the college and those who work here," Kim said in a Wednesday afternoon email to faculty and staff.