End of an era: Columbia's last Alexandroff dismissed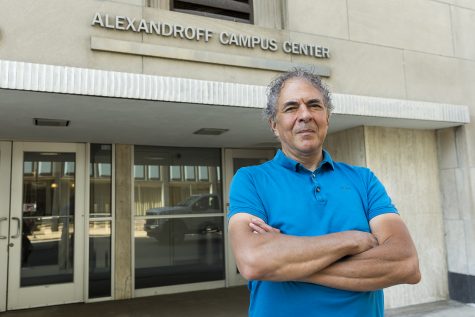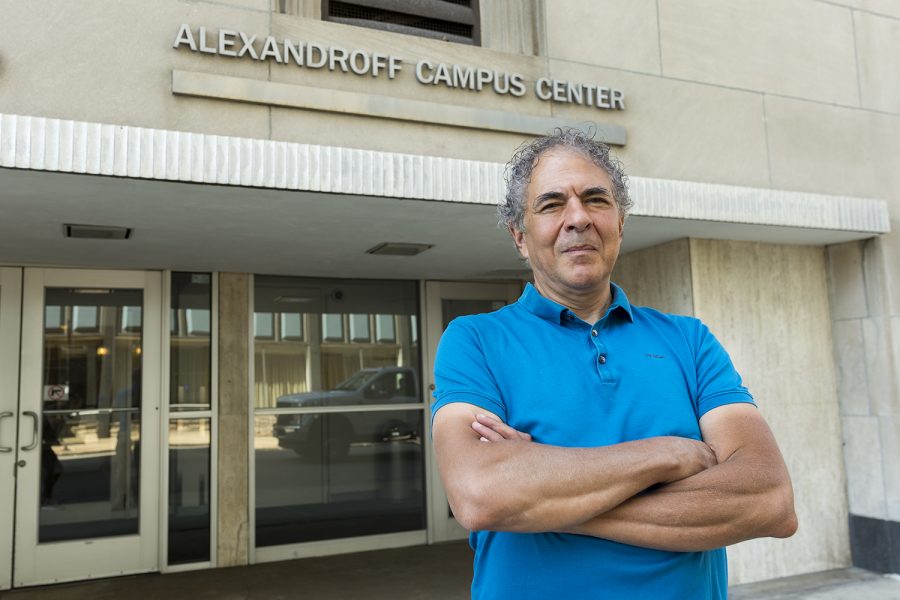 When the Fall 2019 semester begins, it will be the first time since 1934 that an Alexandroff is not on Columbia's payroll. On May 22, Norman Alexandroff, whose last-held position at the college was as a communications specialist in the Library, was dismissed when the college eliminated dozens of positions.
Alexandroff worked at Columbia since 1990, but his relationship with the college has lasted his entire life, as both his grandfather and father served as president.
"Columbia … was so much a part of the fabric of our life," he said. "Columbia was like a stepbrother to me, because my dad spent every waking moment building the college. It was like he had another family he was living with most of the time."
Norman's grandfather, also named Norman Alexandroff, developed the radio curriculum at Columbia when it was still owned by the Pestalozzi-Froebel Teachers College. In 1944, Alexandroff was named president of the college. He then broke the school off into its own institution, making it Columbia College.
Norman's father, Mirron "Mike" Alexandroff, took over as president in 1961 when enrollment was low and the college was struggling.
"Columbia came of age during the presidencies of Norman Alexandroff [Senior] and Mirron Alexandroff, who between them led our institution from 1944 to 1992, achieving full accreditation for our undergraduate and graduate programs for the first time," President and CEO Kwang-Wu Kim said in an Aug. 14 email to The Chronicle. "The Alexandroff family and name are an indelible part of the Columbia identity and legacy."
According to Alexandroff, the fact there still is a Columbia is amazing.
"When you only have 175 students and three part-time faculty members, you're looking around for another job," he said, referring to the period around the spring of 1963. "My dad almost took another job at Syracuse University. He decided not to do that, but if he did, he would have closed the door and Columbia would not have existed anymore."
Alexandroff's father stayed and pioneered the concept of working professionals as professors. He initiated open admissions, giving minorities access to the arts in a way that had not been available before, Alexandroff said. Because of a mass media boom across the country at the time, the skilled technical workers Columbia was producing in radio and TV often left the college after just one semester because "they knew how to use the equipment and they were getting jobs."
"Mike's impact on Columbia was terrific," said Dominic A. Pacyga, professor emeritus of history. "He ruled over a period of extensive growth for the college. He made its footprint in the South Loop much larger. He really created this unique niche for Columbia in the market at that time period, which many other colleges … have [since] copied."
Alexandroff's mother, Jane Ann Legnard Alexandroff, was also involved in the college, serving as the only full-time employee from 1955 to 1961. A year later when his father was required to spend four months in a tuberculosis sanitarium, his mother returned to the college and took a leading role in the college's operations.
She was "the college's mother, confidant, counsel, and cheerleader," Mike Alexandroff wrote in "A Different Drummer: The History of Columbia College Chicago."
Norman Alexandroff started a scholarship in the name of his mother, who died in 1996. The Jane Ann Legnard Alexandroff Endowed Scholarship for Social Change is awarded to two students each year who use their creative skills for social justice. According to Chief of Staff Laurent Pernot, this scholarship will continue.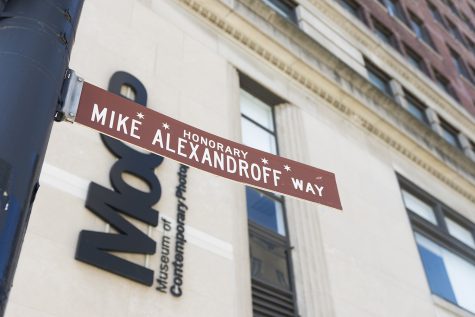 Because of his family's dedication to the school, Alexandroff's life was intertwined with Columbia in more ways than one.
"Almost every honorary degree recipient literally slept in my bed," he said. "I'm talking about people like Rosa Parks and Duke Ellington and … Cesar Chavez. I was only 5 years old, so I mean, these people didn't mean anything to me at the time. It wasn't like I was going to my kindergarten class and saying, 'Hey, you know who's staying in my bed now? Duke Ellington! Wow! That's cool.' It wasn't like that. It was just a part of my life."
During his tenure at Columbia, Alexandroff said he started five different offices: the Office of Media Relations, the Chicago Center for Arts Policy, the Office of Student Publications, the Office of Student Communications and the Office of Business and Community Partnerships. Of these, the Office of Student Communications remains, and the Office of Media Relations ultimately became the Office of Strategic Communications & External Relations.
"Norman is very dedicated [and] qualified," said Craig Sigele, academic manager in the Communications Department. "He loved Columbia. Columbia was in his blood. He had nothing but compassion and hope for its future, and it's sad that they were unable to find a place for him here."
In 2017, Alexandroff started working in the Library running The Big Read program, which uses books to engage communities in conversations about social issues. He also began a multi-disciplinary performance series titled Sez Me, which allowed students to tell stories in nontraditional ways.
Eric Scholl, the interim chair of the Cinema and Television Arts Department, worked with Alexandroff on several projects since 2009, including Sez Me. "
Sez Me was great because it gave students a voice and a way of telling their stories in something that's a little bit different from a traditional open mic," Scholl said. "[Norman] was somebody who was very interested in making sure students had outlets for their creativity."
Alexandroff was notified in Fall 2018 that his position at the Library had been deemed "non-essential" and it would be ending at the conclusion of the school year.
However, according to him, he was told "in no uncertain terms" by Kim he would be given another position at the college.
"In fact, [Kim] wanted me to write a history [book] or work him into the story of the college," Alexandroff said. "That was one of his projects. He didn't feel like he was reflected in the current history book. There was clearly expressed the idea that I was going to have a job and one of the things he'd hoped I'd do would be to include a history on him."
In an Aug. 14 email, Pernot confirmed a conversation took place in which Kim asked Alexandroff to update and expand the college's history to include more recent events, such as Diversity, Equity and Inclusion initiatives, the Student Center and Columbia's decision to end its status as an open-access college.
Alexandroff expected to begin working on this project after the Spring 2019 semester ended, but was dismissed before it could happen.
Pernot said, in a subsequent email, there was never any follow-up to the conversation by either party.
"The college does not comment on specific personnel matters regarding faculty or staff members," said Lambrini Lukidis, assistant vice president of Strategic Communications and External Relations, in a separate email exchange with The Chronicle. "As previously announced, the reorganization of departments and elimination of positions were carefully considered and based solely on the college's desire to address revenue issues, streamline its operations, maximize its effectiveness and focus on mission critical objectives—instruction, student services and enrollment."
When he was terminated, Alexandroff said he had a five-minute "perfunctory" conversation with then-Interim Provost Suzanne Blum-Malley and a representative from Human Resources. In this conversation, he was told he was deemed "non-essential to the long-term strategic direction of the college," he said.
Alexandroff cited an incident this spring that he said may have contributed to his termination.
At a college assembly on March 6, Alexandroff said he made an offhanded comment to someone about the ongoing search at the time for a new provost. He said he hoped Marcella David—who was eventually hired as the new provost, as reported by The Chronicle March 13—would be chosen, but he had heard the college might not select either candidate.
Two weeks later, Alexandroff said he received a call from Blum-Malley, who told him she wanted to discuss his "conduct and comments" at the meeting. This discussion was scheduled for two weeks later, a month after the assembly meeting. He said he was then accused of "spreading malicious rumors and falsehoods that could damage the candidate."
According to Alexandroff, he told Blum-Malley that if he had been contacted a few days after the incident he would have apologized.
"But it came through as this effort to intimidate me. It was very overblown for an offhanded comment," he said.
The college declined to comment on this incident, or whether it contributed to Alexandroff's termination.
Alexandroff also sat on the executive board of the staff union, United Staff of Columbia College. According to Sigele, who serves as the president of US of CC, half of the board was dismissed in May's round of terminations, including Alexandroff.
Of the 12 board members, six were terminated, and two left Columbia for better-paying jobs, Sigele said.
This came in the midst of contentious contract negotiations, as reported by The Chronicle.
According to Sigele, those negotiations are still ongoing but have slowed due to the loss of board members, who have yet to be replaced.
Alexandroff said he is confused why he was let go, despite years of going "above and beyond" in each of his positions to support the college.
"I can't help but feel sad about the state of affairs. I had this very close and intimate relationship with the college. It was, in many ways, a part of my family. It was like a sibling for me," Alexandroff said. "Now, having been laid off, I feel a sense of sadness. I feel like I've almost been excommunicated from my family. I feel like I'm no longer welcome at a place that's been a part of my family and I helped contribute to the success [of]."