Plant-based proteins are 'here to stay'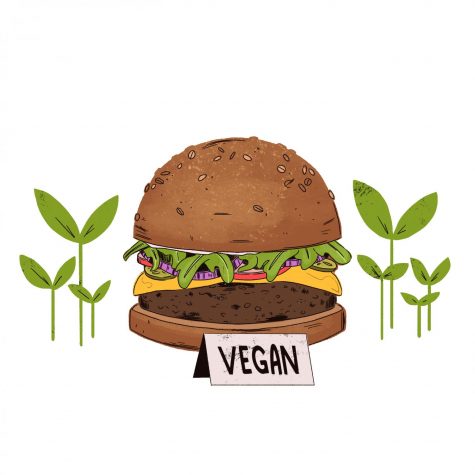 When sophomore filmmaking major Haven Stohler became vegan five years ago, she had to learn how to cook her own meals. At the time, vegan and vegetarian options in grocery stores were sparse, and Stohler struggled to find the best ways to feed herself.
Now, it's hard to imagine ever struggling to find vegan options.
Throughout 2019, meat substitutes exploded in popularity, with Beyond Meats and Impossible Foods leading the charge as their faux-meat burgers and taco meat became available at restaurants and fast food chains across the country. These options made vegan and vegetarian diets more accessible to people who might not have otherwise considered them, said Natalie Slater, marketing manager for Upton's Natural, a Chicago-based company that creates vegan and vegetarian products.
"I do think that once they try one of the burgers that's out there or something like that, that they are more open to trying something that might take a little bit more work," she said. "So maybe they try an Impossible Whopper at Burger King, then they buy a Beyond Burger at the grocery store. They figure out that they could eat those two things and enjoy it, so then maybe they're like, 'Well, let's see what jackfruit is all about.'"
This product accessibility is opening the door for people to dabble in dietary choices that have historically seemed elitist. When Stohler goes back home to Indiana, she just tells people she's "plant-based," to avoid being labeled a "crazy liberal." At Columbia, though, she finds people to be generally accepting.
There is also a perception that veganism and vegetarianism are reserved for white people, said Nena Ramirez, event organizer for two local vegan markets—Chicago Vegan Test Kitchen and Buena Vegan Social Club—but she sees that perception begin to break down as well.
"Veganism isn't just faux-meat and it isn't just fancy, expensive restaurants," Ramirez said. "In regards to marginalized communities, it's food that we've grown up with. Rice and beans is vegan. Avocado is vegan. Squash is vegan. There's so many different things out there that are vegan that are accessible, and it's not unattainable."
Ramirez's two markets sit on different sides of the city, with Chicago Vegan Test Kitchen running out of Emporium Logan Square, 2363 N. Milwaukee Ave., and Buena Vegan Social Club being held at Lo Rez Brewing, 2101 S. Carpenter St., in Pilsen. The vendors at Buena Vegan Social Club are all black, indigenous and people of color as part of Ramirez's efforts to help marginalized people see themselves represented at this kind of market through vendors who are cooking culturally recognizable, plant-based food.
Dan Sachs, senior instructor and director of the Corporate Education Program at DePaul, has watched the vegetarian and vegan industry evolve over the past decade following the recession, as young people in particular have started to eat out more. With an interest in social and environmental issues, such as animal cruelty and the climate crisis, young people's demand for vegan and vegetarian options has shifted them from off-menu, request-based items to being integral to a restaurant's survival, Sachs said.
Some of the spiked interest in the environmental impact of animal agriculture can be traced back to documentaries on the matter or videos of people going into slaughterhouses, Ramirez and Stohler said. Stohler even became vegan after watching the documentary "Cowspiracy: The Sustainability Secret," which focused on how unsustainable the meat industry is.
"That was really eye opening, and I was really appalled by all this information that I had never been in contact with before," Stohler said. "I didn't feel like I could continue eating the way I was after being given that information. … I didn't want to contribute to the deterioration of the world's health anymore."
Vegan and vegetarian diets are not without their own negative impacts, Ramirez said. However, she believes responses to that are beginning to crop up as well.
"We believe [eating vegetables is] cruelty free and that's absolutely not true," she said. "We have to also remember whoever is picking our fruit, whoever is packing those potatoes, those people mostly are immigrants. That is not cruelty free. The conditions they go through are also really terrible. So I think all of these things as they come to light are creating a movement."
The boom of accessibility in plant-based options is still exciting to Ramirez, though, because she sees it as a win-win: The more people considering veganism and vegetarianism, the more people who might patronize small businesses such as her vendors'—and the fewer people who are eating meat.
As these diets become more accessible and increasing rates of young people adopt them, some people might think vegan and vegetarian popularity will fade—but Sachs suspects otherwise.
"It's not as though [this] trend's going to reverse any time soon," he said. "There's only going to be more call for non-animal based protein, whether that ends up being vegetarianism, or however people want to call it. I think [this] trend is here to stay."