To impossible and beyond: Consumers divided on wave of plant-based substitutes at food chains
By Myer Lee, Contributing Writer
January 1, 2020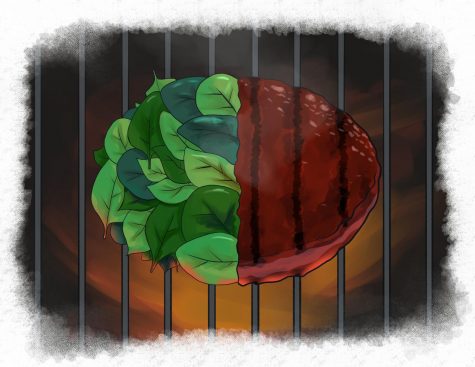 Cieara Little, a 2019 alumna of DePaul University with a master's of fine arts in cinematography, is often busy and does not have the time to prepare food to eat. Little has to pick up something quick, which is not always easy for a vegetarian.
Little has been a vegetarian for four years, and it has become a big component of her lifestyle because of its affordability and the way it makes her feel physically.
"Sometimes when you are out and about and you are a vegetarian or a vegan, the only options they have for you are a salad or french fries," Little said.
But recently, that has changed significantly. Vegetarians and vegans like Little can now find many options.
Plant-based substitutes, from brands such as the Impossible Burger and the Beyond Burger, have emerged in high demand and are increasingly present in popular fast-food chains, such as Burger King, White Castle and Dunkin' Donuts.
In the past year, many restaurants have updated their menus to serve plant-based options as an alternative to meat.
With the sudden popularity of these products, consumers are left with many questions as to what plant-based substitutes are made of, if they are healthy or not and whether they should try them.
What is it made of?
Plant-based burgers, such as black bean burgers or lentil burgers, have existed for years, but the Impossible and Beyond burgers are unprecedented compared to others because they are made to taste and look like real meat.
The Impossible Burger is made of soy, potatoes, heme—an iron-containing molecule that makes the meat taste organic—coconut, sunflower oils and methylcellulose, a culinary binder found in ice cream and jams.
The Beyond Burger is made of peas, mung bean, brown rice, trace amounts of beets for a meaty red color, potato starch and coconut oil for juiciness and texture.
Are they healthy?
One of the looming concerns is whether or not these types of plant-based burgers are healthier than a real meat option.
"It depends on a person's total intake," said registered dietician and nutritionist Maya Bach. "If you are not currently eating red meat then I don't recommend necessarily eating some of the plant-based proteins since they are pretty high in sodium and saturated fats, as well. So, it's really going to vary from person-to-person and looking at their diet as a whole."
Despite higher amounts of sodium and fats, plant-based options are a good source of protein, vitamins and minerals, according to an Aug. 15 blog post in the Harvard Medical School's Harvard Health Publishing. The Impossible Burger contains vitamins such as B12 and zinc, which are often also found in animal products.
But Anana Nyaumuwi, a vegetarian of 45 years and mother of four boys who also are vegetarians, is not convinced by the allure of the vegetarian fast food burgers.
"Why is it even necessary to have it?" Nyaumuwi said. "I'm suspicious of anything that sounds 'impossible' or 'beyond.'"
Nyaumuwi, a public school teacher in Detroit, is skeptical of the alternative meats because she said the ingredients are too "scientific."
Kate Espelage, another longtime vegetarian, shares Nyaumuwi's opinion.
"I want to know that I'm eating plants. I don't want it to taste like meat," said Espelage, a high school Spanish teacher.
To try or not to try?
Although Beyond and Impossible burgers are pervasive, not all restaurants and consumers are ready to endorse them.
Restaurant food chains such as Chipotle Mexican Grill, Arby's and Taco Bell have committed to excluding meatless substitutes on their menus. Chipotle CEO Brian Niccol said the plant-based meats are "too processed," as reported July 24 by CNBC.
However, Chipotle and Taco Bell do still have options for vegetarians and vegans. Chipotle serves beans, rice, fajita vegetables and braised tofu called "sofritas."
Taco Bell has a menu for vegans and vegetarians that features items such as the crunch wrap with beans instead of beef, or a veggie bowl without dairy products.
Little, however, is a fan of the sudden wave in including plant-based products on popular food-chain menus. As a vegetarian, Little enjoys the ability to now find options to eat at fast-food restaurants.
"It gives that convenience factor," Little said. "It does finally offer the option to have a real meal when you go out to fast-food restaurants. You can finally get it without having to casually dine-in."
Many Columbia students are indifferent to the mass introduction of these products. Livvie Kiel, a senior American Sign Language-English Interpretation major, is "too much of a chicken to try it," and said knowing what she is eating is not "real" weirds her out.
Caitlin Valenzuela, a senior music business management major, also has not tried the products yet and said she wants to do research before trying them.
"I would be open to trying some things. It would have to be from a place that I normally eat at so that I know that the food there is good and that I can trust it," Valenzuela said. "I feel like I still need to be educated more on it and what that product means; what they put in it for me to want to try it."
Other Columbia students—like Alex Chan, a freshman interaction design major—are intrigued. As a lifelong meat-eater, Chen said he would be interested in finding out how plant-based products taste.
"If I do like it, then it might be a good alternative for me to switch to," Chan said. "[Plant-based alternatives] will definitely spark interest in different eaters—meat or vegetarian."