SWMRS splashes into Chicago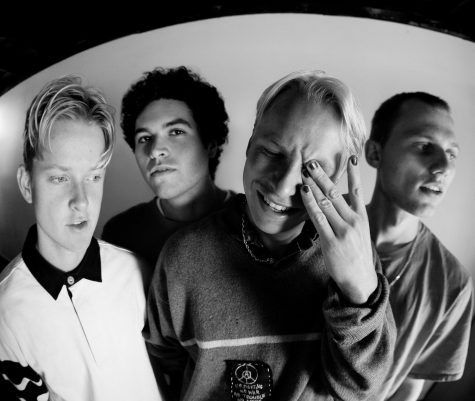 The SWMRS of punk rock bring the Californian experience to Chicago during North American Berkeley's on Fire tour.
The five-member band––Cole Becker, Max Becker, Joey Armstrong, Seb Mueller and Jakob "Danger" Armstrong––performed April 19 at Concord Music Hall, 2047 N. Milwaukee Ave. The band came together in 2004 after watching the movie "School of Rock."
Along with their tour the band started the SWMRS Fund to support organizations like Girls Rock Camp and Climate Justice Alliance to address social issues also discussed in the band's music, such as climate, racial, economic or gender justice.
Cole Becker, lead vocals and rhythm guitar, spoke with The Chronicle about their latest album, tour, social awareness and what sets them apart from other bands.
THE CHRONICLE: What goals did you guys have when you first formed the band?
BECKER: We just wanted to rock out. We always wanted to have fun, and there is something about making music that … [makes us] feel invincible. We have been chasing that feeling ever since.
Can you tell me about your most recent album Berkeley's on Fire and current tour?
It took us a while to release [the album] because we really wanted to take our time. When you are making your second album, people want to hear it pretty quickly, but we wanted to avoid rushing because we wanted to one–up ourselves.  The songs are all a comment on the idea that it is hard to escape the negative media cycle, so we wanted our contribution to the greater atmosphere of American media to be 100% positive. We are on tour promoting [the album] right now and its been really fun. A lot of what it means to be young in America is exhausted and overwhelmed by so much negative energy and horrible things happening all the time. What we're trying to do is to give people at least one space where they can go to and be cathartic.
Who is your major musical influence? when creating music?
One of all of our all-time favorite bands is The Clash; we have always been obsessed with them. We have always been so inspired by the way they were both musically and politically so forward thinking. [Their] open mindedness and full appreciation for all people and all music really bled into how we carry ourselves.
What makes SWMRS different from other bands?
We just have our own personality, and we have all known each other as musicians for pretty much our whole lives. When we get on stage and play with each other, it's really like we are speaking our own language and that is really special. We have a really deep and intimate musical connection between the five of us. We also have a really deep connection with our fans, too, and people really feel that connection. It's cool that [someone] can come to our show and make [themselves] feel vulnerable but also feel safe doing it.
What advice do you have for bands trying to make a name for themselves?
Put your [music] on the internet and put positive energy out into the world. It's different for everyone—what works and what doesn't—and it is always hard. The best things humans create [invite everyone in] and are totally unpretentious. What makes the best music is when there are no bars to entry.