'Share this': CFAC hosts town hall on health concerns for students, faculty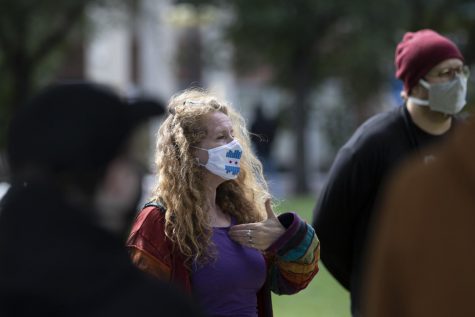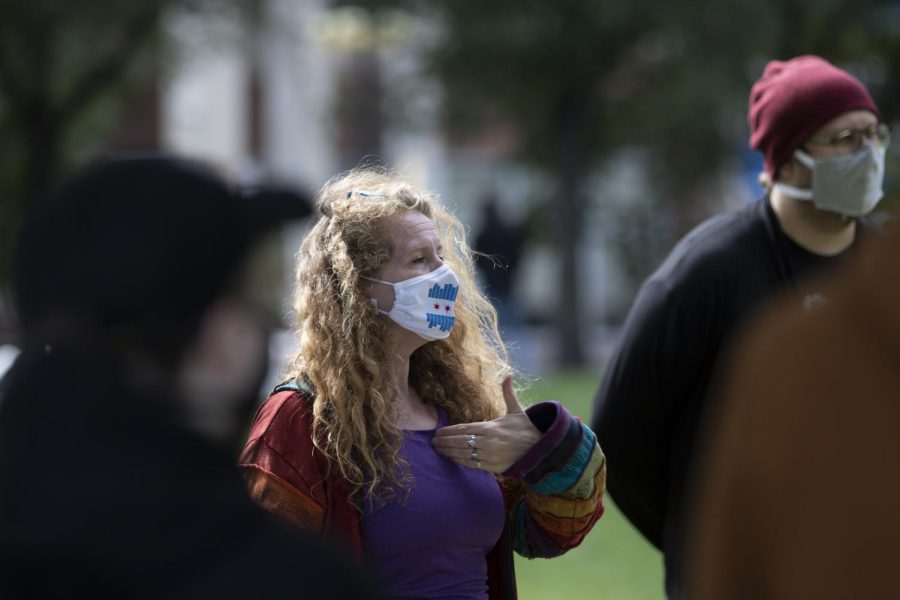 On a brisk Tuesday, some faculty members held their in-person classes in Grant Park before an evening virtual town hall hosted by Columbia's part-time faculty union, CFAC.
The town hall was held over Zoom and included a panel of experts who discussed health and safety-related issues with returning to higher education during the pandemic.
Currently, around 25% of courses at Columbia are held on campus in a hybrid or completely in-person setting, with the number of courses with some in-person interaction reduced from approximately 50% that were on the schedule earlier this summer.
Following CFAC's previous town hall with the Illinois Federation of Teachers and scientists and health experts on Aug. 4, CFAC's goal was to make sure that faculty and students were informed.
"After we were able to do that, we did have some faculty who had the ability to move over to remote learning," said Diana Vallera, president of CFAC and adjunct faculty member in the Photography Department, in the Tuesday, Sept. 29 town hall. "But the problem is not everyone had a choice."
"It is the role of the union to make sure we can provide a safe working environment for our members," Vallera said. "There are faculty and students left with a work environment that is hazardous."
Vallera was joined on the panel by John Miller, University Professionals of Illinois president and associate professor of communications at Western Illinois University; William J. Mills, associate professor at the College of Engineering and Engineering Technology at Northern Illinois University; Sheila Simons, professor and graduate coordinator at Eastern Illinois University; and Gabriel Guzman, professor of microbiology and chairperson of the Science Department at Triton College.
"Many of our faculty wrote in to the college and said it is an unsafe work environment," Vallera said. "And they have a right to do that."
Earlier this week, two unions on behalf of CFAC accused Columbia's administration of sending "threatening and reckless" letters to members of CFAC who were refusing to teach in conditions that would "pose a threat to their health and safety," as reported by the Chronicle Monday, Sept. 28.
"It was a threat," Vallera said. "The worst thing an institution could be doing during this time is to threaten our members. We need to feel supported; we all need to be helping and achieving the same goals."
In partnership with the Illinois Federation of Teachers, CFAC released a statement on Sept. 22 demanding the college allow its faculty to "choose to teach remotely this semester until CCC addresses fundamental COVID-19 safety concerns," as reported by the Chronicle.
Without a positive response from the college, some adjunct faculty members teaching in-person courses took classes outside to Grant Park, 337 E. Randolph St., on Sept. 29 to prioritize their safety and students' safety, according to Vallera.
"Our first day we decided to go out in the park and teach," Vallera said. "And it worked out really well. We made sure that we did not disrupt the educational process; we prioritized safety, and we didn't allow administration to put us at risk."
During the Sept. 29 town hall, panelists discussed whether face coverings are effective for multiple hours of in-class instruction, the importance of proper ventilation and what the coronavirus could do to artists' health and careers, no matter their age.
Being in a classroom is different from being in a grocery store, Mills said. In a grocery store, a person can get in and out quickly, but a class can last for hours at a time. Because of that, people must understand a room's ventilation plays a role in safety.
"Wearing a face mask properly is important for what we call source control," Mills said. "The issue is, we can not just say that all face masks are going to be equally effective. They are effective; they do provide protection. I am certainly an advocate of them, but I can't say the way that [what someone else] is wearing it is going to be the same mask material."
Masks are used to prevent particles from passing from one person's mouth or nose to another's, Guzman said. Each of the panelists stressed that a room with people in it for three or more hours must be ventilated and purified in addition to wearing face masks.
"Just having people wearing a mask then, even if a load is small, the exposure time is still going to be too long for everybody in there," Guzman said, "which makes it of paramount importance to have the room properly ventilated and the air properly clean."
The college assessed the rooms on campus holding classes deemed "higher exertion or higher projection activities" such as music, theatre and dance spaces for proper ventilation, but not all due to guidance from medical experts at Rush University Medical Center and the University of Chicago. Because of this, ultraviolet germicidal irradiation, or UVGI, were put in select rooms on campus in certain areas.
The union is pushing the college to ensure every room on campus is safe.
Vallera said she hopes events like the town hall encourage the college to provide union members with a contract that protects CFAC's safety and the right to choose how and where they wish to teach.
Both Vallera and Miller encouraged viewers to share the town hall recording to spread awareness to students and their families, while also pressuring the college to address CFAC's concerns.
In a Friday, Oct. email to the Chronicle, Associate Vice President of Strategic Communications and External Relations Lambrini Lukidis said the college and union "had a couple of meetings" throughout the week to discuss concerns.
"To the students and to the faculty, we absolutely have the right to a safe work environment," Vallera said. "Share this video. … Please demand that the administration bargain with us because it is really for all of our safety."