CFAC refuses to return to campus until 'fundamental COVID-19 safety concerns' are addressed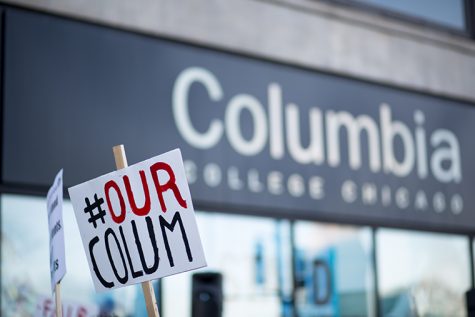 Four days after the college announced changes to its reopening plan due to ongoing air assessments and a delay in receiving Ultraviolet Germicidal Irradiation (UVGI) units, Columbia's part-time faculty union, CFAC, has demanded the college allow its faculty to "choose to teach remotely this semester until CCC addresses fundamental COVID-19 safety concerns."
A Tuesday, Sept. 22 statement issued by the Illinois Federation of Teachers in partnership with CFAC said although the college conducted air quality assessments for specific rooms "under pressure from the union," the college had "not done enough to address safety concerns."
The press release also stated that "by resuming in-person instruction, CCC is effectively imposing its health and safety plan on the faculty without first reaching an agreement with the union, an illegal practice under federal labor law."
The union has filed an Unfair Labor Practice (ULP) charge against the college for its "bad faith actions," according to the IFT statement.
A Saturday, Sept. 19 Campus Update email to the college community said not all rooms will be assessed because, according to guidance from medical experts at Rush University Medical Center and the University of Chicago, rooms where instruction primarily includes sitting and speaking are "not the cause of potential concern."
In a Friday, Sept. 18 email from the Office of the Chief Financial Officer, Jerry Tarrer, senior vice president of Business Affairs and chief financial officer, and Ann P. Kalayil, associate vice president of Facilities and Construction, said the college has "gone beyond local health guidance" by installing UVGI units to HVAC systems in spaces where activities are more likely to "generate aerosolized particles" from the coronavirus.
Tarrer and Kalayil said the ventilation assessments and installations are not yet complete but should be done by the end of this week. In the meantime, some classes that were set to resume in-person instruction on Monday, Sept. 21 will now begin meeting in-person Monday, Sept. 28.
Diana Vallera, president of CFAC and adjunct faculty member in the Photography Department, said by not openly communicating that not all rooms were assessed, the college prevented faculty and students from making informed decisions on whether or not to opt for web instruction.
"If you don't do the test, you don't have the information," Vallera said. "That's really, really unethical. This is about moral leadership."
Vallera said the union has pleaded with the college for weeks to complete these assessments before people returned to campus.
Associate Vice President of Strategic Communications and External Relations Lambrini Lukidis said in a Tuesday, Sept. 22 email to the Chronicle the college's decision to conduct air assessments was limited to spaces that were deemed "higher exertion or higher projection activities" such as music, theatre and dance spaces.
Currently, 73 rooms and the Library, 624 S. Michigan Ave., are being assessed, according to a spreadsheet Vallera was given by the college.
Lukidis said the college's reopening plan has been guided by local and state health authorities and national coronavirus guidance.
She said the work being done is "supplementary to work done earlier in the summer by our own building engineers, which included checking and cleaning ventilation systems and installing OSHA-recommended filters in air-handling systems across campus."
Toward the end of the Spring 2020 semester, faculty members had the option to teach completely online, hybrid or in-person classes for the Fall 2020 semester, but Vallera said they were not given a hard deadline and were instead pressured into making a decision as soon as possible.
This is why the union is calling for faculty to have the ability to opt-out of in-person instruction for the rest of the semester, or until they feel safe enough to return, she said.
The Chronicle was unable to confirm the timeline or nature of the deadlines given to CFAC members about teaching options for the Fall semester.
In a July 23 email to faculty, Senior Vice President and Provost Marcella David said faculty were allowed to request accommodations due to a medical condition under the Americans with Disabilities Act if they had in-person or hybrid courses.
Vallera said due to a lack of transparency, the college is allowing students, faculty and staff to return to campus under the impression the risk of contracting the coronavirus has been mitigated, but that is not true.
Sean Johnson Andrews, Faculty Senate president and associate professor in the Humanities, History and Social Sciences Department, said while summer courses were in session, there were few courses that required high-exertion activities, so when in-person courses were set to resume in the fall, the college was not prepared.
Johnson Andrews, who serves on Columbia's Reopening Task Force, said information about coronavirus safety is constantly evolving, which could have prevented the college from making changes earlier.
However, Johnson Andrews said he would be comfortable teaching an in-person course this semester and called CFAC's demands "a bit of an overreaction."
"It's very late to be trying to shift course and tell us to install expensive filters and change some of the [classes] that students have already signed up for," Johnson Andrews said.
CFAC members will continue to teach their courses remotely and will not return to campus for in-person instruction until the college "fulfills its obligation to bargain an agreement on these critical safety issues," according to the Sept. 22 IFT press release.
Vallera said she is currently planning a town hall for students, parents and faculty to inform them of the current situation, and if the college does not give part-time faculty the option to teach remotely, she said the union could plan to hold a strike.
"We are already going through so much with this pandemic, Vallera said. "I'm not happy that the college waited until they were forced to do the assessments the week before [Sept. 21]. Don't disrupt anymore, just sign off on this, put health and safety [and] science data [first] and let people make a choice."