Data analysis: Nearly half of fall classes to be held entirely online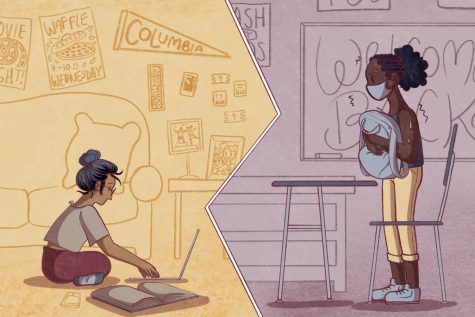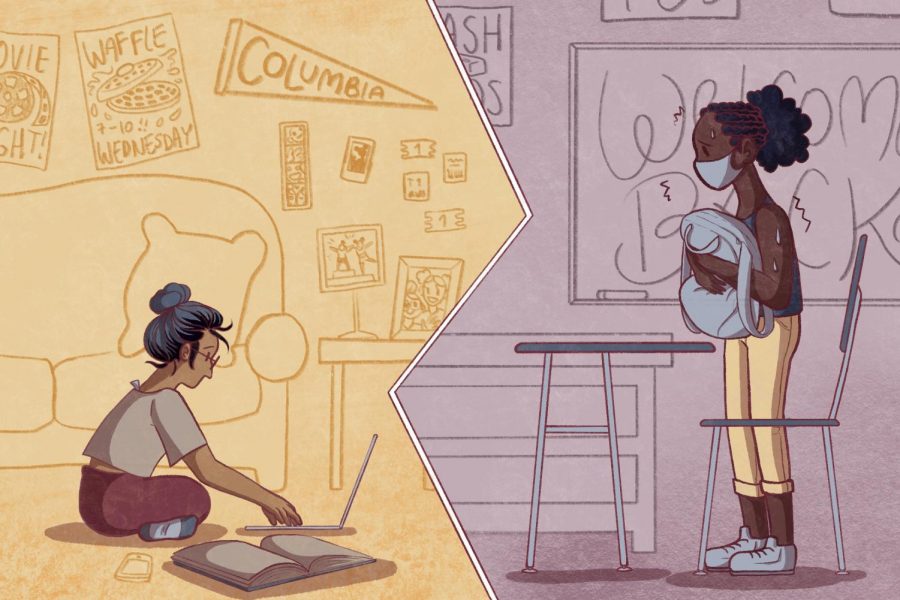 For some students, returning to an online and hybrid-heavy course load for the Fall 2020 semester falls short of their pre-pandemic hopes and expectations.
A recent Chronicle data analysis of 1,866 undergraduate course sections in all departments on July 8 found that a total of 48.1% of classes will be hybrid, meaning the course will alternate between meeting online and in-person; 47.7% will be solely remote or online; and 4.2% will be fully in-person.
For the purpose of this data analysis, these percentages do not include graduate course sections, study abroad programs or independent studies.
All numbers were fact checked against data from the Office of the Registrar. Registrar Keri Walters said the exact totals of courses are subject to change as some class sections are added and others are canceled.
"In rare cases, modalities are shifting for existing sections," Walters said. "The schedule overall has stabilized, but there are a small number of minor changes happening on a daily basis for a variety of reasons."
Across campus, students and faculty are mixed on the college's adoption of a hybrid model, with some dissatisfied about the prospect of web and online classes and others slightly wary about returning to campus amid the coronavirus pandemic.
Classes were designated as in-person, web or hybrid in the course catalog Wednesday, June 15, and in an email to faculty and staff, Senior Vice President and Provost Marcella David said the decision-making process took into consideration campus forums, conversations with departmental leadership, curriculum, safety protocols and new classroom limitations due to social distancing.
Junior creative writing major Mara Tillman, who will have two web designated and three hybrid classes, said while it makes sense some classes are online to minimize risk, they are still "bummed" because in-person learning is more exciting and easier to grasp.
"I am excited to return to school even with the hanging worry in the air," Tillman said.
Data pulled from the course catalog July 8, which lists courses by academic discipline, and not necessarily by academic department, program or major, shows 63% of courses and class sections classified as Cinema are remote or online, versus 18% of courses classified as Theatre and 25% of English courses—three of Columbia's largest areas of academic focus.
Paige Cunningham, associate professor and associate chair of the Dance Department, said she worked alongside the interim chair, Lisa Gonzales, and the department's academic manager, Pamela McNeil, to determine class designations.

Cunningham said during the summer, she, McNeil and Gonzales conducted departmentwide surveys, held Zoom meetings and formed a fall planning committee to receive feedback and best assess how to proceed with remote and hybrid learning.

In total, 86% of courses classified as Dance are scheduled to be hybrid.
"We were trying to be cognizant of what courses could be completely remote so that we could reduce the footprint in the buildings," Cunningham said. "That ended up with prioritizing our movement-based classes [and] basic dance technique classes for a more hybrid experience."
Colby Reid, chair of the Fashion Studies Department, said space constraints, collegewide safety guidelines and student preferences all factored into which classes would be held in-person and which were more "conducive to web delivery."
Of courses classified as Fashion Studies, 42% are hybrid, 17% are completely in-person and the rest are remote.
While Columbia administrators have said there is no distinguishable difference between the grades students receive in face-to-face and online classes, some experts expressed concerns about the quality of online education, possible household distractions and a lack of campus resources in remote learning, as reported by the Chronicle May 1.
With the college's hybrid approach for Fall, campus resources should be more accessible than they were in the spring semester after campus was closed and all learning was remote.
Provost David and other college educators have made the distinction between remote and online learning, pointing out that remote learning includes scheduled class times and interaction between the instructor and students, often via Zoom or other platforms.
As reported May 1 by the Chronicle, David said that remote instruction is not the same as online classes and is meant to be carried out as similarly to in-person learning as possible.
Professor and Associate Chair of the English and Creative Writing Department Deborah Holdstein, who will teach all hybrid courses next semester, said she is more concerned about students having good internet access while online and less concerned about returning to campus.
"The upside is that I will have become much more nimble as an online teacher, as a hybrid teacher," Holdstein said. "I'm seeing this fall as an opportunity, rather than as something to contend with."
Guy Villa, assistant professor of instruction in the Design Department, said he is concerned students will forget which weeks the class is meeting in-person for his hybrid classes and that it will take everyone longer to get to class with the new traffic flows and elevator capacity limits.
Villa, who said he was not aware of his class designations until he received the departmentwide email, said he probably would not have chosen to have his "Book Design" course strictly designated as a web class as opposed to hybrid.
Sophomore filmmaking major Roderick Philipp said he thinks Columbia should either offer all in-person classes, with remote alternatives for those who do not want to return, or lower tuition costs.
"I'm sure [safety] is Columbia's first concern, but in the end, we are paying them to give us the education we originally planned to get," Philipp said. "Columbia has disappointed me in the way they are handling the Fall 2020 semester, and if nothing changes I will not be coming back this fall."
Philipp said since many come to Columbia for its "amazing resources, hands-on learning and collaboration between other students," either these must still be available to all, or tuition should be significantly reduced to reflect the high number of remote classes.
For in-person courses, the majority are 300 and 400 level classes, which are usually taken by upperclassmen, and for hybrid and online courses, the majority are lower level classes, according to a data analysis by the Chronicle.
Ben Troccoli, a sophomore advertising major, said after the course designations were released, he realized he only had one in-person class and immediately signed up for a hybrid course to have a reason to continue living on-campus.
Troccoli said he wishes tuition were adjusted based on the course designation, with lower costs for online classes and higher costs for fully in-person classes.
Lambrini Lukidis, associate vice president of Strategic Communications and External Relations, said the college is not likely to lower tuition, as the costs of hybrid and remote courses are not lower than delivering classes in person, and faculty and personnel costs continue to make up the majority of college expenditures as reported by the Chronicle July 14.
Local institutions such as Loyola, Roosevelt and DePaul universities are also embracing a hybrid instruction model, leaning heavily on online classes and hybrid classes as alternatives to in-person learning. Similar to Columbia, the schools also have safety precautions put in place upon students' return to campus in accordance with Gov. J.B. Pritzker's five-phase plan.
Laura Sturm, an adjunct faculty member in the Theatre Department teaching a hybrid "Theatre Foundation I: Theatre Making" course, said sometimes adapting to different spaces and having limitations allows for more creativity.
"There are days that you want to bang your head against the wall, but I do feel like the universe is giving us different kinds of lessons right now, and we just have to open ourselves up and be available to them," Sturm said.