Joe Biden wins Illinois primary; some Illinoisans go to polls despite coronavirus fears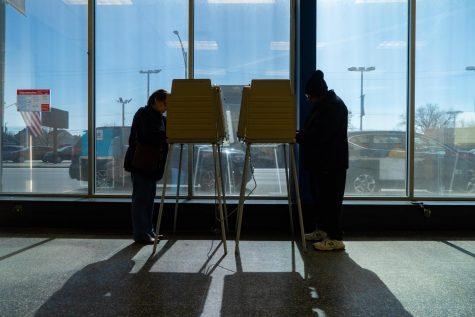 Updated March 18 at 10:40 a.m. with numbers from 10,012 of 10,014 Illinois precincts and 3,579 of 3,668 Cook County precincts reporting.
Updated March 18 at 3:48 p.m. following Rep. Dan Lipinski's concession in the 3rd Congressional District race.
Joe Biden's momentum across the nation continued Tuesday night, with the former vice president picking up the majority of delegates from the Illinois, Florida and Arizona Democratic primaries after posting wins in all three states.
Of the 1,991 total delegates needed to win the Democratic presidential nomination, the former vice president currently has 1,165; Sen. Bernie Sanders (I-Vt.) has 879; and Rep. Tulsi Gabbard (D-Hawaii) has two as of press time, according to the Associated Press. As the vote totals continue to come in, Biden leads with 59% of the vote in Illinois and Sanders follows with 36%. The race was called in Biden's favor early in the evening.
President Donald Trump won Illinois' Republican primary with 96% of the vote.
Ohio was also set to hold its primary, but the state's governor announced it would be postponed hours before polls opened, a move caused by concerns over the spread of the coronavirus from in-person voting.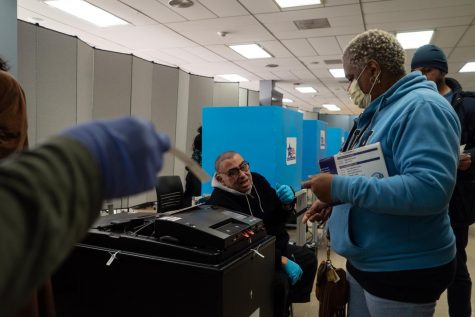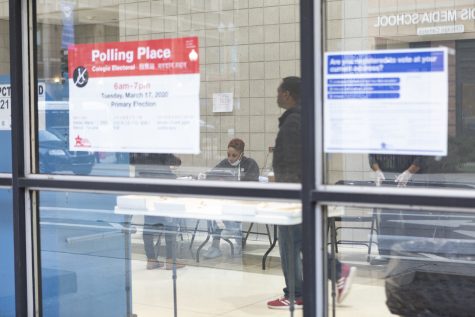 In Illinois, Chicago election officials encouraged Gov. J.B. Pritzker to follow Ohio's suit, a prompt Pritzker refused, as reported March 17 by the Associated Press.
"I will not use this moment to supersede my constitutional authority," Pritzker said during a daily press conference on coronavirus, or COVID-19, updates. "There are people out there who want to say, 'It's a crisis, bend the rules and overstep your authority.' Let me tell you this: It is exactly in times like these when the constitutional boundaries of our democracy should be respected above all else. And if people want to criticize me for that, well go ahead, I'll wear it like a badge of honor."
The Associated Press reported that, because of the coronavirus, some polling places in Illinois had to be moved, including many nursing homes where administrators were worried the polling would put older residents at risk. In addition to the seemingly low voter turnout compared to the record number of mail-in ballots this election cycle, at least 200 election judges bowed out at the last minute.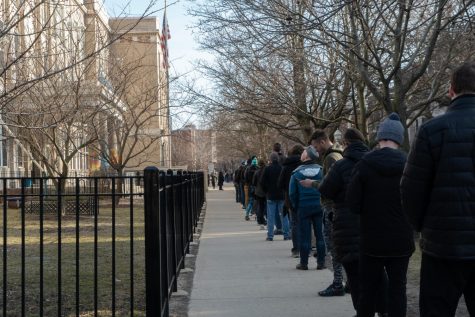 Some Chicago voters had no qualms about voting in-person.
Avery Lareau, a freshman musical theatre major, and her friends originally planned to go out to breakfast before heading to the polls, but had to cancel the plan and head straight to their polling places after Pritzker ordered all restaurants and bars to close to dine-in customers to help stem the coronavirus outbreak.
"[Chicago] really couldn't prepare for something like this," Lareau said.
Celeste Brace, a freshman dance major at Columbia, had no reservations, especially when seeing polling staff had gloves and masks on and were sanitizing the area regularly. Regardless, she was surprised by the low voter turnout.
"There could have been more reassurance for getting people out to vote," said Lareau, who voted for Sanders. "If you didn't vote today, then vote in November—please, please, please, please."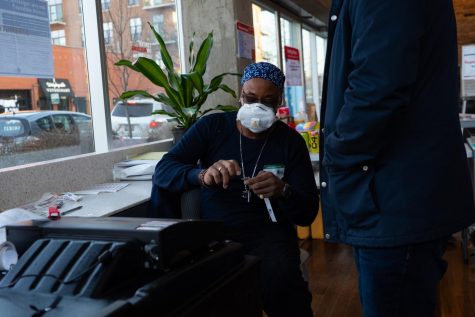 Leslie Fabian has been working at a polling place inside a laundromat in West Lawn for every election since 2001.
"Many voters are afraid to go out because we want to be careful," Fabian said. "Usually by this time in this area, we have maybe 150 voters. This time, we have 75. But I am happy to see they are coming out, slowly but surely."
Biden was endorsed by numerous high-profile Illinois officials, including Pritzker and Chicago Mayor Lori Lightfoot. This is the second time Sanders has lost Illinois, with voters in the state electing Hillary Clinton in the 2016 Democratic primary.
But the presidential race was not the only closely watched race on the ballot. With the majority of precincts reporting as of press time, Cook County State's Attorney Kim Foxx will again be the Democratic nominee, winning 50% of the votes in a high-profile, hotly contested, four-person race. On the Republican side, Patrick W. O'Brien won the state's attorney primary with more than 73% of the vote, earning the opportunity to run against Foxx in November.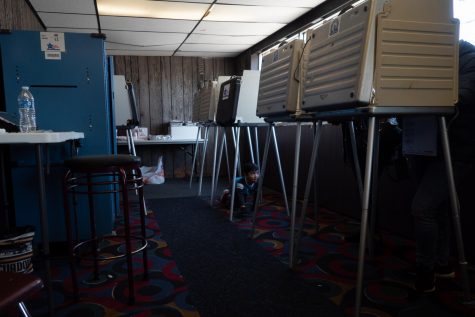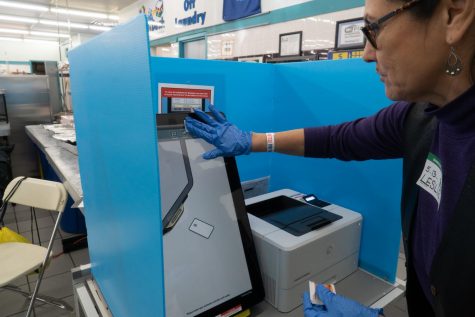 Foxx's win comes after a year of public criticism for her handling of the Jussie Smollett case, causing the Cook County state's attorney race to make national headlines throughout her campaign.
Foxx was closely followed in the race by challenger Bill Conway, who took 31% of the vote.
One of Illinois' U.S. Senate seats is also up for grabs in 2020. Incumbent Sen. Dick Durbin, who ran unopposed in the Democratic primary, will face Mark Curran Jr., who won the Republican primary with more than 41.5% of the votes in a five-person race.
In the 7th Congressional District, where Columbia's campus is located, incumbent Rep. Danny Davis again earned the Democratic nod with approximately 66% of the vote in a four-person race as of press time. In November's general election, Davis will face off against Craig Cameron, who ran unopposed in the district's Republican primary.
In the nearby 1st Congressional District, incumbent Rep. Bobby Rush (D), who has been in office since 1993, won his party's nomination with approximately 72% of the vote in a four-person race as of press time. He will face off against Philanise White, who ran unopposed in the district's Republican primary, in November's general election.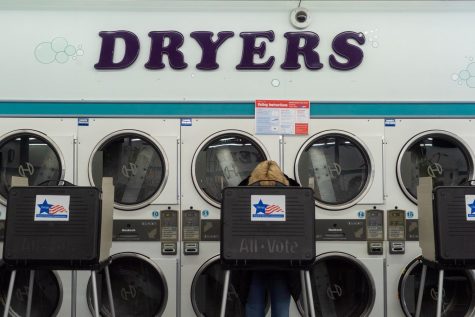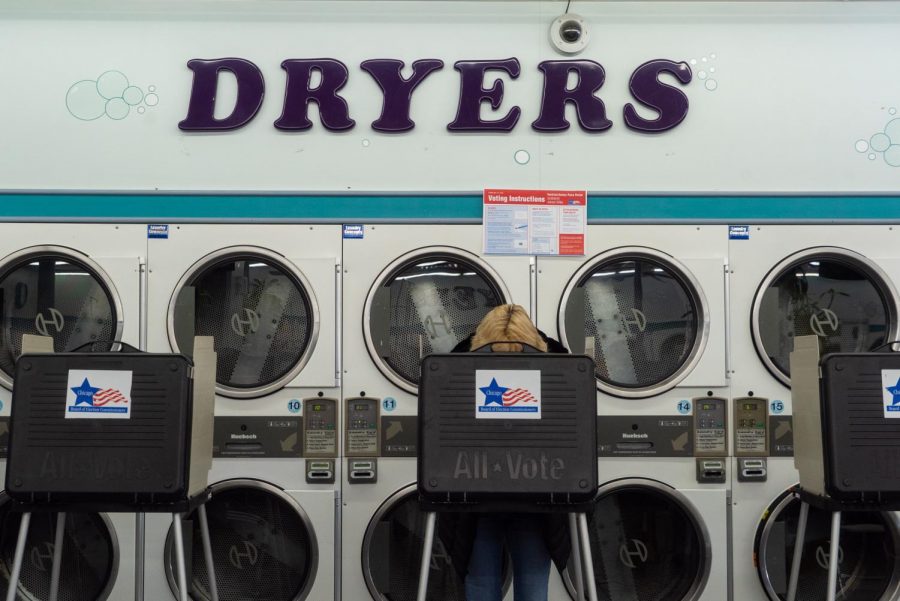 One of the most heated races was in the 3rd Congressional District's Democratic primary, where second-time challenger Marie Newman waged a campaign focused on personal interaction with the voters against incumbent Rep. Dan Lipinski—who has been called out by many in the Democratic party for being anti-abortion after his father essentially handed him his seat in Congress. Newman appeared on track to victory, with 47% of the vote as of press time, 494 of 500 precincts reporting.
Late in the evening Tuesday, Lipinski was not yet ready to concede the race, even if Newman had been declared the winner by various news organizations. In a Facebook message to supporters, Lipinski said, "As we close this evening, there are still votes to be counted in this race. It is very close. We may have to wait overnight or into the morning for the final vote count."
Lipinski later conceded the race to Newman in a Wednesday, March 18 Facebook livestream. As of press time, Lipinski had approximately 45% of the vote with the majority of precincts reporting.
In a late-night Tuesday statement, Chicago Mayor Lori Lightfoot praised Biden, Foxx and Newman.
"While there still are votes left to count, tonight's early results demonstrate that our nation and our region are headed in the right direction," Lightfoot said. "Joe Biden has built a diverse coalition that will defeat Donald Trump, Marie Newman will be a fierce advocate for the rights of women and underrepresented communities, and Kim Foxx has another four years to continue transforming our criminal justice system for the better. I look forward to helping elect them—and our entire Democratic slate—in November."
Additional reporting by the Associated Press.