Biden wins big on Super Tuesday, black Dems change the primary trajectory
Chicagoans took a front row seat watching Super Tuesday results as former Vice President Joe Biden staged what some called a sweeping comeback, thanks largely to black voters.
"This is black power," said Ben Joravsky, a long-time political reporter and podcast producer at The Chicago Reader. "The Democratic Party was going in one direction and then black people voted. … The problem, as an outsider looking in … is that this is where [the candidates' support] ends."
Before Saturday's South Carolina primary, Sen. Bernie Sanders (I-Vt.) and former South Bend, Indiana, Mayor Pete Buttigieg were the two frontrunners in terms of delegate count, but black voters changed the nomination trajectory in a single night, Joravsky said during a March 3 Super Tuesday watch party hosted by the Reader at The Promontory, a Hyde Park restaurant.
South Carolina is the first election of the primary season where there was a significant portion of black voters, more than 60% of whom voted for Biden.
In the Super Tuesday election—where more than a third of delegates were up for grabs, the most on any primary day—voters in 14 states cast their ballots, with many states having similarly diverse populations as South Carolina, propelling Biden to accumulate 627 delegates, placing him in first nationally, just ahead of Sanders, who has 551 delegates, as of press time.
The Democratic nominee needs 1,991 delegates to win the nomination.
But for some black voters in Chicago, Biden is the wrong choice to represent them.
Ald. Jeanette B. Taylor (20th Ward) said the Democratic Party has ignored black voters, which is why she chooses candidates based on policy, not color.
"Don't get me wrong, I'm an unapologetic black woman all day long … but at the end of the day, I want somebody in that office who is going to look out for all of us," said Taylor, who has officially endorsed Sanders. "We've got to be honest about what the Democratic Party has done to black folks, and it's nothing. They played us. They took advantage of our vote, they've gotten our vote, got into office and forgot about the people they're supposed to serve."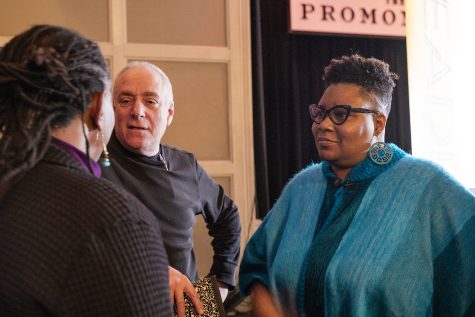 Political consultant Delmarie Cobb, who also worked as Hillary Clinton's Illinois press secretary during her 2016 bid for president, said many black voters fell in love with Obama and will vote for Biden because of that. She, herself, endorsed Clinton in 2016 because of Obama's endorsement, Cobb said.
"I don't fall in love with any of these people; these people are here to represent me," Cobb said. "Part of the problem that we have is that, as black people, we keep falling in love with them."
Cobb does not expect as much of a turnout from black voters in Illinois' primary just two weeks away.
"We can't say to the people here in Chicago, 'People died for the right to vote.' That means nothing to Chicagoans," Cobb said. "But you say that to someone in the South, and that means everything to them. … That's why they're turning out in droves."
It's still not clear if one candidate will have a particularly strong showing in Illinois, with pundits speculating that some Democrats will likely remain loyal to Biden given his ties to Obama and the former president's connection to Chicago, while others lean more left and will, therefore, go for Sanders.
Apart from one delegate to Rep. Tulsi Gabbard (D-Hawaii), the remainder of delegates so far have gone to candidates who have since dropped out.
The alignment of moderates behind Biden is largely seen as the Democratic Party's unification against democratic-socialist Sanders. 
In an ideal world, Taylor, a member of the Democratic Socialists of America, said she would have a Sanders-Elizabeth Warren ticket. But at the end of the day, Taylor said many Democrats, including herself, will vote for "anybody but Trump" in the November general election.
"The one weakness I hate that we do is go vote Democratic. We don't care who it is after the fact," Taylor said. "[Democrats are] going to go with Biden even though he ain't worth s- -t."