Heated Cook County state's attorney's race draws national attention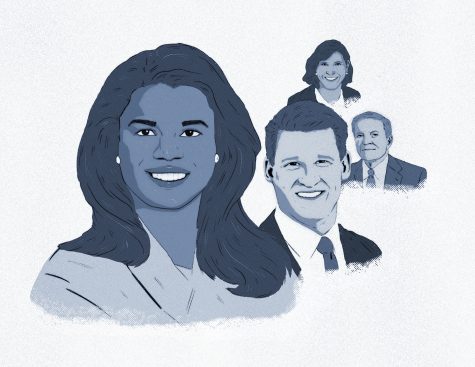 The Cook County state's attorney race has become one of Illinois' most closely watched races nationwide this election cycle involving a celebrity, an alleged phony hate crime report, criminal justice reform and questionable campaign contributions from a parent and an indicted politician.
The race has drawn attention across the country from the Los Angeles Times to the Washington Post.
On the Democratic side, incumbent Kim Foxx is taking on three challengers—Bill Conway, Bob Fioretti and Donna More—while two candidates are vying for the nomination on the Republican side, Patrick O'Brien and Christopher Pfannkuche.
According to a WGN-TV/Emerson College poll, conducted March 11 and 12, Kim Foxx led with 36.3%, with Conway following with 20.3%. More and Fioretti both received less than 5% in the poll and 34.2% were undecided. The margin of error was plus or minus 4.1%.
The Cook County state's attorney oversees more than 700 attorneys and 1,100 employees in the second-largest prosecutor's office in the U.S. The state's attorney represents the government in both criminal and civil trials.
"The Democratic primary will decide the State's Attorney's race," said Dick Simpson, a political science professor at the University of Illinois at Chicago and former 44th Ward alderperson.
As nearly all public offices in Cook County are held by Democrats, Simpson said it is likely the candidate who wins the Democratic primary on Tuesday, March 17 will assume the office following the general election in November.
Kim Foxx
As the incumbent, Foxx successfully ran on a progressive platform during her first run for office in 2016, when she challenged then-incumbent Anita Alvarez. The campaign focused heavily on Alvarez and what some saw as her hesitancy to bring charges against police officer Jason Van Dyke in the 2014 murder Laquan McDonald, the 17-year old African American who was shot 16 times by the officer. Van Dyke was convicted of second-degree murder and 16 counts of aggravated battery with a firearm. He is currently serving a sentence of 6 years and 9 months.
While Foxx benefited from the public uproar against Alvarez, once elected, she herself came under fire for her handling of the high-profile case of actor Jussie Smollett, which has plagued her reelection campaign. Smollett, who allegedly falsely reported a hate crime in January 2019, was recently re-indicted by a special prosecutor on six counts of disorderly conduct. The special prosecutor was appointed amid heavy criticism of Foxx for dropping the original charges of disorderly conduct after it was alleged Smollett falsified the report.
As the incumbent, Foxx said she knows the issues people face in Cook County, she said at a Women For Kim Foxx rally Tuesday, March 10.
She plans to continue her record of criminal justice reform by prosecuting violent criminals while ensuring the system remains fair to low-level offenders, she said.
Cook County Board President Toni Preckwinkle—for whom Foxx previously served as chief of staff—has endorsed Foxx, as have presidential candidate Sen. Bernie Sanders (I-Vt.), Mayor Lori Lightfoot and Gov. J.B. Pritzker, to name a few.
Bill Conway
Conway's advertisements have described Foxx's involvement in the Smollett case as an "appearance of impropriety" in the office. Conway has also called for Foxx to return campaign contributions from a 2016 fundraiser hosted by now-indicted Ald. Ed Burke (14th Ward).
Meanwhile, Fox has been running ads criticizing Conway for the amount of money his father, William Conway, co-founder of the Carlyle Group, has contributed to his campaign. William Conway has donated $10.5 million to Friends of Bill Conway, a committee that supports his son's campaign, according to the Illinois State Board of Elections.
"If people want to make this race about Carlyle Group versus Ed Burke, they're welcome to do that, because I know where the voters are going to be on that," Conway said at a March 10 event held at Manny's Cafeteria and Delicatessen, 1141 S. Jefferson St.
Conway served as a prosecutor in the state's attorney office. He has also worked as an investment banker, served in Qatar and Afghanistan as a naval intelligence officer and taught as a professor of business at DePaul University.
If elected, Conway said he will focus on moving politics out of the state's attorney's office, and alleviating rising murder rates and the "gun crime epidemic" by going after illegal firearm pipelines.
Bob Fioretti
Fioretti is a former 2nd Ward alderperson who ran for Cook County Board president in 2018, as well as for mayor in the 2015 and 2019 mayoral elections. Fioretti has also worked as a civil rights lawyer.
Funding has been a challenge for Fioretti, who said he would have run as an independent in the race if he could have financed the campaign. He said the state's attorney position should not be backed by a political party.
Fioretti said the undecided vote is crucial for him in the Tuesday, March 17 primary.
For Fioretti, Foxx's and Conway's negative ads aimed at each other have turned many voters away from both candidates, and he is looking to pick up those voters.
Fioretti said his plans for office go beyond those of the other candidates because his violent crime and gun crime policies focus on more than illegal weapons. He has also vowed to repair the property tax system and work to protect the environment.
Donna More
More, a former U.S. attorney and assistant Cook County state's attorney, said she is running for the state's attorney office for the position itself, not as a stepping stone in politics.
"A lot of people use this job for politics," More said. "This is not political and it shouldn't be political."
More said her background sitting on the executive committee of a large law firm and prosecuting violent crime gave her the experience necessary for the job.
More, who has been endorsed by the Chicago Tribune, is looking to make the justice system fairer. In terms of policy, More said she looks at the criminal justice system on a "case-by-case system."
She said she will push for more funding for mental health services and take a community-based approach to tackle gun crime in the city.