'Commencement is why we serve': Graduation weekend kicks off with first day of ceremonies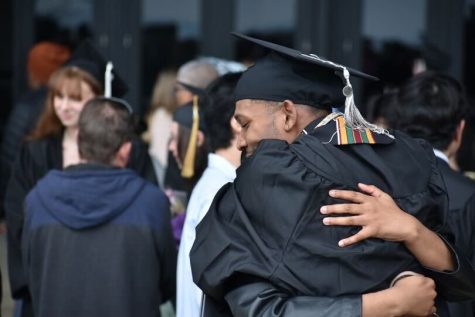 Columbia's first graduates walked across the stage to collect their diplomas at Arie Crown Theatre on Saturday, May 13, for the start of the college's two-day commencement celebration.
The students who graduated this year were the first cohort to have experienced the pandemic during all four years of college.
The first two commencement ceremonies included speeches from President and CEO Kwang-Wu Kim, Senior Vice President and Provost Marcella David, the Chairman of the Board of Trustees Bill Wolfe and Chicago Tribune Editorial Page Editor Chris Jones, who was one of the two honorary degree recipients this year.
In the morning: Graduates got degrees in
American Sign Language, 

English and Creative Writing, 

Humanities, History and Social Sciences, 

Dance, 

Theatre, 

Fashion Studies 

and Science and Math departments.
In the afternoon: Graduates got degrees in:
Business and Entrepreneurship, 

Communication, 

Audio Arts and Acoustics

and Photography departments. 
What Wolfe said: "Dr. Kim has told me and the Board of Trustees that 'commencement is why we serve," Wolfe said. 
What the graduates are saying: "It feels so surreal to graduate; it feels like a 'pinch me' moment," said Stephanie Sollis, who graduated with a bachelor's of arts in marketing with a concentration in digital social and a minor in arts management. "This is such an accomplishment that took a lot of hard work and dedication, but we made it." 
Sollis plans to return to Columbia in the fall to pursue a master's degree in Business and Entrepreneurship. 
In Jones' own words: "Banish imposter syndrome – you are worthy," Jones said to graduates in his commencement speech. Jones said creators should always aspire to create work that speaks to how people live and how they die. 
Bobbi Wilsyn, a longtime Columbia professor of the Music Department, will receive her honorary degree on Sunday.
What is next: On Sunday, May 14, commencement will also be broken into two different ceremonies. The morning commencement will be for Cinema and Television Arts students, and the afternoon's ceremony will include graduates from the 
Art and Art History,

Design, 

Music and 

Interactive Arts and Media Departments.