Columbia students protest on campus, call for tuition reduction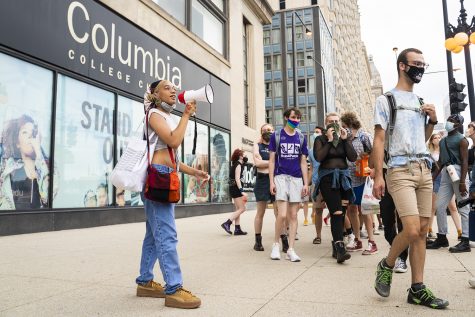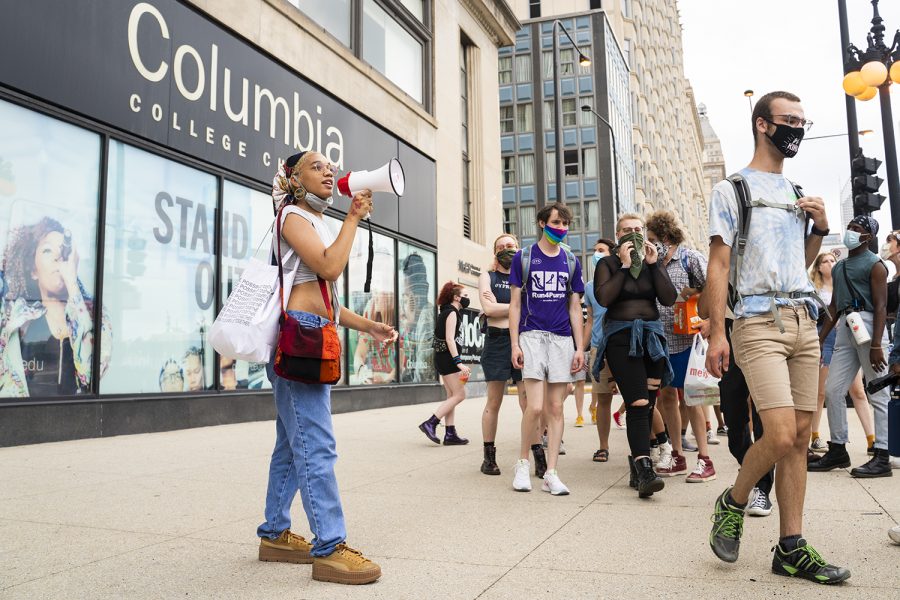 Columbia students chanted, "Columbia's trying to steal my money, and that ain't sitting right with me honey," as they marched down South Wabash Avenue with packs of water bottles and Goldfish crackers in hand.
Spearheaded by senior acting major Angel Page Smigielski and Isaiah Moore, senior double major in television and cultural studies, a group of nearly 30 returning students gathered Tuesday, July 28 at 72 E. 11th St. before marching to 600 S. Michigan Ave., where President and CEO Kwang-Wu Kim's office is located.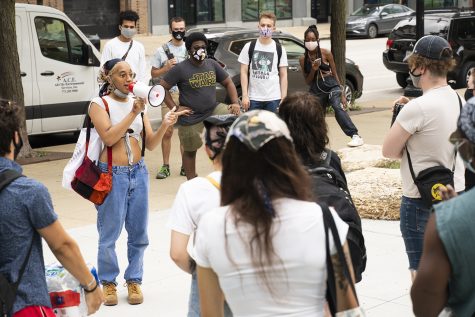 Smigielski and Moore, the former co-president of the Black Student Union, organized the protest shortly after a petition was created by Laney Naling, a junior filmmaking major.
The petition aims to persuade the college to lower tuition for the 2020-21 academic year by 40% after a collegewide email from Kim stated tuition would remain the same as it was for the 2019-20 academic year, as reported by the Chronicle July 14.
As of publication time, 1,974 people have signed the petition.
In a July 21 email to the Chronicle, Naling said she sent the petition to college administrators, including Kim, July 14, and Moore said they sent a separate email shortly after. Both said they have not received a response from the college.
Lambrini Lukidis, associate vice president of Strategic Communications and External Relations, confirmed that the college received the petition and a number of emails from individual students about the petition and their requests for a tuition discount.

Lukidis also said she received an email from Moore today requesting the college hold a town hall about tuition. She told the Chronicle the college plans to hold open forums for students to voice concerns, but dates have not yet been set.
In a July 2 collegewide email, Kim said the college was "lowering tuition for the 2020-21 academic year back to its 2019-20 level." As reported by the Chronicle July 2, this was a reversal from the previously announced 2% increase in tuition, at which point tuition would have been $13,571 per semester for undergraduate students and $14,364 per semester for graduate students.
As reported by the Chronicle July 2, undergraduate students will instead pay $13,305 per semester and graduate students will pay $14,088 per semester—the same as the 2019-20 academic year.
"Education is not a privilege, education is my right," shouted the group of students protesting the price of tuition for the upcoming semester.
The protests serve as an opportunity for students' voices to be heard and not ignored, Moore said.
After a short march to the 600 S. Michigan Ave. building, the students stood outside chanting various phrases, including "out of your office and into the streets," "you work for us" and "no justice, no peace."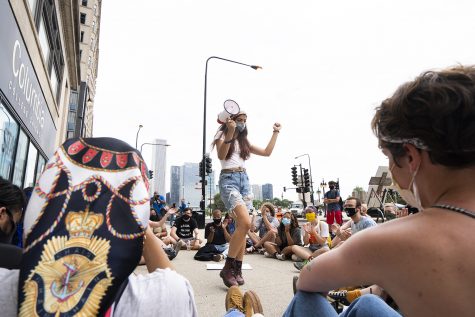 A handful of students then called Kim's office and asked for someone to come out and speak with them, but they were told nobody could meet them.
The chanting went on for nearly 30 minutes, with just one campus security guard standing near the front door until Associate Vice President of Security Ronald Sodini came out and addressed Smigielski and Moore.
Sodini said only employees were allowed in the building. Smigielski and Moore are both student employees, but Sodini said he would not let them in.
Sodini said they could not speak to anyone in the building at that time and suggested they call or email anyone they wished to speak to, which Smigielski and Moore said they had done multiple times with no response.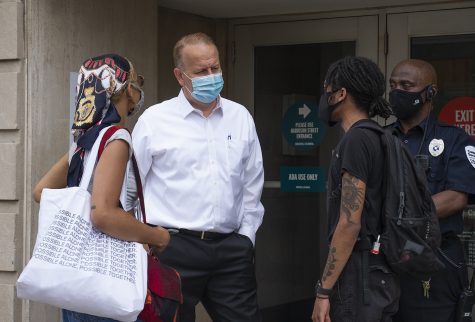 While Sodini said the students did not have to leave the premises, security guards proceeded to lock the front doors of the building on South Michigan Avenue."This is basically a repression of our rights; they won't let us even talk to anyone," Moore said.
The Chicago Police Department showed up to the protest, but they allowed students to continue as long as they did not block the entire sidewalk.
Moore said keeping tuition the same price as the previous semester is not helping students, especially those experiencing immense financial burdens due to the coronavirus pandemic.
Moore said they, along with other students protesting, want their tuition to reflect how students will actually be learning, which will be different from previous semesters, as a large percentage of courses are being taught online or through hybrid methods. They said there will also be a lack of resources for students for the upcoming semester.
As reported by the Chronicle July 20, 48.1% of classes will be hybrid, meaning the course will alternate between meeting online and in-person, and 47.7% will be solely remote or online.
Moore said at the very least they want to see transparency from the college, which would include a response to those calling and emailing.
Moore said they also want to propose the idea of including student representatives in decision making, as all decisions made at the college affect the students who attend. They said that would be a step in the right direction so students are not "left in the dark."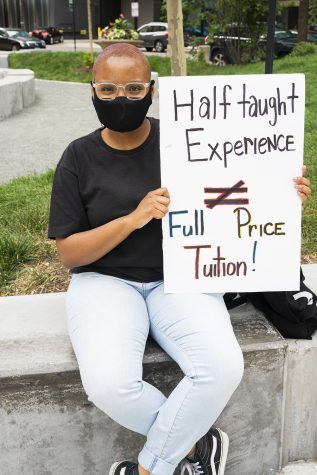 Smigielski said they want the college to take students seriously and simply answer their emails. They said if the college does not announce a tuition discount or postpone required tuition payments before the Saturday, August 1 payment plan deadline, Smigielski plans to not make any payments, a strategy Moore and junior photography major Nyia Sissac, a protest attendee, endorsed.
Sissac said being at the protest is a privilege because attending college is a privilege. She said she lost her job and internship during the pandemic and cannot afford to pay for "a half experience at full tuition."
"It's inexcusable to pay a large amount when I clearly don't have it," Sissac said.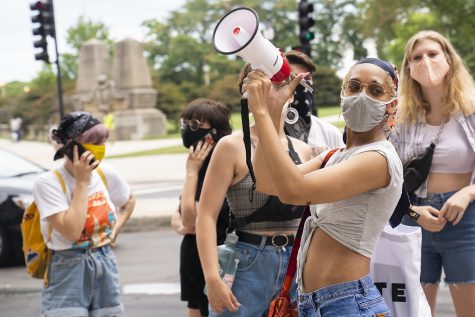 After more than an hour of chanting and requesting to talk to college officials, the protest ended for the day, but Smigielski said another one is planned for the start of the Fall 2020 semester when more students are in Chicago and able to attend.
"What you can do in the meantime, [is] keep spreading the word, keep sending them emails," Smigielski said. "Do not let this die."
More updates to come.