Students petition for discounted tuition, organize protests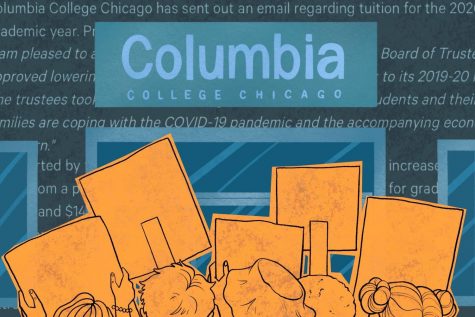 When Laney Naling, a junior filmmaking major, read a July 2 email from President and CEO Kwang-Wu Kim that announced the college would be "lowering tuition," but later realized that tuition would not be lower and instead remain the same as the previous year, she felt "insulted."
Soon after, she said she learned other students had contacted the college with their concerns but received no response.
Reading the Chronicle's July 2 story about Kim's tuition announcement further spurred her to start a petition for Columbia students demanding a 40% discount for the 2020-21 academic school year, she said.
"At first, I heard they were lowering [tuition], and then I actually read the email and it was just not raising tuition. It kind of felt a bit insulting, like a slap in the face," Naling said. "I think that's a lack of aid and support for their students."
As reported by the Chronicle, the college reversed its course on a tuition hike of 2% for the upcoming academic year, leaving tuition rates where they were for the 2019-20 academic year.
Rather than tuition of $13,571 per semester for undergraduate students, it will be $13,305 per semester. The tuition for graduate students was projected to be $14,364 per semester for the upcoming year but is now $14,088.
Naling said students deserve a lowered tuition because of the lack of access to resources, equipment and studios, among other things. She said she wants to get what she is paying for, and if tuition remains the same as the last academic school year, that will not be the case due to the coronavirus pandemic shifting most learning to online or hybrid courses.
Senior acting major Ronnie MackRosen said the college's use of the phrase "lowered tuition" threw him off and he signed the petition to show his frustration.
"If they want us to be able to attend their college at all, they should lower tuition [and] put the freeze on it so people do not have to go completely broke," MackRosen said.
The petition asks that the college puts in place "a temporary freeze until a solid discount can be instituted." Naling said this would mean students would not be held to an August 1 semester payment deadline, and that all payments for the semester be held off until a final decision on a tuition rate is made.
MackRosen said Columbia often makes decisions before asking for student input and then responds to how the college community reacts. He said it would be more efficient if the school touched base with students about tuition before sending similar announcements in the future.
The petition states that Columbia students "demand a 40% negotiable discount to the projected tuition or a temporary freeze until a solid discount can be instituted." This demand would change undergraduates' tuition rate from the previously announced $13,571 to $8,143 and graduates' from $14,364 to $8,619, according to the petition. This is based on the tuition announced for the 2020-21 academic year before the rollback.
"We understand that these are confusing times … we are facing an economic downturn," the petition states. "A lot of aspects of how to go about higher education is up in the air. The students that make this college [what it is] every year deserve relief in these times more than ever."
Lambrini Lukidis, associate vice president of Strategic Communications and External Relations, said although the college has not received the petition yet, it "considers all feedback it receives from students, faculty and staff and families."
Lukidis said the college decided to rollback the 2% tuition increase in recognition of financial challenges many Columbia families are facing during the pandemic. She said the pandemic has forced all institutions of higher education to critically think about social distancing to maintain the health of students, faculty and staff, and to do so the fall schedule includes remote learning and in-person instruction.
Lukidis said the hybrid courses meet all of the expected learning outcomes for students and do not lower the overall cost to deliver instruction. She said the college is pleased the current "enrollment numbers are holding steady from last year." She added that faculty and personnel costs continue to make up the majority of expenditures, so lowered tuition is not likely.
Nearly 200 University of Chicago students held a three-week tuition strike April 29-May 18 with a list of demands for the school's administration including a 50% reduction in tuition. However, only one demand was answered, which was the call for an overall freeze on tuition, housing and fees.
But as reported by the Chicago Sun-Times April 16, University of Chicago students say the school's efforts are still not good enough.
Similar to the University of Chicago students' strike, some Columbia students are organizing a series of protests advocating for Columbia's administration to give students a discounted tuition rate for the upcoming year.
Jaida Page Smigielski, a senior acting major, said Naling brought the petition to their attention, which led them to organize a series of protests in order to make students' voices heard and acknowledged.
"This kind of action is necessary to let the administration know we are serious about what we're fighting for, that's fair tuition for the education we are now given," an update to the petition states in regards to a tuition payment strike. "As students and families that make this school, we deserve better treatment and aid."
With a plan to kick off protests outside Columbia buildings in the next two weeks, Smigielski said they and others interested in protesting are willing to go "well into the school year" until college administrators are able to meet the demands of students.
Smigielski said they have heard from current students, Columbia alumni and students who have dropped out of the upcoming school year because of the high tuition. They said while protesting for discounted tuition, they also want to use this as an opportunity to discuss a number of issues such as the Black Lives Matter movement and diversity at the college.
"We need to use our voices now more than ever because the people who are speaking for us are not doing that," Smigielski said.
Isaiah Moore, former co-president of the Black Student Union and senior double major in television and cultural studies, said they sent an email to the college administration about their stance on lowering tuition two days before the collegewide email was sent but did not receive a response.
Moore said the thought of protesting was already circulating in their head and the email from Kim only solidified their initial gut instinct.
Moore said while they understand the adaptation to hybrid or online courses is necessary due to the pandemic, keeping tuition at the same rate as when classes were in-person is "disheartening."
Moore said the Columbia administration works for the students and needs to start putting them first. Moore said the protests will be a platform to advocate for students and push for change, which they want to see enacted immediately.
"We do not need any kind of performative justice from the school at this point because this is an immediate kind of change," Moore said. "We don't need them to try and listen to us and then [put together] some kind of task force … and try and survey us afterwards. We have our demands. We know what we want."
Naling said she hopes to gather more signatures for the petition this week and send it to the administration along with a written statement on students' demands. The ideal response to the petition would be for the college to postpone the August payment deadline while determining a new, reduced tuition rate for the coming academic year, Naling said.
Moore said they, along with everyone else protesting, will not back down until there is actual action taken by the school in recognition of students' demands. They said there will be a number of protests, sit-ins and a possible payment strike if action is not taken.
Moore said while the protests are still being planned, based on people who expressed interest and the core planners, there are about 45 people already set to protest, without any official promotion or outreach done yet.
"It will be refreshing and hopefully will spark some more [change]," Moore said.