Columbia alumna displays vibrant multi-racial LGBTQ+ murals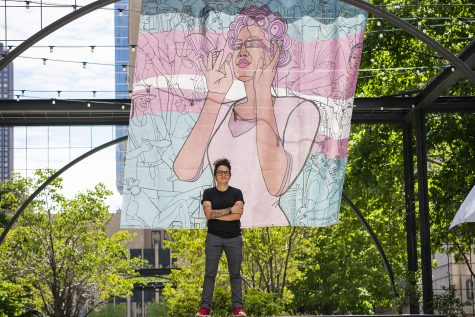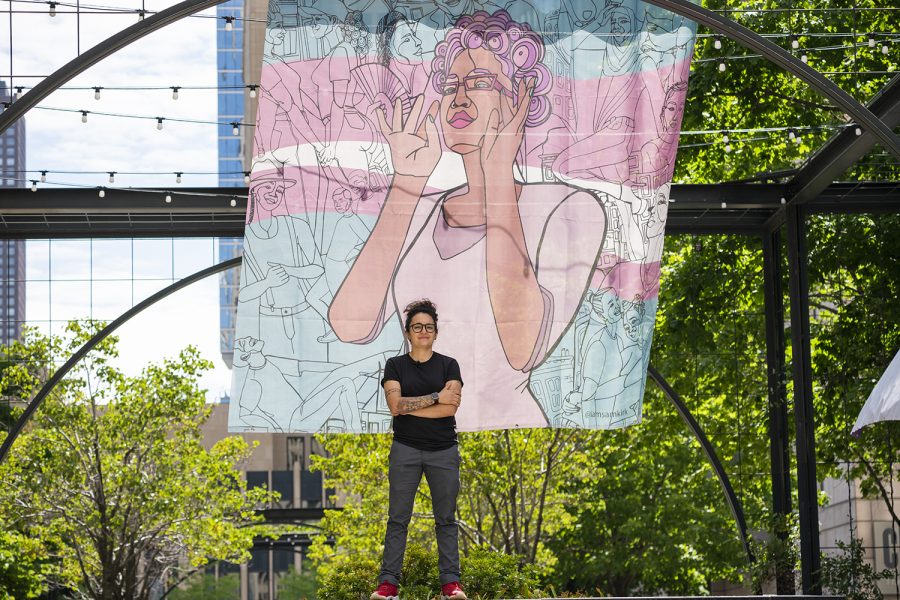 A Black woman with pink, curly hair stands powerfully behind the backdrop of the transgender Pride flag, reminding Chicagoans that authentic queer representation includes Black, Indigenous and people of color, or BIPOC.
The mural, titled "Queertopia," was designed and drawn by 2005 Columbia marketing alumna Sam Kirk for last year's WorldPride in New York City's Time Square. Another mural, titled "LGBTQ World Pride," shows LGBTQ+ people of various races on a vibrant multicolored banner in front of the gay Pride flag.
Now, Kirk's Pride murals have made their way to various locations around Chicago like the Magnificent Mile at Pioneer Court plaza, 401 N. Michigan Ave., and Navy Pier, 600 E. Grand Ave., at the Peoples Energy Welcome Pavilion and Fifth Third Bank Family Pavilion.
The Chicago Cultural Center, 78 E. Washington St., and the Museum Of Contemporary Art Chicago, 220 E. Chicago Ave., are also graced with her murals.
In total, there are six different designs, each brightly colored and inclusive in its message.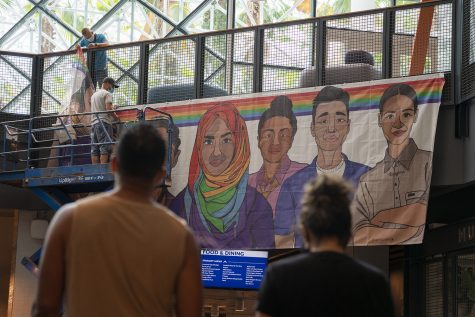 Kirk said LGBTQ+ representation and art in Chicago is typecast as being limited to Boystown or Andersonville. Kirk said she was conscious of putting the murals in locations that are highly trafficked and not typically known for their LGBTQ+ representation.
By having the murals downtown, Kirk said she hopes it makes the LGBTQ+ community feel seen and represented in every corner of the city.
"The downtown area is one part of the city where many different walks of life and many different people come," she said. "In order for this city to become more unified, we have to see things like that in different spaces."
Instead of discarding the banners after WorldPride in New York City, Kirk said she and her art team requested to have them back to donate to LGBTQ+ non-profits. Kirk has prearranged places for some murals to go, but because of the coronavirus, she said outreach has taken a pause and will resume after her murals in Chicago come down.
The murals at the Chicago Cultural Center will be up until September and the ones on the Magnificent Mile will be up until the end of July.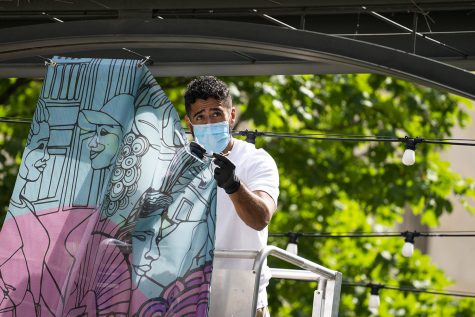 "[It's] important to me … because just wanting to break that kind of requirement that we celebrate certain cultures within certain months … people are Black year around. People are gay year around," Kirk said, who identifies as queer and lesbian. "So, why are we limiting it to one month?"
Growing up on the South Side of Chicago and in the queer community, she said there was minimal representation for LGBTQ+ people of color.
When there is queer representation in media, Kirk said it does not go beyond the narrative of "sex" and "partying" that is too often depicted.
"There's love and there's happiness and there's simple moments that we also participate in," she said. "It's also getting people to think outside of that box and see us as individuals [and] also to see Black and Brown love between two individuals within this community which is something that is lacking."