Chicago jazz band Nick Mazzarella Trio thrives in local music scene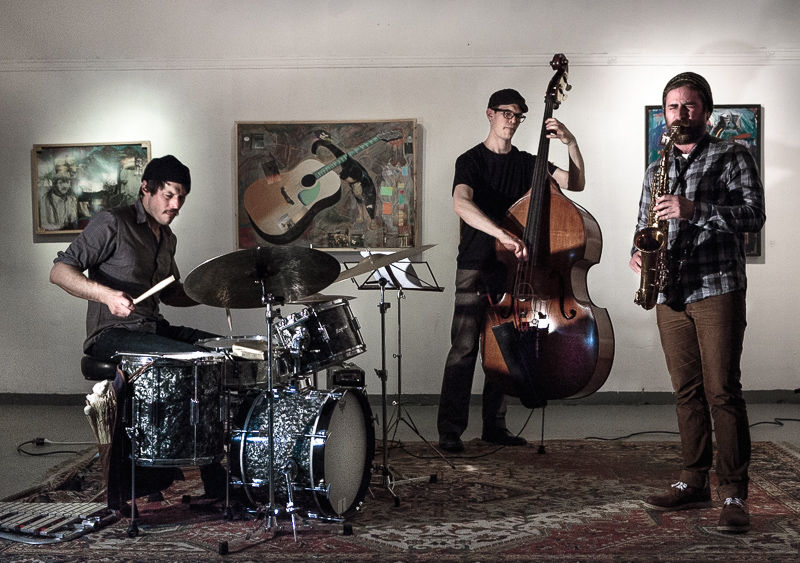 Chicago's Nick Mazzarella Trio has made a mark on the city's jazz scene by playing on local radio stations and music shows since the band formed in 2008. The trio—including Nick Mazzarella, who plays the alto saxophone and composes the music, Anton Hatwich on bass and Frank Rosaly on the drums—focuses on jazz improvisation, working off each other's energy.
Nick Mazzarella Trio released its new album Ultraviolet, available on the band's website and record stores across Chicago, on Sept. 21 with local record label International Anthem Recording Co.
Every Monday, Mazzarella hosts the Anagram Music Series at Elastic Arts, 3429 W. Diversey Ave., #208, which features jazz and improvised music from local and national jazz musicians.
Mazzarella, who holds a bachelor's in jazz performance and a master's in composition from DePaul University, spoke to The Chronicle about the band's new album, its other projects and the Chicago music scene's influence on its sound.
THE CHRONICLE: How would you describe your sound?
NICK MAZZARELLA: The music we play is like free jazz. We play compositions I write, but there is a great deal of improvisation in the performances. We play the piece, then use it as a starting point and shape our improvisation and then we return to the statement of the melody at the end of each performance.
What inspires you?
[I'm inspired by] my own imagination and my own sense of expression. I learn a lot by playing with people I work with here in Chicago. I've learned a lot by playing with [Hatwich and Rosaly]. We have developed a group sound, and everyone contributes to it equally. There has to be a great deal of trust between us in order for us to come up with music in the moment.
How was Ultraviolet created?
All the pieces were composed at the same time as a suite [a composition made up of separate movements]. I wrote the music for a five-week residency at the Gilt Bar in Chicago, and it has become our main repertoire. We have been developing the material over a couple of years throughout different performances. Finally, when I thought the music was in a particular place I thought would be interesting to document, we went into the studio and made Ultraviolet.
What are your favorite local venues?
I have a couple of favorites. The Green Mill has got to be at the top of the list. I love playing at Constellation. [The Anagram Music Series at Elastic Arts] is mostly local players, but I have [been joined by] some out-of-towners who are passing through on tour. I like that space as well.
How has Chicago influenced your music?
The Chicago music scene is how we all met each other. The scene is very active and diverse, and there's a lot of interesting music being made—a lot of original music. The musicians organize and promote concerts for each other, kind of like what I do at Elastic [Arts] on Mondays. There are a lot of opportunities to play live and record and make new work. It has been a big influence to live here in the city. There are so many great musicians to listen to and learn from.