Smashed Plastic brings vinyl production to Chicago after 30 years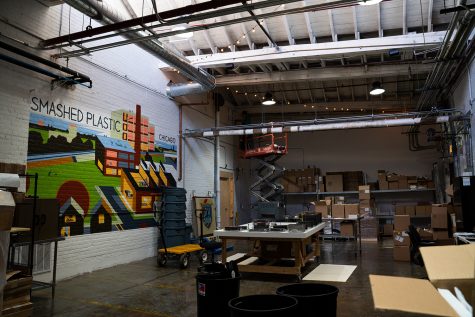 At Smashed Plastic Record Pressing, on the corner of Diversey and Tripp avenues, one steamless machine is the source of all the vinyl-making magic, which runs completely on a closed hot water system,
the only plant in the U.S. to utilize this process.
The magic of creating fresh vinyl leads to a different listening experience for music lovers, which has led to a dramatic uptick in the sale of vinyl, with $14 million in sales in 2017 alone, the highest earnings since 1991.
After 30 years of nonexistent vinyl production in the city, Smashed Plastic, 4200 W. Diversey Ave., blossomed under owner and Chicago DJ Andy Weber.
At the plant, the machine melts PVC pellets into a long chord, which wraps around a puck-like mold. After the pellets melt into a record, the machine picks up a top and bottom label and bakes them right into the record.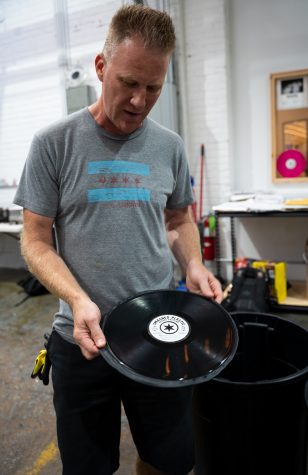 A pin then comes down to screw everything in place, the thick steel element inside is pushed out and water runs through coils in the mold—first hot, then cold. A plate then sandwiches the record in place and cuts its edges.
The machine then grabs the record, places it on a spindle and completes the job. Excess plastic and water is reused for the next order.
While other U.S. companies produce vinyl, none have the Chicagoesque touch of  Smashed Plastic, where Chicago-based artists comprise 95% of their sales.
"We started out thinking really small, and now, all of a sudden, it ballooned into what we are doing now," Weber said.
Tied to the Chicago music scene, Weber witnessed the difficulty artists faced ordering vinyls from companies outside the city.
Weber said he knew from the beginning he wanted to have an "open-door policy," a place where artists can physically go and see their music made into a vinyl product.
With an ability to connect to artists personally and a knowledge of music, Weber's passion goes beyond the listening aspect.
"There is a warmth to [vinyl]. There is a more authentic reproduction of the sound. … It is almost its own instrument," Weber said. "[This] is what people are drawn to."
Chicago-based heavy psychedelic group REZN produced their first two vinyl records in the Netherlands. But, for their latest record, "Live at Electrical Audio," the band collaborated with another Chicago band, Lume, and used Smashed Plastic's production for an all-around Chicago-centric piece of work.
Spencer Ouellette, who plays modular synthesizer and saxophone for REZN, said it was difficult to get vinyl produced overseas, specifically regarding shipping. He said it made sense to have their record
produced and sold in Chicago, because both groups are based in the city.
"It is good representation of what Chicago is capable of producing physically in the music scene," Ouellette said.
Recording music for vinyl is different because it is made to exist physically, rather than as a modified version in the streaming world. For that reason, the two bands recorded the tracks live, with no touch-ups—something they had not done before, Ouellette said.
"There is an ownership factor to it," Weber said. "It is something tangible."
As for working alongside Smashed Plastic, Ouellette said the best part for him was the easy access to collaboration.
"[They] have no shame in sharing their excitement … We really felt like we were in good hands, just based on their enthusiasm," Ouellette said.
Jake Walczyk, a La Grange resident and manager for Ritt Momney, an indie group who produced "Her and All of  My Friends" with Smashed Plastic, said it was important for them to establish a relationship with Chicago companies.
After working with a California company and having issues, Walczyk said producing vinyl with Smashed Plastic is convenient and personal.
If  the company continues to grow at the right rate, Weber said it will eventually add two additional machines, along with completing store renovations.
Live shows and podcasts will soon be on-deck for Smashed Plastic Record Pressing. "This is a passion project for all of us," Weber said.