Vintage & Flowers brewery event highlights local creators and sustainable fashion, inspires community building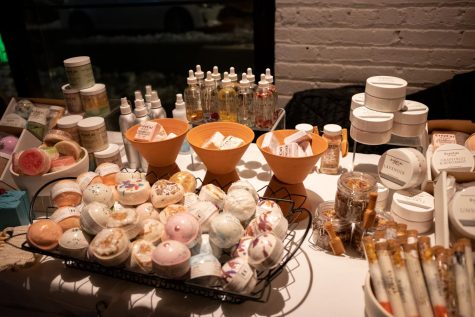 Welcomed in by ambient, warm lights and Tkay Maidza playing softly in the background, visitors walked through the Ørkenoy brewery to see everything from tables of hand-drawn prints to racks of carefully curated vintage fashion pieces and macramé plant hangers made from bondage gear.
Located on the first floor of 1757 N. Kimball Ave., vintage clothing store Her & Ziba hosted the event titled Vintage & Flowers to uplift small business owners. The local vintage store aims to combat the gentrification of thrift shops and uplift the voices of smaller-owned businesses, while curating an inventory chock-full of eccentric '70s inspired patterns, fur coats and quality knitwear through sustainable sourcing.
Elhom Karvassi and Leslie Castromayor, co-owners of the vintage clothing shop Her & Ziba, met and created the shop after the COVID-19 pandemic allowed them to devote more time to their passion for ethically sourcing clothing pieces and combating the gentrification of thrift stores.
Her & Ziba named the event "Vintage & Flowers" because of their sourced vintage finds, and their friend was selling floral arrangements around Valentine's Day.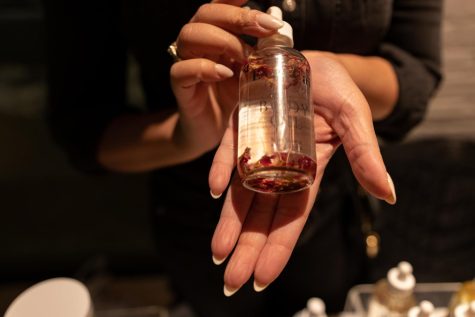 "In the last few years, the gentrification of thrift stores has become a big problem, where people are going in and buying carts full of s—, and then the people who need to buy from there cannot buy from there anymore," Karvassi said. "Mainly, I go to the Goodwill outlets which are in Gary. I can source from there because those are one step away from going into a landfill."
Castromayor said Her & Ziba had done a market with Ørkenoy in November, and after it was a big success, they were invited to do it again this month. She said she hopes it can be a quarterly event and loves how willing the brewery is to share its space with the community.
"It's amazing they let us be in here, and then we, in turn, can invite other vendors and give them a space to sell their things, come out here, meet new people and get their word out," Castromayor said. "I love community building basically, that's what's going on here."
Benji Morino, owner of Fauna Bond and a participating vendor in the Vintage & Flowers event, first started their brand in September 2020 after making plant hangers just for their friends. Starting off with local sales, they moved on to boutiques like Queertique in Palm Springs and Flowers & Weeds in St. Louis, and later solely online to Etsy and Instagram as their business grew.
"The items I sell now for this specific project of Fauna Bond are just plant holders," Morino said. "[The plant holders] hang in your window and [are] pretty things to look at, like dressing [the plants] up."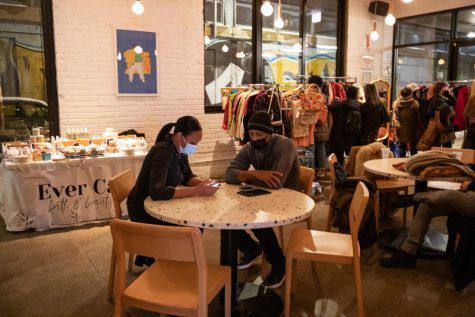 Kita Atabaki, the owner of Kita Art Witchery, was also present at the market space and said she considers her art and shop her spiritual practice. The Chicago-based, radical art witch focuses on drawings that highlight details of the female body and tries to lace in messages and reminders that challenge societal norms.
"I have a couple of stories in my work right now, and they all create the bigger picture of what I want to be saying,"Atabaki said.
Atabaki also works at the Sideshow Gallery, located at 2219 N. Western Ave., but said that running the shop was a "pandemic initiative," having worked in the restaurant industry for 15 years prior.
"I've been an artist my entire life, and I needed that shove out of the industry to focus full time on [the art] and realize that's what I wanted to be doing with as much of my time as I possibly could," she said.
Dawn Garbutt, the owner of Ever Caí Beauty, said she started her business like many others at the event, by needing something to do during the COVID-19 pandemic.
"I got furloughed during the pandemic, and I just cannot sit still, so I needed something to do," Garbutt said, "I started getting more into all-natural products, and my daughter has eczema. She kept getting misdiagnosed and they kept saying it was a fungal infection, and the medicine that they would give her would just make it worse."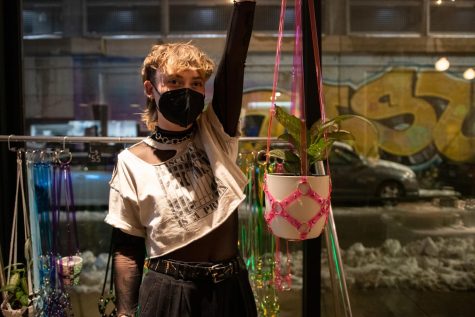 Garbutt recalls after getting frustrated that doctors would keep misdiagnosing her daughter and feeling uncomfortable with putting chemicals on her skin, she took matters into her own hands.
"The last thing I want is to continuously put chemicals on her skin, so I started researching what different natural lotions would be good for her, and so I came up with the whipped body butter, and then it just snowballed from there," Garbutt said.
When asked why it was important to shop local, Karvassi emphasized purchasing from small business owners who rely on their community's support.
"Corporations are terrible. They're just taking your money and not doing anything good with it, so supporting small [businesses], especially minority-owned spaces is really important," she said.
Karavassi and Castromayor plan on hosting another event soon. They hosted a soft opening for their vintage store on Feb. 19 and will host a grand opening on March 5 at 4949 N. Damen Ave.