The Chronicle's vegan restaurant guide to Chicago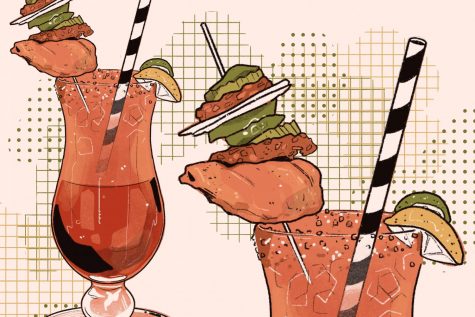 When I went vegan eight years ago, I was a 16-year-old in Gardner, Kansas, who had to drive 45 minutes to Kansas City, Missouri, to find the nearest vegan restaurant. Moving to Chicago a year and a half ago opened up a world of different types of vegan food that were easy to access.
For all you vegans, or for those who want to venture into other types of grub, the Chronicle has compiled a list of some of our staff's favorite vegan restaurants in Chicago that are either entirely vegan or at the very least have vegan options that you should not sleep on. Unless otherwise noted, all items are vegan.
$ Mikkey's Retro Grill
This tiny, old school diner is for the vegans with meat-loving friends who refuse to go to strictly-vegan restaurants. While most of the food at Mikkey's Retro Grill, 5319 S. Hyde Park Blvd., is not vegan, the menu boasts a classic veggie burger and killer vegan milkshakes that range in flavors from vanilla to Butterfinger. For you night owls with a sweet tooth, this retro grill is open until 1 a.m. on Saturdays.
$ Quesadilla La Reina Del Sur
Quesadilla La Reina Del Sur, 2235 N. Western Ave., is a casual BYOB spot that reinvents the way we think about eating out. While most people think eating healthy sacrifices tasty food, this restaurant is here to show you that isn't necessarily true. Any type of meat alternative you can think of—steak, chicken, pork skin—they have it. You can fill up on a "Super Burrito" filled with ingredients from their taco selection or chilaquiles topped with a soy chicken patty, but make sure to save room for the tofu cheesecake for dessert.
$$ No Bones Beach Club
With a logo written in yellow, Flinstone-like font over the entrance, a surfboard sitting right behind the front door and a hot-pink booth nestled next to the bar, No Bones Beach Club, 1943 W. North Ave., gives patrons summer vibes even in the middle of winter.
This restaurant is a little on the pricier side—an entrée might range from $18 to $24—but if you want to treat yourself to a Bloody Mary stacked with cheese, pickles, tempeh and a vegan buffalo chicken wing, this is the place for you. It also serves a breakfast burrito during brunch, covered in poblano cashew queso big enough to share. But if you are anything like me, you will slap your boyfriend's hand away when he reaches for a bite.
$$ Soul Vegetarian
For authentic soul food that does not sacrifice flavor for plant-based options, Soul Vegetarian, 205 E. 75th St., cannot be beat. Start with an order of buffalo tofu wings to warm your stomach and then cool it down with a "chik'n salad" served with romaine lettuce, walnuts, dried cranberries and croutons. If you are feeling a little too full after eating here, cleanse your body with a detoxifying green juice.

$$ Chicago Diner
Take a seat at the bar stacked high with VHS tapes and order a dairy-free White Russian at the Chicago Diner, arguably Chicago's most popular vegan restaurant that has been "meat free since '83," so their slogan goes. With locations at both 2333 N. Milwaukee Ave. and 3411 N. Halsted Street, sip on your drink and be sure to ask the bartender about their specials—they change all the time.
If you are craving comfort food such as nachos, a spicy chicken sandwich or some macaroni and "teeze"—a.k.a macaroni and cheese—this diner is meant for you. The first time I went, I did the whole moan-while-biting-into-your-food thing after biting into a jalapeño popper filled with vegan cheddar cheese. It was embarrassing but warranted.
$$ The Chicago House of 'Za
The Chicago House of 'Za, 1939 W. Byron Street, does not disappoint when it comes to the "cheese pull," no easy feat for vegan cheese.
The Chicago House of 'Za is the only place I have found thus far to serve vegan deep dish pizza. If you aren't into deep dish—a literal dish that is more lasagna than pizza—you might try their thin-crust or the stuffed mushroom caps. No matter what you choose, it'll satisfy your cravings for saucy, "cheesy" 'za. If you are lucky enough to live close enough to get their pizza delivered—beware. There is something dangerous about being able to chow down on this pizza under a fuzzy blanket in front of the TV.
$$ Majani
For South Siders, Majani is providing a vegetarian oasis. These are African and South African recipes that do not hold back on the sauce. From a falafel burger with creamy tahini, to a jerk tofu wrap with lettuce, tomato, garlic and BBQ sauce.

The floor to ceiling windows really brightens up the joint and welcomes patrons to sip on a ginger lemonade while basking in the sun. Not much needs to be said about either restaurant locations, 765 E. 111th Street and 7167 S. Exchange Ave., because the name "Majani" is Swahili for "green" which says enough about their use of fresh and local ingredients.
$$ Amitabul
In my experience, it is hard to find vegan restaurants that don't just serve American—or Americanized—food. At Amitabul, 6207 N. Milwaukee Ave., you can spice up your vegan diet with Korean food. Before it gets too warm in Chicago, make your way over and order the "9 Ways to Nirvana Noodle Soup." It's a soup made with broth aged for 12 years and filled with tofu, seaweed and veggies. As the weather gets warmer, I suggest the "Sweet Curry Noodles" or the vegan dumplings. They even have a Korean pizza topped with kimchi. Decisions, decisions, all of them delicious.