Success is 'in the bag' for this student fashion entrepreneur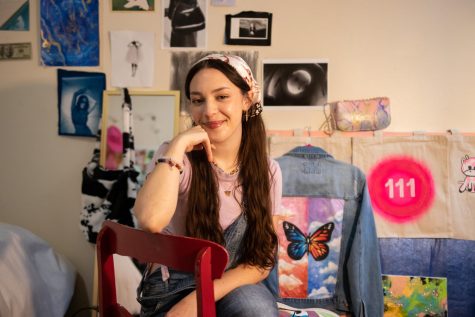 Angel numbers, hearts and colorful paint splatters appear on the sustainable tote bags of junior photography major and small business owner Judith Grace Hoffman.
The sustainable fashion company, JG Designs, was launched by Hoffman in September 2021. She wanted full creative control to express her art and interlace it with trending fashion and accessories.
Hoffman takes heavy influence from her "main love" of fashion photography and uses it to fuel her inspiration for creative projects such as JG Designs.
"Fashion photography has always inspired me, but it really rooted in my love as a little girl for fashion in general," Hoffman said. "I would sew things with my grandma and she would teach me how to put dresses together and do all these different things."
"I think [fashion] has always been an underlying inspiration in my photography, but then working in fashion design, it kind of inspired me because I feel like photographers should be really understanding and knowledgeable of the things that they shoot."
Hoffman's approach for the brand was to create custom-designed bags that are as expressive and unique as the people wearing them.
"I've always felt like I've had a really individual sense of style and I just want my pieces to represent that for other people," she said.
JG Designs' bags are made of 85 to 90% sustainable materials, or are recycled bags from thrift stores. The bags Hoffman purchases come from a sustainable distributor who creates bags made from 100% recycled cotton.
"Another aspect [of JG Designs] is just repurposing things that people don't want," Hoffman said. "Taking purses that people don't use anymore and recycling them and making them something new by adding my painting and designs."
Following the recent trend of maximalism which includes eclectic patterns, bright colors and over-the-top accessories, Hoffman wanted to capture the aesthetic through her bags.
"I love chaos," Hoffman said. "I think each bag has a completely different aesthetic. Each [collection launch] has a similar aesthetic, but each bag individually brings something different to the table."
JG Designs' upcoming launch features a spiritual touch from Hoffman's personal influences surrounding her spiritual journey. The collection highlights angel numbers — a series of numbers believed to have a spiritual connection — and evil eye accessories, which some believe provides protection from negative energy.
"As an artist in general, the things that you're capturing are mostly things that are influencing you or just inspiring you at the time," Hoffman said. "This year for me really has just been about reclaiming my spirituality and reclaiming my knowledge of just myself and my being. I think that's just inspired my bags, and inspired my life around me."
Kailin Noyola, the owner of K Baby Beads and longtime friend of Hoffman's, said Hoffman has a creative eye and puts her love, work and dedication into the bags to make them so beautiful.
"[Hoffman's bags] are always so creative, and she puts so much love into them and she just wants them always to be so perfect and she would never give anyone anything that she wouldn't use," Noyola said. "I know that when she's giving one of her customers one of her bags that she's doing it with all the love and care."
Karla Cortes, JG Designs' first customer and another friend of Hoffman's, said she trusted Hoffman with the creative freedom to design her bag because she appreciated Hoffman's sense of style.
"I have so much faith in [Hoffman] because of the way she presents herself and that so many people see her is so positive and they understand that she only brings positive energy," Cortes said. "No matter who you are, I think if you talk to her for even a couple [of] minutes, you'd want to support anything that she does."
Launching JG Designs has empowered Hoffman as a small business owner to work harder to chase her goals.
"Every day that I'm making a bag and repurposing it gives me purpose," Hoffman said. "I feel so valid in creating things and creating art, and I think that this business has been just reaffirming my dreams, reaffirming my goals and reaffirming my purpose."
Hoffman said JG Designs is currently launching bags and accessories but will be expanding into a clothing line that includes hand-painted jeans and custom, one-of-a-kind jackets.
For upcoming collection launches and more custom-painted accessories, you can find JG Designs on Instagram.