Student organizers at a loss after meeting with administrators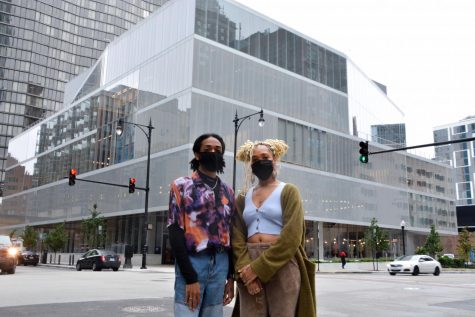 After Columbia reversed its decision to increase tuition by 2%, as reported by the Chronicle July 2, some students still wondered if additional financial assistance would be provided with regard to tuition.
A petition was created by Laney Naling, a junior filmmaking major, asking the college to lower tuition for the 2020-21 academic year by 40%, and soon after student organizers protested the lack of communication from administrators.
A group of nearly 30 students gathered outside 600 S. Michigan Ave. July 28, where President and CEO Kwang-Wu Kim's office is located, demanding administrators communicate about their decision not to lower tuition, in hopes of coming to a solution.
Isaiah Moore, a senior double major in television and cultural studies, and Angel Page Smigielski, a senior acting major, decided to organize the protest after they sent an email to the college about its decision to keep tuition the same as the 2019-20 academic year, and did not receive a response.
"We wanted more transparency and accountability from them, but also we wanted to negotiate some more equitable solutions," Moore said.
Smigielski said after the protest, there was little response from the college until Charee Mosby-Holloway, director of Student Diversity and Inclusion, informed Smigielski and Moore that administrators wanted to meet with the people in charge of the demonstration.
Luckily, both Smigielski and Moore work at the Office of Student Diversity and Inclusion, which is how they were identified as the protest organizers.

"If Charee didn't happen to know us, I don't know how [administrators] would have tried to find us," Smigielski said. "It didn't really seem like they cared."
Smigielski and Moore met over Zoom Aug. 14 with college administrators including Senior Vice President and Provost Marcella David, Senior Vice President of Business Affairs and CFO Jerry Tarrer, Chief of Staff Laurent Pernot and Vice President of Student Affairs Sharon Wilson-Taylor.
Moore said the meeting went as expected—administrators presented the college's finance and budget numbers, where funds are allocated and what budget cuts were made for the Fall 2020 semester.
According to Tarrer, 99% of Columbia's operating funds come from tuition and fees as well as the college's endowment, which fund staff and faculty salaries; supplies and services; depreciation and debt; building operations and security.
If the college was to lower tuition, it would heavily impact all aspects of how the college operates, who it employs and what services or resources it can provide, Tarrer explained.
Giving students 40% discount on tuition could cause the college to lose an estimated $42 million for the academic year, Tarrer said in an Aug. 28 interview with the Chronicle.
"Reductions in tuition of that nature will drive losses even to the point where they would be unsustainable," Tarrer said. "Certainly we would not be able to honor all the scholarships that we've offered, we would definitely see the elimination of jobs … and then we will see the elimination [of] critical student services."
In April, students from the University of Chicago demanded the college reduce tuition by 50% and eliminate student fees during the pandemic. In response, University of Chicago administrators froze tuition for a year, but students are still asking for their original request.
Smigielski said the college's endowment fund—which is about $194 million as of July 31— could be used toward assistance and relieve students off financial burdens.
"We are in a pandemic. I [don't] know if you're waiting for an asteroid to fall out the sky, but this is an emergency," Smigielski said.
But Tarrer said about $10 million from the endowment each year is used for long term investment that supports the college.
"There was a huge downturn at the end of last fall and then we saw the downturn with the outbreak of the pandemic," Tarrer said. "The endowment is invested properly in my opinion, we've been able to recover a lot of the losses we experienced."
As of now, Moore said they will be planning another protest if administrators are not willing to meet again and come to a proper solution to help students, but the exact date is still to be determined.
As of publication, it was unclear if administrators were planning a specific follow-up meeting with student leaders, but they have left the door open for further discussion.
"We have to muster up all this energy to not only uphold ourselves but uphold an entire student body who wants their opinions to be heard, who just wants to be done right by their school that they've invested in," Smigielski said.
Updated Wednesday, Sept. 9 at 7:30 p.m. 
Associate Vice President of Strategic Communications and External Relations Lambrini Lukidis said administrators would be happy to meet with the students again but were not aware they were looking for a counteroffer, as administrators have not received a request for another meeting.