Street musicians take 'hell of a hit' from coronavirus pandemic
April 13, 2020
While Chicago residents quarantine inside their apartments, venturing out every so often for groceries or to walk their dog, street musicians are struggling to make money amid a global health pandemic and a recession.
In Illinois, many artists who perform on the street for money, also known as buskers, have been out of work since March 21 when Gov. J.B. Pritzker's "stay-at-home" order, due to concerns surrounding the coronavirus, took effect. The governor's order has been extended until April 30 and could be extended further.
Gordon Pondstar, a bass player for the Chicago Traffic Jam street band that is commonly seen playing on State Street and Michigan Avenue, said he knew changes would arise for buskers when all bars and restaurants in Illinois closed dine-in options on March 15.
"We were like, 'Well, f—, there's no reason to even go out [and busk],'" Pondstar said. "There was not a hypothetical of, 'Oh, we might make money.'"

As of Sunday, April 12, there have been more than 20,000 reported cases of the coronavirus, or COVID-19, in Illinois, including 720 deaths, according to data from the Illinois Department of Public Health. Meanwhile, more than 6 million people have filed for unemployment nationwide.
Pondstar, who was set to go on tour for the month of April with another band, also lost his teaching job at the Cook County Jail because of the pandemic. On top of that, he had already sublet his bedroom to a friend and is now left with no choice but to sleep at another friend's apartment for the time being.
Like other musicians during the pandemic, Pondstar is hosting live stream performances on Facebook and Instagram to make money by giving viewers the option to donate to his Venmo, Cash App and PayPal handles. So far, he said donations have ranged between $1 and $20.
"[Live streaming] has been wildly inconsistent," Pondstar said. "Busking is super consistent. Even on a bad day, you never go home without a handful of cash."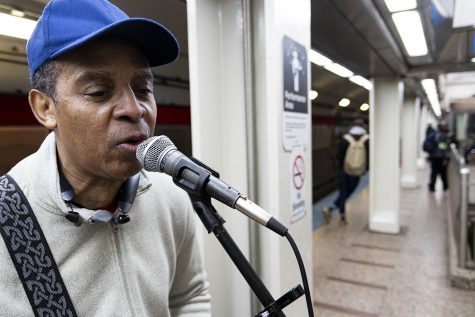 Ian Walsh, a guitarist with Chicago Traffic Jam, said the heaviest weight of not being able to busk and bring in money is his day-to-day living expenses and payments for medications he needs as a Type-1 diabetic.
Despite losing nearly half of his income from the lack of busking, Walsh is fortunate to still be employed, he said. He teaches music lessons at Alex's Music Studio and also at ONG Taekwondo Academy in Harwood Heights, Illinois. Most of his students have transitioned to online Skype lessons, he said.
Walsh said he is concerned the lack of money for buskers will continue after the pandemic slows down because much of their income comes from performing outside of businesses, and there is no guarantee those businesses will come back any time soon.
In 2012, Michael Malinowski quit his job at a demolition company to become a full-time busker after happening across a street performer strumming an acoustic guitar at the Clark and Lake CTA station.
"As I walked past this guy, I looked in his guitar case. This guy had more money in that guitar case than I had in my pocket," said Malinowski, also a guitarist. "I was like, 'What am I doing wrong here?'"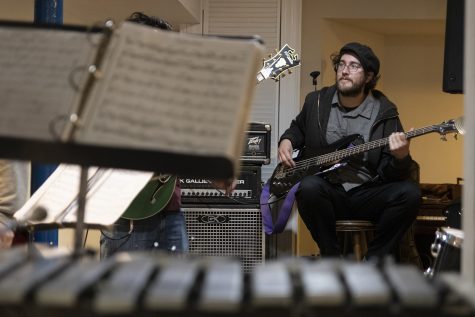 Malinowski was making $100 to $150 a day performing on subway platforms but is now out of a job completely since Feb. 4 when he became the victim of a stabbing incident that took place while he was busking on the Jackson Red Line Platform. He has been paying his bills with the money he has received from a GoFundMe campaign that was established after the incident, he said.
"It's a very up and down, rollercoaster kind of thing," Malinowski said. "There's so much good, so much bad. It's a mix of emotions."
Malinowski said he has seen buskers continuing to play in the subway despite the health risks, though the financial consequences of the pandemic are likely steep.

"I definitely have seen [buskers] passing through," Malinowski said. "I don't know exactly what funds they're making, but I'm sure they took a hell of a hit."
Malinowski has since recovered from the stabbing incident, though he hasn't been out busking since. He's releasing new music soon and is set to go on tour later this year, he said.
The Chicago Traffic Jam has set up a GoFundMe page to raise money for its members. For every $10 donation, a fan can request a song and the band will play it in a video posted to their social media pages. For every $50 donation, a fan will be able to request a song that the band will play on a street corner once the stay-at-home order ends. A specific song that has been requested was "Little Wing" by Jimi Hendrix, Pondstar said.
"We're not just asking for money," Pondstar said. "We think this is a really great way that people can help us through this time and we can offer something later."