'This is the new normal': Stay-at-home order given, officials urge people to stay calm
As the number of cases of the coronavirus, or COVID-19, continues to rise across the state, Gov. J.B. Pritzker is following California, New York and Italy's suit by officially ordering all residents to stay in their homes.
The "stay-at-home" order will be in effect from Saturday, March 21, at 5 p.m. until April 7. The order also closes all non-essential businesses.
Pritzker said the April 7 end date will give health officials enough time to determine if the order reduces the spread of Coronavirus.
"My bedrock has been to rely upon science," Pritzker said at the Friday, March 20 press conference. If left unchecked, he said cases will continue to rise.
Staying at home is not the same as a full lockdown, Pritzker said, adding that rumors of Illinois declaring Martial Law—military control of government functions—are not accurate. And for many who have been following recommendations from local and national leaders, Pritzker's order will not change their new normal adopted over the past week.
Residents can still leave their homes to grocery shop, order carryout food and pick up medicine, the governor said.
The CTA, garbage services and other essential businesses will still run, said Chicago Mayor Lori Lightfoot, who joined Pritzker in the joint press conference. Residents can still go outside for walks but should always practice social distancing.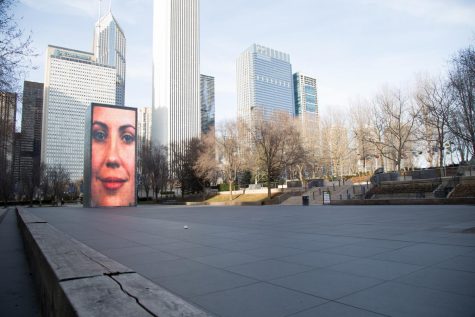 "Remember, this is the new normal—for now," the mayor said.
Lightfoot said there is no reason for residents to worry or to change purchasing habits by stocking up on supplies. Additionally, Chicago Public Schools will stay open only to serve meals to people in need and facilities at public parks and libraries will close and potentially be repurposed to help combat the spread of the virus.
Chicago accounts for 212 of the state's 585 cases, according to the city's COVID-19 update website. Of the city's cases, people aged 18-59 comprise just over 70% of the cases, and those 60 and over comprise 26.4% of the cases. Five people in Illinois have died from the coronavirus, including two Chicagoans.
Dr. Emily Landon—the executive medical director of Infection Prevention and Control at the University of Chicago Medicine—said the coronavirus is a "tricky" and "unforgiving" virus that infects people quickly. She said it can take weeks for an infected person to know they have the coronavirus.
"All we have to slow the spread is distance," Landon said during the press conference. "It's really hard to feel like you are saving the world when you're watching Netflix from your couch, but if we do this right nothing happens."
Pritzker said police can issue court orders, cease and desist orders or, as a "last resort," a reckless conduct misdemeanor if residents do not comply with police. For businesses, permits can be pulled if they violate the stay-at-home order.
Rather than resort to these extremes, Lightfoot is hoping people will be educated into compliance.
While the order does not officially go into effect until tomorrow, Illinoisans have already begun taking precautions.
"It seems like my whole world went from 100 to zero in a second," said Reid Anderson, a senior audio design and production major at Columbia.
Anderson works at the House of Blues and interns for multiple audio companies. He was sent home by all of them.
Peyton Jay, a sophomore TV writing and producing major, was not surprised by the shelter-in-place plan. Jay has a delivery job for florists and said his hours have been severely cut. He has three months of rent covered, but if he is out of work for more than three months, he said he might move back home.
"It's still a drastic impact," Jay said. "I made my whole life revolve around work downtown."
Local community leaders have also announced measures to curb the coronavirus, such as the opening of additional medical sites, drive-up testing, halting evictions and "tele-health" visits for people with mild symptoms to see a doctor without leaving their house and risking infections.
"This will not last forever," Pritzker said. "However it is going to force us to change."