Musicians and venues are hit hard by the coronavirus, but the music community is banding together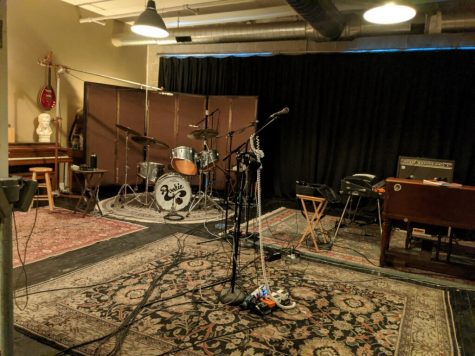 The six-member Chicago-based rock group, Rookie, had never sold out a concert until they announced a release show for their self-titled album "Rookie." The big event was set for March 13, but due to concerns about the coronavirus and nationwide event cancellations, the group had no other choice but to postpone the highly-anticipated gig.
Although the release has been tentatively moved to a later date in April at The Empty Bottle, 1035 N. Western Ave., Max Loebman, singer and guitarist for the band, said they are monitoring the global health pandemic before making a decision.
In spite of the obvious disappointment, Rookie performed a free live stream show on YouTube at Treehouse Records, 4808 W. Wrightwood Ave., the night of the canceled performance. The band played the same set they would have performed at the live show.
Loebman said the band plans to continue to use social media to encourage others to stay home.
Along with Chicago artists posting livestreamed performances, musicians in the mainstream such as Coldplay, Miley Cyrus, Demi Lovato and John Legend have posted videos for their fans.
As a musician, Loebman said much of his income comes from touring and playing live shows. With a second job as a crewmember at Metro, a local music venue at 3730 N. Clark St., he is experiencing a double blow as music stages across Chicago are shut down until the end of March as part of a mandates from President Trump and Illinois Gov. J.B. Pritzker prohibiting large gatherings.
"The best thing a musician could do right now is adapt," Loebman said.
Musicians and artists also rely heavily on the sales of merchandise, records and the number of listeners on their streaming platforms.
As a result, Loebman said bands must get creative with delivering their music to fans. At the same time, the pandemic is taking an emotional toll on some musicians.
Freelance musician Vivian McConnell played her last live show March 12 with Valebol at The Hideout, 1354 W. Wabansia Ave., which ended up being its last event before the venue announced it would be closing its doors through the end of March.
The Chicago musician, also known for her solo project "V.V. Lightbody," said she was stunned by the news that venues would be shut down for the time being, especially as she relies on tours and playing live shows for income.
McConnell said the first hit was when the South by Southwest festival was canceled. With her second LP "Make a Shrine or Burn It" set to release May 1, McConnell said it is still up in the air whether she will be able to continue her tour to promote the album.
"I took a lot of risks to pursue music as a full-time career, and now it's like, 'Why did I even do this?'" McConnell said. "This can completely change the trajectory of … what my career is."
While musicians are feeling the effects, they are not the only ones.
Along with canceling shows and the shutdown of all dine-in bars in Illinois, music venues are not bringing in revenue and, in turn, many are unable to pay their employees.
Venues in Chicago such as Beat Kitchen, Subterranean, The Empty Bottle, Metro and The Hideout have started GoFundMe pages to pay their employees who "depend on the gathering of our Chicago community in order to provide for themselves and their families," according to a March 16 Instagram post from Metro.
Bruce Finkelman, owner of The Empty Bottle, said his main concern is the number of workers employed at the various venues who are now laid off for an unknown period of time.
Finkelman said it is the venues' responsibility to always be ready to help and employees questions regarding concerns of the pandemic because people are scared of the state of their jobs.
Bandcamp, an online music company, is waiving its cut from sales made on the website March 20 and is giving musicians, who use the site as a platform to promote their music and sell merchandise and records, 100% of the profits from those sales.
Jared Jones, co-founder of the record label Winspear, said in an attempt to further support for the artists signed to Winspear, they will be waiving their portion of profits made from sales, which is usually a 50/50 split.
Daniel Servi, a talent buyer for Subterranean and Beat Kitchen, said no one really knows what to do or how to react in this situation.
"It is going to be a tough time for a lot of people," said Servi, a 2015 music business management alumnus.
While it is tough to deal with, Servi said it is better the shutdown happened sooner rather than later.
Loebman said it is important for everyone to do what they can to help musicians and others impacted by the pandemic because these issues typically do not hit the music and service industry as hard as it has.
"It is everyone right now—it's not just one group," he said.