South Loop businesses hope return of students can provide "major boost" in business amid pandemic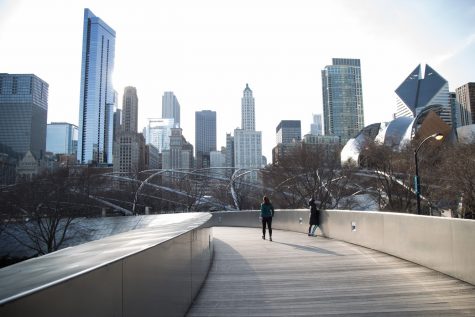 When the ice cream shop Kilwins closed in the spring due to the coronavirus pandemic, co-owner Jackie Jackson remained optimistic they would reopen in time for the summer months.
Jackson, who co-runs the shop located at 310 S. Michigan Ave. with her daughter Janel, said concerns arose a month later when she realized the South Loop was a "ghost town."
"We modified the [store] hours of Michigan Avenue, and some days we did not get one sale," she said, referring to reduced operating hours in the days even before the March 15 shutdown.
Like many other businesses in Chicago, Kilwins has been severely impacted by the pandemic. Much of their income during the summer months comes from tourism and the high volume of foot traffic in the downtown area. Jackie Jackson said their revenue is down 72% for the year as a result of decreased activity in the area.
The cancellation of summer festivals such as Lollapalooza has made things more difficult as well, she said.
Kilwins is hoping to see business increase when college students return to campus for the fall semester, Janel Jackson said.
She said Kilwins is looking to install a patio outside where students can hang out, eat ice cream and study.
"We definitely want to make it [as] student-friendly as possible," Janel Jackson said.
Kilwins isn't the only South Loop business hoping for a boost in revenue from returning students.
Keshia Banks, general manager of Epic Burger, 517 S. State St., said most of the store's revenue comes from local college students. Epic Burger's revenue dropped significantly when students left campus in March, and Banks said not knowing if students would come back has been difficult as well.
Banks said Epic Burger has also taken a major hit with summer festivities being canceled.
"Because of the pandemic, they canceled everything," Banks said. "We're trying to get back to where we left off, which is very hard because one moment, they said stores are open. Next, they're closing them back up. It's like, what are we supposed to do?"
Storefronts downtown and across the South Loop may also have to recover financially from the recent damages caused by looting and vandalism on Monday, Aug. 10, as reported by the Chronicle.
Banks said students returning will provide a "major boost" in business, as students that live in the University Center often come into Epic Burger and take advantage of the student discount.
Alex McCann, board secretary for the Prairie District Neighborhood Alliance, said having students back in the neighborhood will forge an "accelerated recovery" for area businesses who rely on college students for revenue. Students play a "very important" role in the South Loop economy, he said.
Martez Jackson, general manager at Pauly's Pizzeria, 719 S. State St., said Pauly's got hit "very hard" by the pandemic because it lost the business of students, tourists and corporations, three groups that area businesses need in order to succeed, he said.
"I've been here for 10 years and pretty much got an idea of how much money we're going to make [and] when we're going to make it," Martez Jackson said. "We got it down to a science. So when you take that away from your business plan, it affects everything."
Martez Jackson said he is hopeful the return of students will provide more revenue, but he is also uncertain how much of an in-person presence college students will have during the fall semester.
While there is optimism in the potential revenue increase that could result from increased foot traffic on campus, there are also lingering health concerns.
Deonta Roland, assistant general manager at Blaze Pizza, 511 S. State St., said although having more students in the area could bring a "gradual increase" in revenue, he is also worried about whether patrons will follow rules.
"Are they going to be willing to wear a mask? Is everyone going to be willing to socially distance?" Roland said. "We're taking precautions to protect our guests and make sure we continue to give great service and continue to [cook] healthy pizza."
In an effort to boost business and get their name out during the pandemic while they wait on students to return, Jackie Jackson said Kilwins has launched a series of monthly events to "pay it forward" to the community.
For National Ice Cream Day, which took place July 21, Kilwins gave away 2,020 free ice cream cones to honor the class of 2020. On Aug. 23, they will have an ice cream special in celebration of NBA star Kobe Bryant's birthday. Anybody who wears an article of clothing honoring Bryant will get a half-priced ice cream cone.
Jackie Jackson said the support of the South Loop community never wavered during the pandemic and that makes her want to give back.
"It's so gratifying. It's very overwhelming and words cannot express how appreciative we are," Jackie Jackson said. "That prompted us to pay it forward every month because they've been so good to us."