Campus closed following night of looting and violence downtown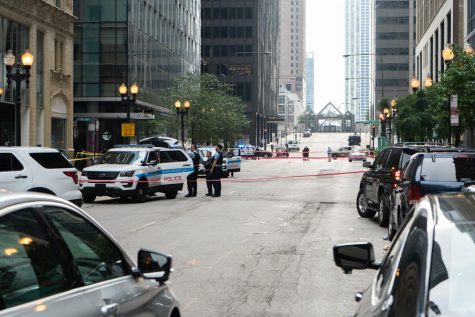 Dozens of businesses and storefronts—including one Columbia building—were looted and vandalized as hundreds of people descended upon the Magnificent Mile and other downtown areas, leading to confrontations with police officers and the college's Monday campus closure.
Shattered glass, displaced mannequins and trash could be seen littering the streets of the South Loop, along with stretches of caution tape and a multitude of police vehicles.
Two people were shot, more than 100 people were arrested and 13 police officers were injured in the conflict that began Sunday night and carried into early Monday morning, according to the Associated Press.
Chicago Police Department Superintendent David Brown said in a Monday, Aug. 10 press conference the looting was "pure criminality" and was not connected to any protest, such as incidents earlier in May and June following the killing of George Floyd.
At the press conference, Ald. Chris Taliaferro (29th Ward) said while the city is still grappling with the core issues of those protests, lawlessness cannot be tolerated.
"Let me be very clear, those that acted last night and in the early morning were not acting on the basis of social, racial inequalities or injustices that we face," Taliaferro said. "They were acting on mere opportunity."
Columbia's Barnes and Noble Bookstore, located at 624 S. Michigan Ave., had a cleanup crew in place early morning to clean up the shattered glass and debris.
Associate Vice President of Strategic Communications and External Relations Lambrini Lukidis said in a Monday, Aug. 10 email to the Chronicle that the bookstore staff is currently taking inventory to see if any items were taken.
She said Columbia's Facilities and Operations team has already cleaned debris on the sidewalk and boarded the bookstore's windows.
"In the wake of last night's incidents, we decided, as a precaution, to close campus and cancel in-person instruction for the day," Lukidis said. "The college plans to reopen Tuesday and will notify the campus community if anything changes."
A Columbia voicemail alert sent out to faculty, staff and students currently enrolled in summer courses on Monday morning announced the campus' closure "due to police activity downtown."
Ron Sodini, associate vice president of Campus Safety and Security, did not respond to the Chronicle's inquiries for more information as of publication, Monday, Aug. 10.
Brown said access to downtown will be restricted from 8 p.m. to 6 a.m. starting Monday night and promised a "heavy police presence."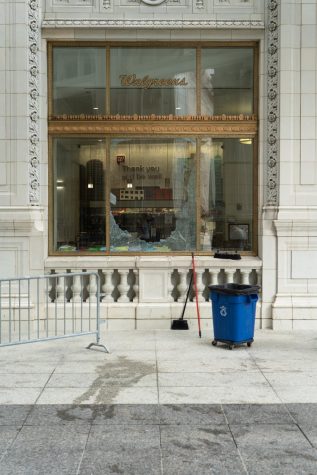 Following the looting, all downtown bridges except the LaSalle Street bridge were raised to prevent more caravans of looters from leaving or entering the area. The CTA also suspended bus and train services following the night of looting and violence downtown between Fullerton and Ashland avenues and Cermak Road for a few hours on Monday morning, according to reporting by the Chicago Sun-Times.
The looted businesses along the Magnificent Mile included Louis Vuitton, Timberland, GAP, Saks Fifth Avenue, Gucci, Nordstrom, Burberry, Ferragamo, Ulta Beauty and Macy's among many others.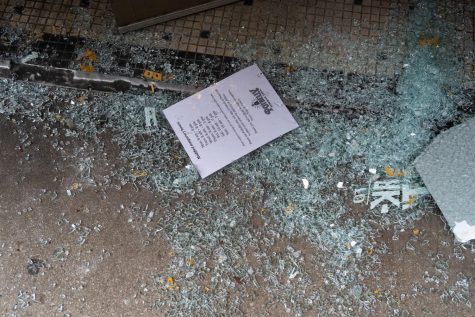 According to Brown, the destruction was sparked by a police-involved shooting in Englewood on Sunday afternoon, where a man fired at officers, who then returned fire and struck the man.
A restless crowd gathered following the shooting, which Brown said was misinformed about the nature of the shooting, and the police later became aware of "several social media posts" talking about a planned looting downtown. Brown said the department then deployed 400 officers to the downtown area as a response.
Additionally, he said officers' days off have been canceled and they are committed to working 12-hour shifts. The CPD has also started a neighborhood protection plan, and a group of detectives will look at security footage of all ensuing incidents, Brown said during the Monday, Aug. 10 press conference.
In the press conference, Mayor Lori Lightfoot said what happened was "not anywhere near acceptable" and the people responsible for the damage need to be held accountable.
Lightfoot echoed Brown's earlier sentiments about restoring order to Chicago and ensuring looters face the full consequences of their actions.
"This is your time to step up and demonstrate your allegiance and your loyalty to this city and report these people who are engaged in criminal activity," Lightfoot said. "We are not going to let our city be taken over by criminals and vigilantes, no matter who they are or what they're doing."