Seven things to know before Lollapalooza this weekend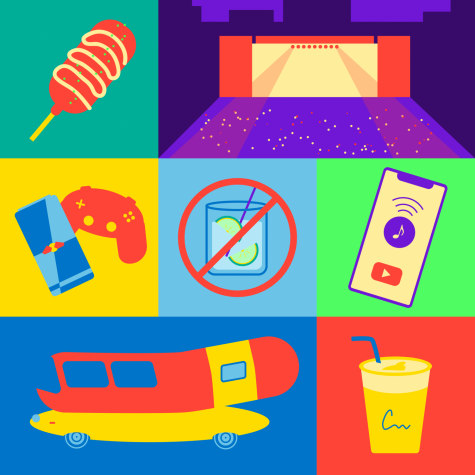 As one of Chicago's largest music festivals approaches, a number of features beyond the music will be available to attendees.
Here are the top seven things people should know before attending Lollapalooza 2019, Aug. 1–4. The Chronicle will be at the festival all four days; check columbiachronicle.com and our social media channels for Lollapalooza updates.
The festival will bring a two-story interactive gaming center to the general admission grounds. Fans will not only be able to enjoy their favorite music, they can also watch some of their favorite professional gamers play alongside Lollapalooza artists and other special guests. One of the gaming athletes in attendance will be Tyler "Ninja" Blevins.
The outpost's ground level will offer a number of free kiosks in an air-conditioned space for fans to play with gaming hardware from Alienware and HyperX. The second level will feature a mobile version of Ninja's Dojo, which will be livestreaming Aug. 2–4. There will also be limited edition Lolla x Ninja merchandise available inside.
The gaming will begin Aug. 1 with GrandPOOBear, an American YouTuber, who will present a version of "Speedrun Sessions." Throughout the four-day festival, fans will have the opportunity to compete against each other for a chance to play alongside Ninja and other special guests.
2. Live-streamed content
For music lovers who are unable to attend this year's festival, there will now be a way to access the festival's highlight performances from home. YouTube recently signed a two-year partnership with Lollapalooza to livestream the festival. Viewers will be able to view the festival's top performances, as well as additional content with performing artists by subscribing to Lollapalooza's official YouTube page.
3. Wienermobile slumbers
Festival-goers looking for a place to stay for a night during the long weekend need look no further. Oscar Mayer's Wienermobile will be available for rent Aug. 1–4.
The company is opening the doors to the Wienermobile for the first time ever in celebration of National Hot Dog Day, which was on July 17. The mobile hot dog can fit two people, and is available to rent through Airbnb on a first-come, first-served basis.

For the first time since 2010, celebrity chef Graham Elliot, who has ties to Chicago, will not serve as the festival's culinary ambassador. Along with his absence, the Chow Town menu will not include lobster corn dogs—a deep-fried bite of lobster topped with aioli on a stick. This year's menu will include a number of returning vendors—local favorites Lou Malnati's, Cheesie's Pub & Grub, Pizano's and Harold's Chicken—along with other choices including Shake Shack and Wow Bao.

5. A sip of Frozie—with your face on it
Cupcake Vineyards returns to the festival this year as the official wine sponsor, and it is bringing more to the menu than just a cup of crushed grapes.Festival-goers will have the choice of four different drink formats, including the Frozie—a cup of frozen Rosé. And that's not all; the new drink will also be topped with a selfie of your face printed on whipped foam, made from malt extract. Attendees can choose from two flavors: Festival Frosé Frozie and Chi-Town Chiller Frozie.

Along with four days packed full of live music in Grant Park, Lollapalooza features a long list of aftershows at a number of music venues across the city.
The aftershows include more than 55 performances with over 110 artists. The shows will be held at 23 different venues, including: House of Blues, Vic Theatre, Metro, Thalia Hall, Subterranean, Empty Bottle and Schubas Tavern. An official list of all shows can be found on Lollapalooza's website.

7. Festival sober safe haven
The festival has developed into more than just a space for music over the past few years with a variety of services and tents, including Soberside, a group of sober music fans who choose to remain drug- and alcohol-free specifically during music festivals.
The Soberside tent is a place for recovering or sober festival-goers to relax in a space they feel safe and secure. It provides fellowship, support and information to people who seek the company of other sober attendees. Although it primarily assists those recovering from addiction, it is open to anyone who needs a space to unwind and who wishes to remain sober at the festival.
After knowing what to expect at the festival beyond just the music, fans should be ready to enjoy the packed line-up of around 200 performances split between eight stages, with headlining artists including: Ariana Grande, Childish Gambino, The Strokes, Twenty One Pilots, Tame Impala, The Chainsmokers, J Balvin and Flume.