Review: The one-of-a-kind vegan, Jewish deli you knead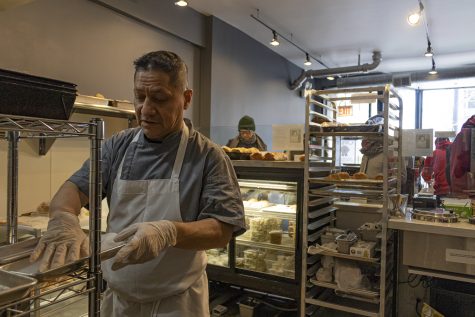 Inside Sam & Gertie's, snug seating arrangements prompt most customers to opt for take-out rather than dine-in, as the slightly too loud '60s and '70s music rings throughout the cozy deli. Rows of bagels and stacks of cream cheese beg to be eaten as customers line up around the deli counter waiting to place their order. It is as chaotic and fast-paced as expected in a delicatessen.
Chef and owner Andy Kalish's ingenuity for a unique take on an all-vegan, Jewish deli is bonafide excellence.
Because all items on the menu are vegan-friendly at Sam & Gertie's, located at 1309 W. Wilson Ave., open Friday through Sunday from 8 a.m. to 2 p.m., dishes are prepared free of meat, eggs, dairy and all other animal products. The menu also includes gluten-free options for bagels.
The restaurant's widespread popularity resulted in the deli running out of literally everything within the first two days of opening on Friday, Jan. 10.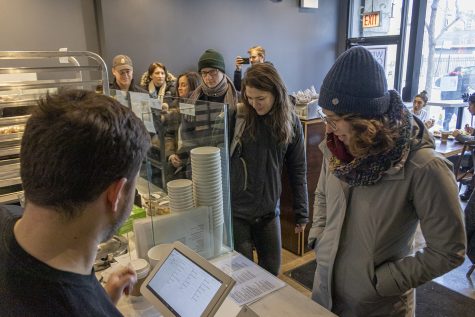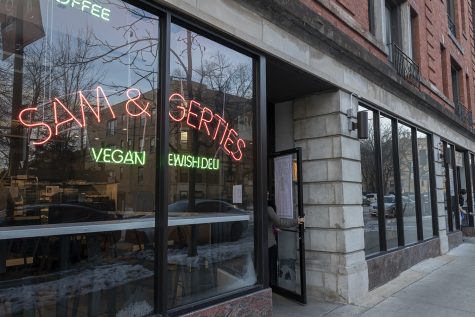 Friends Viktoriya Oyvetsky and Alex Kranzberg, who has been vegan for seven years, said they drove approximately eight hours from Kansas City, Missouri, to try the food after reading about it on a Facebook page for vegans.
"We got some T-shirts to bring back and wear. I definitely will come back," Kranzberg said. "More reason to come to Chicago."
Kalish is a savant in finding alternatives for common Jewish delicacies, which makes it possible for someone who keeps kosher—keeping dairy and meat dishes separate in a meal—to now eat the two together using vegan alternatives. This is due to the dishes being pareve, a Jewish term for food made without dairy or meat.
Bagel sandwiches at Sam & Gertie's resemble something out of a food magazine as the bagels are taken out of the display case and layered on the spot with ingredients for prices starting at $3.75 and going up to $9.75.
The "Goldie's Läks," a popular bagel sandwich made with cold-cured lox, tomato, red onion, cucumber, dill, pickled cream cheese and a pickle on the side, for $9.75 is a mélange of savory flavors that are not overpowered by the salty capers and fresh-tasting vegan lox.
Even more intriguing was "The Levin," a vegan pastrami sandwich on rye with sauerkraut, Thousand Island dressing and melted Swiss cheese. Sandwiches start at $12.75 and go up to $14.75.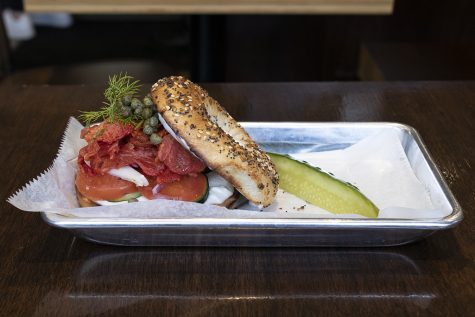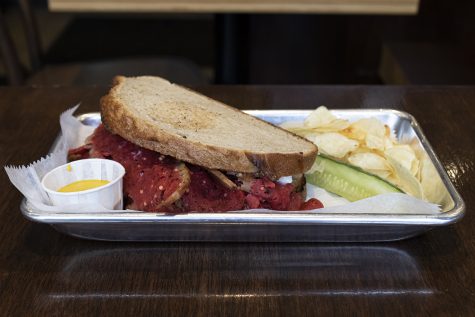 Anyone could mistake Kalish's dishes with real meat, such as the pastrami, because not only does it look like traditional pastrami with brined fat on the perimeter, but it eerily tastes like genuine pastrami.
However, the texture of the meat contrasts bitterly with the sauerkraut's vinegary aftertaste. Some words of advice: Hold the sauerkraut to make this sandwich five out of five stars.
Many of the dishes offered on the menu are inspired by Kalish's visits to his grandmother Gertie's house in Detroit throughout his childhood on Friday nights, and memories of the smells and flavors in the air of Jewish home-cooked meals, which have ultimately become part of his DNA. He wanted to honor his grandparents by naming the deli after them.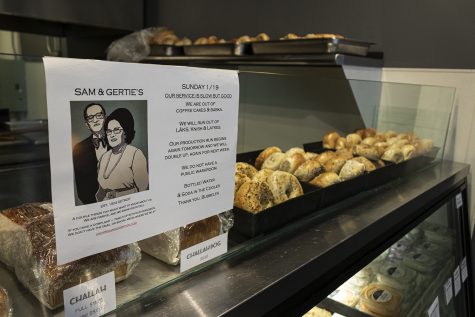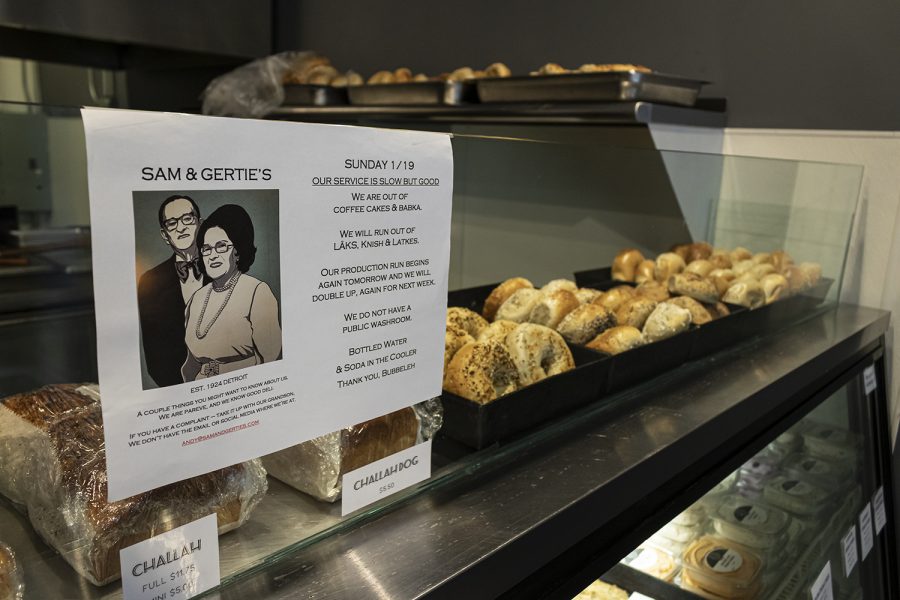 Ironically, neither Kalish nor his wife is vegan. Kalish said they are omnivorous but started their plant-based ventures with Kāl'ish, a vegan diner next door to Sam & Gertie's.
One might be wondering: "How are you qualified to make vegan food if you are not vegan?" Well, Kalish knows his food chemistry.
Along with the pastrami, he said matzo ball soup was equally as difficult to recreate because alternatives to eggs do not have the same binding proteins, causing the matzo balls to fall apart once put into boiling hot broth unless eaten within 45 minutes.
Currently, the soup is on hold for its unveiling until the recipe can truly be perfected come time for Passover.
"Deli is for anybody and everybody," Kalish said. "There are foods that bring joy to you and others, and when you give somebody something that is from your heart, that is from your past, people respond well."
Correction 01/23/20 at 4:45 p.m.: A previous version of this article stated the incorrect last names of Viktoriya Oyvetsky and Alex Kranzberg. The Chronicle regrets this error.