Review: Roots' pizza doesn't have a 'pizza' my heart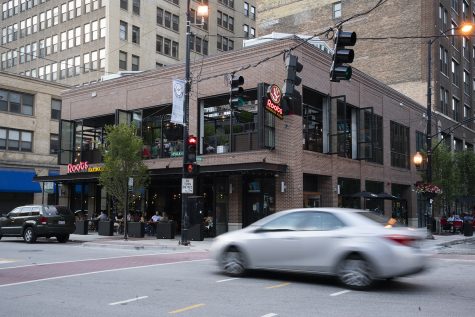 The newly built, trendy two-story restaurant with patio seating and a retractable roof may distract you from what you are actually there for—the pizza. Until you take your first bite.
Roots Handmade Pizza, 744 S. Dearborn St., opened July 10 and has everything going against it—it opened during the coronavirus pandemic and is fighting for attention against a handful of Chicago deep-dish pizza establishments including Lou Malnati's Pizzeria, Giordano's Pizzeria and Gino's East.
While the new South Loop restaurant—one of four locations in the city—has taken the prize for safety precautions, I will stick to Chicago-style deep dish for now.
What makes Roots' pizza unique, yet not superior enough, is its Quad Cities-style malt crust pizza. The house-made dough contains dark-roasted brewer's malt which gives the crust a darker appearance and a nuttier taste. The sauce is also slightly spicy and is spread thinly on each pizza, which is cut into rectangular strips rather than triangles.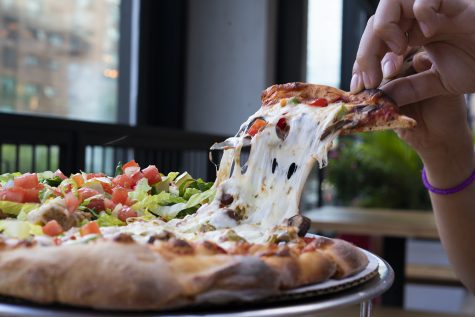 Greg Mohr, a Rock Island, Illinois native and co-owner of the Fifty/50 Restaurant Group that owns Roots Handmade Pizza, said he wanted to bring the Quad Cities-style pizza he grew up with to Chicago, which is how the joint got its name.
"As we were trying to think of the name, I just kept on coming back to my mind that it's from my roots," he said. "Everyone has their hometown pizza or pizza they grew up with—[it] is just one of those foods that people relate a lot of things to, so the name just kind of stuck."
Restaurant patrons must make a reservation prior to dining-in and are asked to wear masks until seated. Guests are also invited to order from a touchless QR code which, when scanned, prompts you to download the Roots app. And, of course, social distancing from other diners is practiced.
At Roots, you will feel as safe as you can dining-in during a pandemic.
For a vegetarian such as myself, Roots has a variety of vegetarian, vegan and gluten-free options.
The hand-tossed pizza is just shy of a comfortable college student budget with prices ranging from $16.50 for a 12-inch signature pizza to $32.50 for a 16-inch signature pizza.
The "Build a Pizza" is less costly and offers a variety of toppings for $14.50 for a 12-inch or $19.50 for a 16-inch.
Sarah Zelman, a Columbia alumna and marketing manager for the Fifty/50 Restaurant Group, said a student discount is under consideration.
The "Garden" signature pizza, vegetarian-friendly, is topped with roasted mushrooms, diced green peppers, roasted red peppers, olive mix, red sauce and mozzarella.
Though the pizza was OK, it only reminded me of how hard it is to find a decent vegetarian pizza in the city.
It was almost like the pizza intended for vegetarians had the vegetables added as a second thought. There was nothing green in sight, like a lawn that desperately needs watering.
But I will say, the crust was impressive.

The "Vegan" was much more impressive. It is covered in ground seitan, smoked seitan bacon, red sauce, vegan mozzarella and vegan cheddar, and topped with lettuce, pickles and vegan ranch.
When ordering this pizza, be aware of how you hold it as the confetti-cut vegetables will come pouring out like a just-opened piñata. Also, I recommend holding off on the vegan cheddar cheese unless you want an aftertaste of spray can cheese or Velveeta.
Word of advice: Stick to building your own pizza for a custom meal suited to your taste buds. Roots is good for the foods that people do not typically go to a pizza place for, though.
For $12, its "Mozzarella Sticks" are the perfect ooey-gooey appetizer.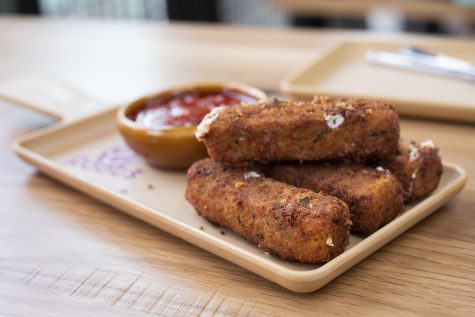 Also for $12, the "Not a Carrot in the World Salad," is a refreshing array of romaine, kale, arugula, avocado, mango, lemon roasted carrots and fried shallots, glistening with carrot tahini dressing. It is not too crunchy nor too soggy, rather a nice tête-à-tête between the carrots and mangos.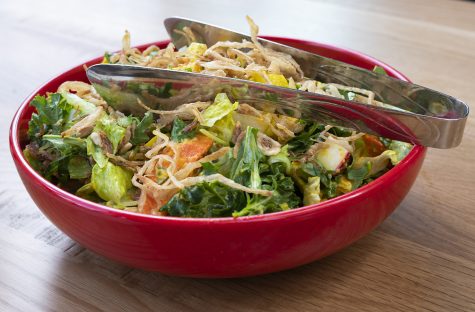 Before you leave, grab a slice of "Fruity Pebbles Cheesecake" for $7 that reminded me cereal can be a dessert. The cheesecake is almost too beautiful to eat, but once you dive in, you will enjoy every last bite until it is gone.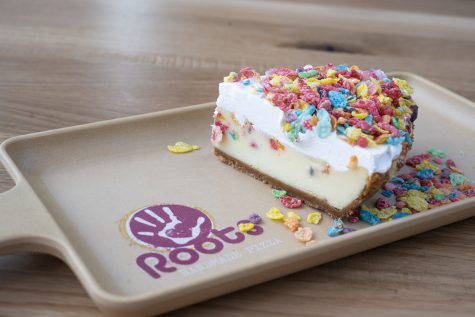 While I can cross off trying Quad Cities-style pizza from my bucket list, Roots is not the first place that would come to mind when a friend asks, "Where's the best place to get pizza in Chicago?"