Review: Lakeview's 2D Restaurant provides an entertaining, illusionary eating experience
Walking down North Halsted Street, the 2D Restaurant screams its existence as it pops out from its darker-toned, brick-covered neighboring buildings. With a bright, white facade and hand-drawn "2D Restaurant" logo, the restaurant sits ready to show off its environmental artistry.
The 2D restaurant, 3155 N. Halsted St., opened Feb. 22 in Lakeview and welcomes customers to experience its hand-drawn and comic-like decor while ordering an item from its growing food and drink menu. While waiting for my food, I stepped into the 2D story being played out in front of me and was completely entertained as I marveled at the great detail put into every corner of the restaurant.
My eyes were immediately drawn — no pun intended — to the donuts that sat on a circular plate at the entrance with an assortment of colored frostings including bright green and pink that were demanding to be eaten.
These were not the donuts you might be used to seeing at your local bakery, these are Chicago's first pon de ring or mochi donuts. The fluffy and chewy mouth-feel of the $4.50 strawberry powdered donut kept me going back for another bite. The strawberries themselves proved to be fresh, and soft strawberry-flavored whipped cream kept this donut from boring me.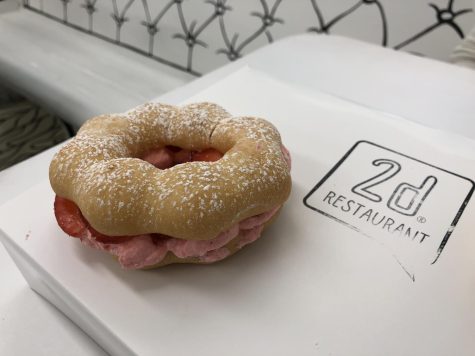 "The Pooh" donut had my hopes up, as I knew the Hundred Acre Wood character-inspired treat had to be worth it. The peanut butter-based frosting was a bit overwhelming and made me feel like a dog with peanut butter stuck to its mouth, but the chew of the mochi donut again did not fail.
I would have loved to experience more of Winnie the Pooh's favorite snack atop this pastry, that obviously being honey. While there was a hint of it in the drizzle of yellow frosting, it could have been stronger compared to the peanut butter.
Paired with the donuts on the menu, fried chicken had recently joined the party. I had the pleasure of crunching my way through the "2D Rooster" crust. They did not avoid using darker thigh meat in their fried chicken which provided a more fatty, fried chicken experience, but it meant the chicken was more tender and juicy compared to the regular white-meat chicken breast.
Japanese-style coleslaw came as a side with the $13 fairly-priced fried chicken, as you can easily get two meals out of the order, but after a bite, I pushed it to the side as it was not a natural pairing with the fried chicken and especially with the mochi donuts.
2D Restaurant is continually adding new items to its menu and just recently added sandwiches to the selection. Its drink menu proves to be impressive as well, as the restaurant incorporates the "first-ever made to order phin-style coffee bar" into its drink experience, according to the 2D Restaurant website.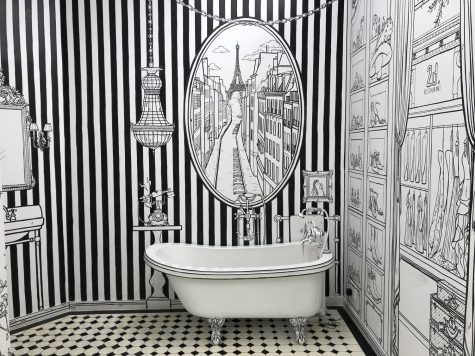 Their dining experience sets itself apart from most sit-down restaurants with its unique decor. It's not hard to tell that 2D Restaurant has a shot to be the next Instagrammable experience, as most visitors were immediately pulling out their phones to take photos of the black and white, Parisian-themed walls.
Chicago-based artist Mia Larson illustrated the restaurant herself using markers, creating a design inspired by 2D Restaurant owner Vanessa Thanh Yu. Larson said the restaurant took her a month and a half to complete.
"It's the biggest project I've ever worked on," Larson said. "It's made me feel more like a professional artist."
Larson even added some of her own personal touches to the restaurant, like illustrating her dog "Pippy" into one of the drawn picture frames on the walls.
With the number of hours that went into illustrating an entire restaurant in mind, I left feeling inspired and in awe of what eating at this restaurant could be. I would definitely consider coming back to 2D Restaurant, especially to satisfy my sweet tooth with another pon de ring donut.