Review: Dayglow, an indie-pop daydream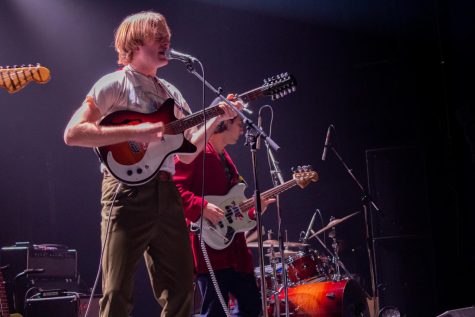 With a couple of keyboards from Goodwill, large monitor speakers, a few guitars and a microphone, Sloan Struble made his first album in his childhood bedroom in Aledo, Texas during his last year of high school.
Prior to leaving for college in the fall, Struble was itching for change in his life. Now, with his album "Fuzzybrain" out for over a year—produced under his professional name Dayglow—and with his first tour underway, Struble has found the change he needed through his music.
Struble said prior to creating his album he was in a "weird stagnant place" of waiting for things in his life to change, but felt stuck. That feeling motivated him and drove all of the inspiration for the songs on the album.
Although Struble self-produced "Fuzzybrain," he brought a full band along with him on tour as they opened for the Nashville-based indie-pop band COIN, creating a show people will never forget.
Friday, Struble, at just 20 years old, made a name for himself in Chicago at the Vic Theatre, 3145 N. Sheffield Ave.
Struble's confidence and looseness onstage would make anyone believe he is a stage veteran, and with the pure joy that is clearly written on his face, he has the ability to captivate a crowd for as long as he needs.
As if his energy and quirky dance moves weren't enough, Struble truly brought down the house with his vocal range. Throughout the night he jumped between a high pitch to a low pitch, and brought each song home with a soothing, melodic tone, complemented by his use of the cowbell during a vocal break.
His song "Dear Friend" touches on the reality of friendships growing apart, singing, "Growing older every moment, time's falling through my hands. And I don't have to know the meaning, but I'd love to have a chance." The words bring people back to the days fresh out of high school, where things change too quickly and once-close friendships dissolve until one day you're sitting alone missing the memories and relationships you used to have.
Before performing it Friday, Struble said it was the perfect opportunity for everyone in the audience to make a new friend and had everyone turn to the person next to them and introduce themselves.
Struble and his band even performed a cover of the classic Tears for Fears'song "Everybody Wants to Rule the World" before going into his own song "Run the World!!!," a mash-up made in heaven.
With more shows on the tour ahead of him, Struble said he is working on new songs and plans to self-produce another album in the future. And since he created the artwork for the cover of "Fuzzybrain" by sculpting a clay version of himself in the same bedroom he produced the album, fans may see more of Struble's creativity in the near future.
"I'm just working on making my own sound," Struble said. "It's an addicting thing to do."