Review: Alexander 23 steals the show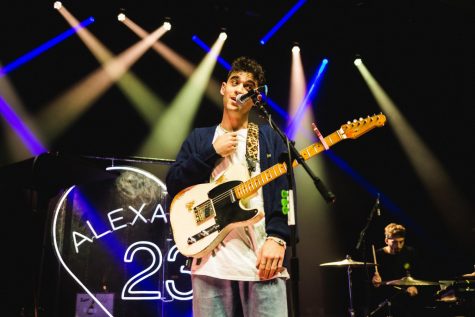 As a teenager growing up in Deerfield, Illinois, musician Alexander Glantz's favorite music venue in Chicago was the Riviera Theatre. He dreamed of performing there but never had the chance—until this week.
Glantz, who goes by Alexander 23, opened for pop artist Chelsea Cutler at their sold-out show Tuesday, March 10.
During his hour-long set, Glantz often touched on the surreal feeling of being on the other side of the stage in a place that hits so close to home for him.
With a heart-shaped sign flashing his stage name, Glantz was welcomed to the stage as though he was the headliner, with the whole room erupting in cheers. In the thick of the crowd, his hometown friends chanted his name as he comfortably took to the mic—this time, much more naturally than his August Lollapalooza performance, his first festival appearance.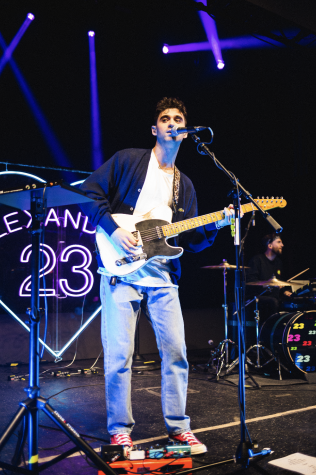 This time around, Glantz looked, sounded and felt more put together as he flowed through his set with ease. Joining him on stage was just one other person, a Chicago-based drummer. The two took over the room, sounding as though a full band was playing with them.
After being inspired by his dad, Glantz picked up a guitar when he was nine years old, and did not stop there.
With one full-length album—"I'm Sorry I Love You," released October 2019—Glantz is climbing up the chain as a pop artist with a versatile ability to jump from one instrument to the next, all while executing heavenly vocals.
Prior to the release of his album and short rounds of touring with popular names in the music scene, such as Alec Benjamin and Omar Apollo, Glantz utilized his interest in DIY music. He continues to showcase those aspects in his live performances with pop-like beats and synth infusions. Amid taking vocal breaks to shred guitar solos at the Riviera, he often tapped the keys of a small synthesizer to the right of him.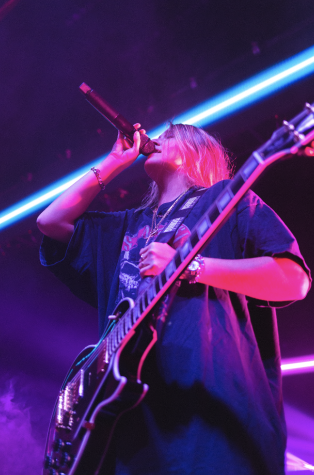 Although Glantz delivered crisp versions of his latest releases, the most appealing aspect of his performance was his rendition of "Everybody Wants To Rule The World," by Tears for Fears, which led to each person in the room singing along with him.
While Glantz was not the headliner, the Illinois native stole the show, tugging at the heartstrings of the hundreds of teenage girls in the crowd. A mention of his parents and grandparents being in attendance also helped heighten the audience's energy.
Though clearly talented, the other artists were not as captivating. X lovers, a pop duo from Los Angeles and openers for Glantz, had the energy needed to start off the night but took it to a level that felt cliché. While singing love songs, lead singer London Jackson unnecessarily threw in shouts of swear words and held up their middle finger.
The headliner, Cutler, a Connecticut-based EDM singer, lit up the venue more literally than one would have expected. The crowd indulged her presence, but for someone who is not a dedicated fan, it was nearly impossible to distinguish the sound from other pop artists—aside from her ability to kill it on the guitar.
The three artists will continue touring through March 19, and Glantz will then join singer-songwriter Lauv for a few summer performances.