3 first-time performers' journey to the Lollapalooza stage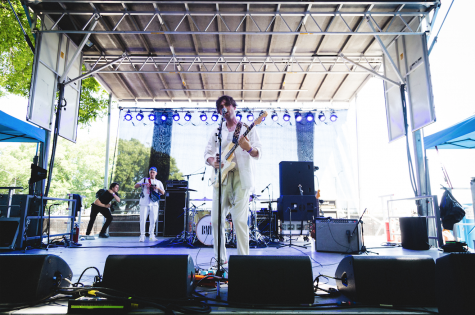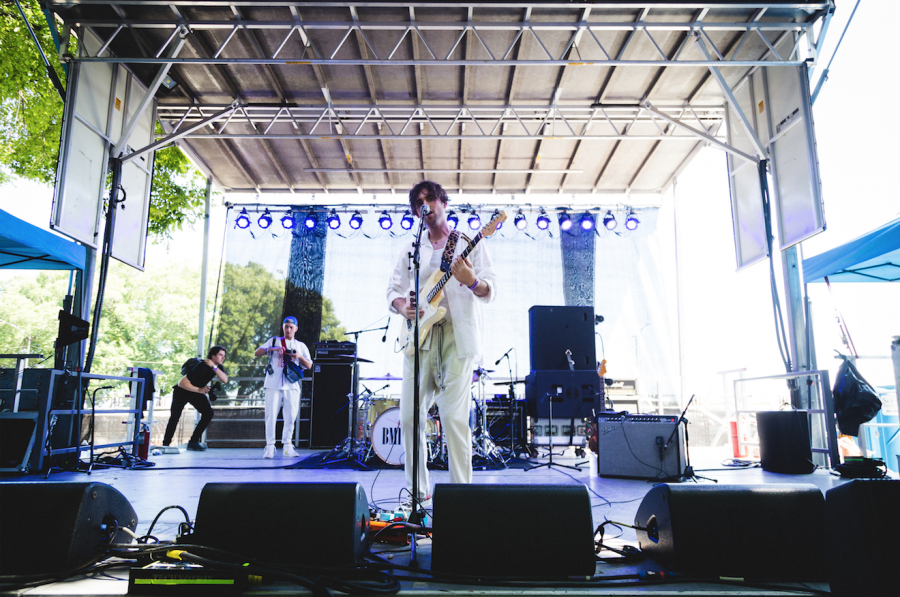 With nearly 200 performances from musicians and artists worldwide, Chicago's Lollapalooza boasted a diverse set of performers, all of which had their own journey to one of the festival's eight stages. Three first-time performers shared with The Chronicle their stories of going from the crowd to the stage.
Alexander 23
Raised in Deerfield, pop artist Alexander 23 was influenced by his dad to pick up the guitar when he was 9 years old, and has been playing in different bands and shows ever since. After recently releasing a number of EPs this year, Alexander took the stage at Lollapalooza last Thursday.
"Chicago is such an amazing place to grow up, as far as being a fan of music or a musician because … there's a lot of music in the city," Alexander said.
Performing, for Alexander, was surreal because he remembers when he was just a concert-goer at Lollapalooza. He enjoys being on the stage, though, especially in Chicago where his whole family was able to see his set.
"It was so cool to look out into the crowd and see so many people I knew and so many people from my town; I feel very lucky," Alexander said.
Although there is not an overwhelming Chicago presence, Alexander said he likes that the festival is eclectic and said the artists are not the only thing that defines Lollapalooza.
"They do a good job of getting people from all over the place," Alexander said. "It makes it more special when someone from Chicago is playing."
half alive
Relaxing on a couch in the press lounge before their show, the trio— J Tyler Johnson, bassist; Josh Taylor, lead singer; and Brett Kramer, drums—opened up about their journey from dropping out of school to write music, going to the Mojave Desert to record their first EP, titled "3," and performing at the Chicago festival.
After only three years of creating music together, California-based indie-alternative band half alive is experiencing a number of firsts—including a show on the American Eagle stage on the festival's opening day.
Being from California, the band knew of Lollapalooza and looked for the lineup each year. Now, Taylor said it is a big deal for them to have their name on a nationally-known festival lineup.

Taylor said the festival has helped create a culture of people who are actively seeking out music and care about going to see bands.
Aside from Lollapalooza, one of the band's most memorable shows in Chicago was during the polar vortex in January when temperatures in the city were below -20 degrees Fahrenheit.
"Chicago [still] showed up; they were ready to party," Taylor said.
After finishing their biggest performance to date at the festival, Johnson wants the band's lyrics and messages of hope, change and growth to be shared with fans lyrically, as well as making their performances inspiring for others to live out those messages. With songs like "still feel." and "arrow," the band focuses on the reality of change through personal transitions in life, and how it is okay to keep going on.
"We weren't really hearing any band that was doing what we're trying to do," Johnson said.
Along with them checking their first Lollapalooza performance off their list of goals, the band will be heading out on their largest tour yet—which will bring them from New Zealand to New York to the Netherlands throughout the next few months—just after the Friday release of their first full-length album, "Now, Not Yet." With it being their first album, this will be the first time fans will see this many songs released by the band with record label RCA Records backing it up.
DUCKY
DUCKY, an electronic music producer, started her career when she was 13 years old by making music in her bedroom and growing up as a "baby raver" in her hometown of San Francisco.
DUCKY started producing work after a school project. She said she wanted to be like the band The Postal Service and has not stopped evolving since.
After completing her festival set, DUCKY said she put on her best performance yet. It was only her third time doing a live set opposed to DJ-ing. It has been a transition she always wanted to experience, especially because she writes, does vocals and produces her music on her own—something not many electronic artists do.
"I wish I could go back and tell my sad, middle school self that I would get to play a festival like Lollapalooza," DUCKY said. "I was the kid in the crowd at festivals. This is the only thing I ever wanted to do. It's an honor to be the person who creates that experience [now.]"
With her music being so personal, DUCKY said the response she gets from her fans is a huge deal for her, especially when she gets messages from fans who say her music helped them get sober or saved their lives. She feels like she is close friends with every single person in the crowd.
"The community I have built … is something that is really rare to find," DUCKY said. "There has been negativity in [Electronic Dance Musicand] … I am so proud to say in my fan base we do not have that."