Rebel Rampage 'stirring up the pot' through protest rock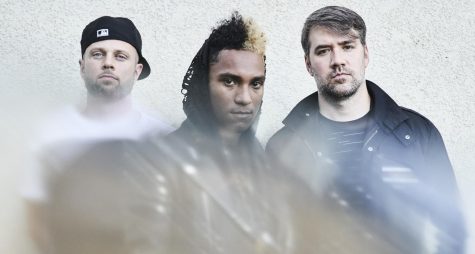 When protest rock trio Rebel Rampage conceptualized its cover of "Immigration Man," originally by Graham Nash and David Crosby, they were not aware of the extent to which immigrant detention at the U.S. border, ICE raids and family separation had become a part of American life.
"To my horror, dramatizing the song in a way that was portrayed in the video with a Mexican family being raided, the dad being deported, the kid being behind bars and all this stuff … was actually going on," said lead singer and bass player Graham Czach.
After realizing the issues at hand, the band released the song and video only to receive controversial responses.
"What was most important [was] driving a point home of why I am doing this, Czach said. [It is] a labor of love and something that I needed to get out and to connect and, hopefully, unite people and inspire people to go take action [about] because we are here for the people."
Rebel Rampage was formed in 2016 in light of the Presidential Election. Czach said he felt helpless after the previous year in the wake of President Donald Trump's election. He wanted to use his talent as a professional musician to write music with a fury in an attempt to get his feelings out.
"There was not any shortage of material or inspiration with all the issues that kept coming up," Czach said.
The band—including guitarist Dylan McGee Jones, drummer PunKy Balfour and traveling drummer Gabriel Wallace from the band Gorillaz—has been on tour for a year and a half following the release of its album "Divided We Fall." The album tackles issues including immigration, voting rights, freedom of the press and the alleged Russian collusion.
"It is important for musicians and artists to stand up for what is right," Czach said.
While the band focuses primarily on a rock sound, the three members bring in inspirations from R&B, jazz, folk and pop. Czach said the band's medium of music translates the best with the messages it is discussing because it gets people to listen to the issues.
"People do not even know what is up from down anymore," Czach said. "We kind of have to bang them over the head and be like, 'Hey, listen.' At our shows … it is something of an explosion on stage … you can cut the energy with a knife, and [feel] the passion behind it and the power and intensity from three guys."
With strong ties to the Midwest—Czach is from Chicago and Jones from Milwaukee—Rebel Rampage returned to its roots for a short summer tour, including a performance Friday at Reggie's, 2105 S. State St.
By performing at home, the trio hopes it is "getting some of these messages out. [And] getting into those areas and stir up the pot."
Rebel Rampage refers to themselves as a "leaning liberal" band, but Czach said, in the end, a political party does not matter because the band is here to create music for the people on issues that matter to everyone as a nation.
Along with addressing issues through lyrics, the band partners with a number of organizations for its shows; A Voice For The Innocent is one of them.
For its Midwest tour, A Voice for the Innocent—a community of support for victims of rape and sexual abuse—will be at each show to raise awareness to resources for survivors. Czach has personally known people in his life who have dealt with these issues, which he feels need to be more seriously addressed.
The band's underlying purpose is to educate people and empower them to get involved and make a difference through a more entertaining medium—music.
While the idea for the band was sparked by the 2016 election, the band is in the process of writing more songs as well as ramping up for another tour following the 2020 election, Czach said. He did not reveal the specific issues the group plans to address for its next release but said the band will continue to partner with organizations and like-minded musicians to encourage people to stand up for themselves and others.
"[I want people to] take away from our shows a feeling of renewed hope, inspiration and a motivation to take action," Czach said.