Most Columbia students to receive grants, but CARES Act won't entirely offset college losses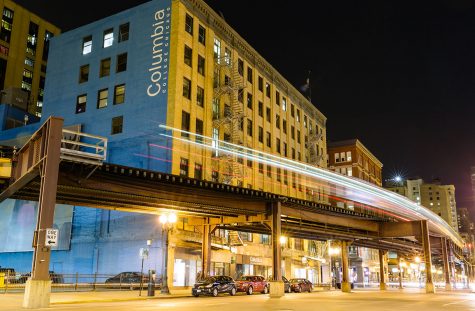 Most Columbia students will receive some form of federal financial aid as part of the CARES Act, through a one-time $250 check and potentially a larger emergency grant, the college announced today.
But others will be left behind, as undocumented, DACA and international students are prohibited from receiving the financial aid "due to federal eligibility criteria," according to today's emailed announcement.
The Coronavirus Aid, Relief, and Economic Security, or CARES, Act was signed by President Donald Trump March 27 and included an Emergency Stabilization Fund for some higher education institutions. Half of the funds colleges receive must be granted to students who have been impacted by campus closures in the midst of the coronavirus pandemic.
Student aid
Columbia received approximately $6.3 million in federal aid, meaning approximately $3.17 million will go to students, according to the U.S. Department of Education.

"The plan is to award the amount that was specifically allocated for students," said Cynthia Grunden, assistant vice president of Student Financial Services. "I don't foresee us awarding anything above that [$3.17 million]."

According to a Tuesday, April 28 email to students, Columbia will allocate funds in two ways: a one-time $250 grant to all eligible students and an emergency grant application for students "disproportionately impacted by the pandemic in ways that have drastically changed their financial circumstances," such as through medical and child care bills or housing expenses.
However, Secretary of Education Betsy DeVos has prohibited any aid from going to undocumented or DACA students by requiring a social security number to be eligible for funds. This requirement also bars any international students from receiving aid, as reported Wednesday, April 22 by The New York Times.
At Columbia, this would impact approximately 344 "non resident aliens," according to Institutional Effectiveness data. Grunden said she is not aware of any discussion by the college to provide financial aid to ineligible students outside the CARES Act at this time.
Carrie R. Welton, senior policy consultant for the nonprofit Believe Students, said she is concerned about how students without social security numbers will be impacted by the financial strife from the coronavirus, or COVID-19.
"My recommendation is that schools are leading with a culture of care and recognizing that students are human first," Welton said. "We all have lives that get in the way of our learning."
To receive aid at Columbia, students must be enrolled in at least one course for the Spring 2020 semester and demonstrate they meet the eligibility criteria via their 2019/2020 or 2020/2021 FAFSA, which can be submitted no later than May 8 in order to qualify. Students who were enrolled in all online courses on March 13 do not qualify "per federal guidance," according to the email.

The $250 one-time grant will be sent to qualifying students within three weeks, either by direct deposit or check, depending on students' MyColumbia portal information.
Students looking for additional support may apply for up to $2,000 after filling out an application due May 8 at 11:59 p.m. Award amounts will be decided by a scholarship committee by May 22. Representatives from the provost's office, Columbia Central and Student Affairs will be on the committee to ensure "that one person isn't just deciding," Grunden said.

The scholarship committee may award grants larger than $2,000 "on an exceptional basis for students with the most severe financial circumstances."
"Due to limited funds and variations in students' circumstances, not every application may be approved," the email stated.
Those who apply must fill out a form explaining their expenses—such as relocation, health care or technology expenses, current lack of housing or unpaid bills, all related to the pandemic—and today's guidance recommends attaching documentation of those expenses.
The amount of aid given to higher education institutions was determined by a government formula based on full-time Pell grant recipients and total enrollment. For the 2018–2019 academic year, Grunden said the college had approximately 2,300 Pell recipients. This academic year, it is on track to have more than 2,500 recipients.
"Our goal is to let as many students know as possible about this because we know that there's a lot of students who haven't come forward yet and said that they have a need," Grunden said. "I'm hoping that students won't count themselves out."
Columbia's financial state
The unexpected expenses incurred by colleges and the coronavirus-induced recession have put higher education institutions in a difficult position as they prepare for likely budget cuts moving forward and a potential reduction in federal funding, based on prior recessions, Welton said.
"They're really going to need to be responsive to the needs of students, and be nimble and flexible—which is not something higher education is accustomed to being," she said. "We're all balancing a tight rope here because students have to have financially-viable institutions to be able to go back to."
Although the email from Columbia did not reference what the remaining funds going to the college will be used for, Grunden said guidance from the U.S. Department of Education dictates it can be used for expenses incurred due to disruption caused by the coronavirus.
According to a Friday, April 24 email statement to the Chronicle from Lambrini Lukidis, associate vice president of Strategic Communications and External Relations, the college endured $9 million in revenue loss and unforeseen expenses over six weeks in March and April, "only about a third of which will be offset by stimulus funds under the CARES Act."
"Our losses represent the refunds issued for housing and meal plans, graduation fee refunds, losses in revenue from study abroad programs, extra compensation for part-time faculty and technology costs relating to the transition to remote instruction, as well as costs associated with deep cleaning our facilities," Lukidis said. "We continue to monitor these and other expenses, and to build budget models that take into account various scenarios, including the impact of the health crisis and the associated economic fallout."
To rectify this "unexpected strain," Lukidis said the college has used funds from its cash reserves, but they do not anticipate needing to dip into the endowment. Lukidis also said "there will be some tough choices and sacrifices ahead," but did not state whether these sacrifices would include furloughs, hiring freezes or layoffs.
Similar to many higher education institutions, Columbia's future financial state will largely depend on enrollment, for which the college's enrollment office is cautiously optimistic, as reported April 21 by the Chronicle.
Lukidis said the college intends to deliver fall semester courses in-person, and the enrollment team continues to recruit new students remotely. For incoming students, the deposit date has been extended to June 1.
"While the impacts of COVID-19 have caused unexpected strains, we expect to manage through these times," Lukidis said. "The institution has the experience and wherewithal to navigate this crisis."