Coronavirus-induced recession causes uncertainty for graduating seniors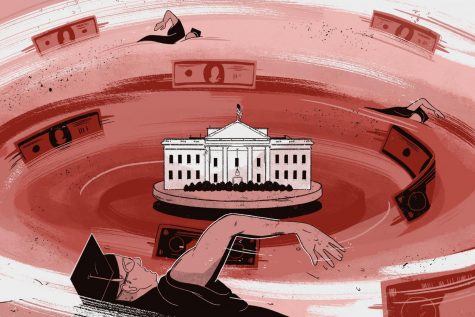 Columbia's class of 2020 will not only graduate amid a global health pandemic but likely also in the onslaught of a recession that some economists say could be worse than the 2008 Great Recession.
Columbia seniors evaluate their career prospects
Like many graduating seniors, Colin Lenburg was already anxious about securing work in the film industry without the added pressure of a recession spurred by many businesses closing and laying off workers due to the coronavirus, or COVID-19, pandemic.
Lenburg, a senior cinema art and science major, works at Bass Pro Shop—which remains open as an "essential" business to sell firearms—to help provide for himself and his mother, who works at a hotel.
He started the job in November 2018, hoping it would be temporary so he could pursue his passion for filmmaking. But now, because of the economic side effects of the coronavirus, he's been working up to 60 hours a week to make ends meet.
"Part of being an artist is being able to swallow your pride and do something that's not in your field for a little bit, just to put food on the table," Lenburg said. "But I don't even know if we're going to be able to get jobs in our fields."
Over the week of March 15, more than 3 million people filed for unemployment benefits, nearly five times the previous record in 1982. The unemployment rate may surge to 13% by May, which is higher than during the Great Recession, as reported Thursday, March 26, by the Associated Press.
Jason Stephens, an associate professor of instruction in the Business and Entrepreneurship Department at Columbia, said if the pandemic continues for an extended period of time, graduating students should come up with a backup career plan and start thinking about ways in which they can make themselves "valuable" to companies in this rapidly changing economy.

"Economies do not like uncertainty. The biggest issue that we're dealing with right now is that nobody knows what to expect," Stephens said. "[Students] have to apply the skills they've been learning while at Columbia and combine them in new ways to innovate in this economy."
Michelle Tlusty, a senior musical theatre major, is fearful of the long-term impact a recession could have on smaller Chicago theatre companies.
"It's scary to see this happening because not only is it taking an economic toll, it's taking a mental health toll for a lot of people," Tlusty said. "I don't know how the theatre industry is going to be able to bounce back when their revenue directly relies on viewership."
Additionally, with Columbia classes transitioning online for the remainder of the semester, Tlusty worries she will be less prepared to enter the theatre industry after graduation, as so many classes provide her with valuable in-person feedback from professors who currently work in the industry.
Tlusty said she is keeping her options open and has been looking into various backup career plans in the communications field, such as marketing, administrative assistance and even sales.
"Being a theatre person, you have to be able to communicate," Tlusty said. "That [skill] will be very beneficial for me."
How Columbia students will be affected
Columbia plans to assist both graduating seniors in finding jobs and current students in securing internships by allowing them to take full advantage of the college's Career Center, said Jennifer Halperin, an internship and career adviser at Columbia.
"If [students have] taken the advice of the career professionals and the faculty that they have been working with, they're going to get a job," Halperin said. "It may take a lot of applications, but they're going to get a job."
Students who have had their one- or three-credit internships canceled will receive work from the school that will replicate the experience which students would have received, Halperin said.
For those who have had job offers or interviews canceled, they will receive assistance from the Career Center in trying to reach out to recruiters, who Halperin said have been receptive thus far.
"It's not an exaggeration to say that the entire world is in the exact same boat," Halperin said. "I'm optimistic that things are going to come back stronger than before because this is a shared experience that we're all going through."
Halperin said several digital communication, marketing and social media-related jobs are still being posted to the Handshake employment platform, and that "once the world returns back to normal," all other Columbia art-related jobs and internship opportunities will come back with a "vengeance."
Halperin added that the Career Center has smoothly transitioned online, and advisers have opened their schedule to more appointments. The Career Center's resources will be available to students for a full year after they graduate, she said.
As for Lenburg, he will continue working at Bass Pro Shop but is unsure what the future holds for him and his mother and how they will take advantage of the government's stimulus check.
"It's just existential dread. That's the best way to describe it. It's just existential dread," Lenburg said.
One local congressperson is more immediately worried about the housing needs of students.
Serving as chairman of the Worker and Family Support subcommittee on the House Committee for Ways and Means, U.S. Rep. Danny Davis (7th District) said colleges and universities requiring students to vacate dorms should be cognizant of how it could harm students from low-income backgrounds.
"We have a large student population, the South Loop in and of itself has thousands of students," said Davis, who represents the district Columbia is in. "Colleges and universities, especially in their planning, need to make sure that they [take] into consideration the needs of foster youth who may not have a home to go to when you shut down the campus, low-income youth who don't have any place to stay, or the large number of homeless youth."
Davis said he's been in touch with the Chicago Coalition for the Homeless and South Suburban PADS, a homeless shelter network, and also the state, county, and city governments to make sure no one is left behind.

"There's still going to be some individuals who fall through the cracks," Davis said. "We hope that we can seal those cracks as soon as possible, but that's kind of where I see things right now."
The CARES Act stimulus deal
President Donald Trump signed a multi-trillion dollar stimulus bill into law Friday, March 27, after a back-and-forth battle in Congress. The CARES Act, or "Coronavirus Aid, Relief, and Economic Security Act," will provide a one-time relief check to taxpayers. Those who are registered as independent taxpayers on their 2019 forms and who have no children and earned less than $99,000 can expect to receive a check or direct deposit of up to $1,200 from the Internal Revenue Service within a few weeks.
The CARES Act also allows borrowers to postpone student loan payments through Sept. 30, and interest will not accrue on federal loans during this time period.
The Act includes allocations for an Emergency Stabilization Fund for some higher education institutions. Of the funds colleges receive, 50% must go directly to students as emergency financial aid grants to be used for expenses incurred from the closure of campus because of the coronavirus pandemic, according to the National Association of Financial Aid Administrators.
Lambrini Lukidis, associate vice president of Strategic Communications and External Relations, said the college is reviewing the stimulus bill, and that both Columbia and its students will receive funds as part of the CARES Act.
Lukidis said the college is still determining exact amounts.
How does this compare to the 2008 recession?
Liliana N. Fargo, a professor of economics at DePaul University, said it took eight years for the country to recover from the high levels of unemployment in the Great Recession, and four years for the gross domestic product to rebound.
But this situation is different, she said.
"It's not only in the United States but around the world that [the coronavirus] is affecting change supplies, and it's affecting production," Fargo said. "In order to restore that production, it will take a while. I don't expect that will end in one year."
Fargo said the recession will most directly affect non-essential businesses that have been closed in states under a "stay-at-home" mandate, which includes Chicago. These "non-essential" businesses include movie theaters, gyms, salons, museums and casinos, to name a few.
Although Fargo could not predict how long it will take for global economics to rebound, she said "it's going to be a permanent change in many ways."