Life viewed through windows at 'Harry's Gallery'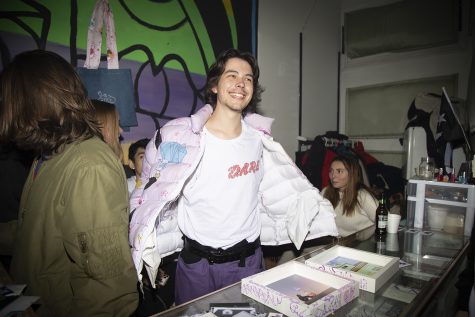 Since coming to Columbia, Harry Foster has always wanted to host an exhibit to show a cohesive body of work. While shooting cityscapes and street photography, he noticed a recurring theme: windows.
"Windows are kind of like a view into someone's story," said Foster, a sophomore photography major. "I was trying to think of how I'm going to get people at an art show interested in a window."
To make the concept interesting, Foster used thick, white, beveled frames built like windows to display a mix of digital and film prints at his packed Friday, Feb. 7 exhibition held at the Auxiliary Art Center, 3012 W. Belmont Ave. In doing so, the frames worked as a metaphor for 19-year-old Foster's own stories dating back to when he was 16, all viewed through windows.
Attendees also had the chance to hear performances from Foster's friends, musicians WemmyMo and RayMundo Lakino.
To keep up with the amount of work he was generating in preparation for the exhibition, Foster would leave rolls of film in his refrigerator and develop it later.
Foster's favorite piece in the exhibit is a warm, long-exposure photograph taken on a roof in the Bridgeport neighborhood because of the way the roof sloped into the cityscape.
Despite being a Detroit native, Foster said he will always have a place in his heart for Chicago, where he found his direction in photography and the friends who helped bring his vision to life.
Foster built his foundation in photography by creating images of urban and non-urban landscapes on film in the Detroit area. After moving to Chicago to attend Columbia, Foster lost interest in shooting landscapes and took up portraiture and architecture.
Foster also has an appreciation for graffiti culture and views it as an art that is untapped.
Through a collaboration with graffiti artist Gollum, Foster was able to incorporate illustrated elements from his childhood on each frame, such as cartoon characters from "Harold and The Purple Crayon" and "Calvin and Hobbes."
"Graffiti art is not something I do, but something that I'm always going to be tying into my work in the future," Foster said. "I'm out of my comfort zone, and I think that gave me a lot of growth and taught me a lot."