Jazz Institute of Chicago hosts annual summer conference online amid pandemic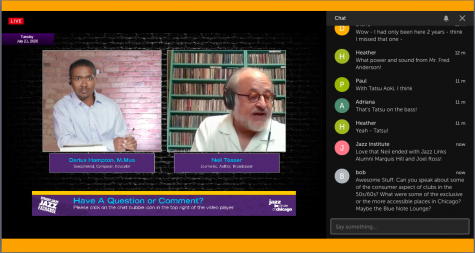 Chicago's jazz scene has found itself at a standstill the last few months due to the coronavirus pandemic.
Prominent venues such as The California Clipper in Humboldt Park have shut down, musicians have struggled to secure work and the Chicago Jazz Festival has been canceled.
However, there is one organization refusing to let the music die.
The Jazz Institute of Chicago, 410 S. Michigan Ave., is hosting its annual summer conference this week—the Straight Ahead Jazz Exchange—virtually. The week-long conference, which has been held on the Columbia campus in past years, concludes Friday, July 24, with sessions on improvisation and Latin rhythms. There will also be an online closing reception.
At past conferences, educators and jazz enthusiasts gathered at Columbia's Music Center, 1014 S. Michigan Ave., to participate in workshops, classes and small group ensembles. Musicians auditioned and were placed in small ensemble groups to produce a show, which was performed at the end of the conference.
This year, the conference, which began Monday, July 20, is divided into two "exchanges." The Performer's Exchange takes place in the morning and includes a series of improvisation sessions and instrumental master classes. Instructors for Tuesday's sessions included saxophonist Geof Bradfield, trumpeter Victor Garcia and pianist Robert Irving lll.
The classes are meant to enhance the abilities of jazz performers of varying levels of proficiency.
Heather Ireland Robinson, executive director of the Jazz Institute, said the institute wanted to "hype things up" this year.
"Instead of [people] playing together, we made it [so] … you'll be learning how to play. You'll be learning skill and technical-based techniques," Ireland Robinson said, referring to the online instrument-based master classes.
During the afternoons, the "Enthusiast's Exchange" features sessions including a series on the history of jazz in Chicago, women in jazz, jazz in film and ear training, which is the process of learning pitches, chords and harmonies by ear.
These courses were "designed to improve awareness and engagement pertaining to various jazz topics," according to the Jazz Institute's website.
Participants were able to sign up for either exchange, or sign up for the "Total Exchange," which allows participation in both exchanges.
John Foster, a Chicago-based tenor saxophonist and an education manager and student council coordinator at the Jazz Institute, said the conference was designed to mirror the goals of the Jazz Institute.
"[We want] to nurture and preserve jazz throughout the city of Chicago," Foster said.
Columbia faculty members are a prominent presence in sessions. Jarrard Harris, jazz saxophonist and adjunct faculty in the Music Department, taught a master class in jazz improvisation Monday, July 20. Bobbi Wilsyn, vocalist and former professor of instruction in the Music Department, gave an instrumental master class in voice Tuesday, July 21, and will give another Thursday, July 23.
Stan West, an adjunct faculty member in the Cinema and Television Arts Department, gave a lecture Monday, July 20, on the role of jazz in film, the increasing number of female soundtrack composers in jazz and the racial tension among directors like Clint Eastwood and Spike Lee, who both frequently use jazz themes in their films.
West said women have experienced difficulty in the music industry because of oppressive systems in place favoring men and white people.
"Women are every bit as talented as men, but are held back by patriarchy, systems of exclusion and white male supremacy," he said.
Wilsyn's lecture honed-in on the evolution and elements of jazz singing.
"I base it around [the opera] 'Porgy and Bess' and how it started out as an opera, to lead into how improvisation and syncopation and the different stylistic elements of jazz singing can change that one tune," Wilsyn said. "Then, along the way, I bring in some other tunes and show how I go about coming up with the way we're going to present it."
Wilsyn said organizations like the Jazz Institute are key in keeping jazz alive, especially while musicians cannot physically perform in-person.
"The Jazz Institute is certainly doing their part to preserve not only the style of jazz, but to also make sure we understand all of the ways that jazz has influenced society from its inception," Wilsyn said. "If not for institutions such as this … what would we do?"